Beckett Grading Show Invitation, January 30th (11am-6pm) and
January 31st (11am-4pm)

Beckett Grading is Coming to
San Antonio!

Beckett Grading Services will be back in San Antonio January 30th and 31st to accept your submissions and to grade your cards onsite at Sports Cards Plus. This is a great time to drop your cards off to be graded by the best grading service in the industry. We look forward to seeing you in San Antonio at the top sports collectibles shop in the area!

Also, bring those autographed items to be submitted for James Spence to authenticate. More information about these service can be found at www.beckett.com/jsa or www.spenceloa.com.

Look for Special Pricing for this Event in future Sports Cards Plus posts

-Beckett Grading will be offering the Raw Card Review and Graded Card Review Services in San Antonio. There will not be "Slabbing" at the show. For more information about these services, please visit us atwww.beckett.com/grading. Beckett will only be accepting submissions for JSA. There will be no onsite, autograph authentication. Limit one promotion per submission. Offer valid on Beckett Grading submissions only.


PULL A KARL-ANTHONY TOWNS 2015-16 PANINI COURT KINGS BASKETBALL AUTO RC AND WIN $100.00 AT SPORTS CARDS PLUS
Panini Court Kings Basketball is always a BIG HIT with Sports Cards Plus customers and 2015-16 will be an even BIGGER HIT with rookies like Karl-Anthony Towns, D'Angelo Russell, Jahill Okafor and Kristaps Porzingis adding to the Box Busting Frenzy.
2015-16 Panini Court Kings Basketball ($65 per box) arrives Wednesday, and at Sports Cards Plus you always get more.
First one to pull the Karl-Anthony Towns Autographed Fresh Paint card (
pictured above
) in our store WINS $100.00 at Sports Cards Plus!
What? You want more? Here's more. Every box of 2015-16 Panini Court Kings Basketball you purchase at Sports Cards Plus gets you ONE FREE Panini Black Friday Pack! Here's more more. Every box of 2015-16 Panini Court Kings Basketball you purchase at Sports Cards Plus gets you an extra $100.00 Entry to our $500.00 Drawing held January 30th.
What are you waiting for? Don't be the guy who says, "That could have been my picture." Go to Sports Cards Plus TODAY and pick your box of 2015-16 Court Kings from The BEST CASES in The Hobby at The LOWEST Price in the Galaxy and WIN, WIN, WIN!














BUY A BOX OF 2015 PANINI IMMACULATE FOOTBALL OR IMMACULATE MULTI-SPORT and WIN A TODD GURLEY or JAMEIS WINSTON AUTOGRAPHED JERSEY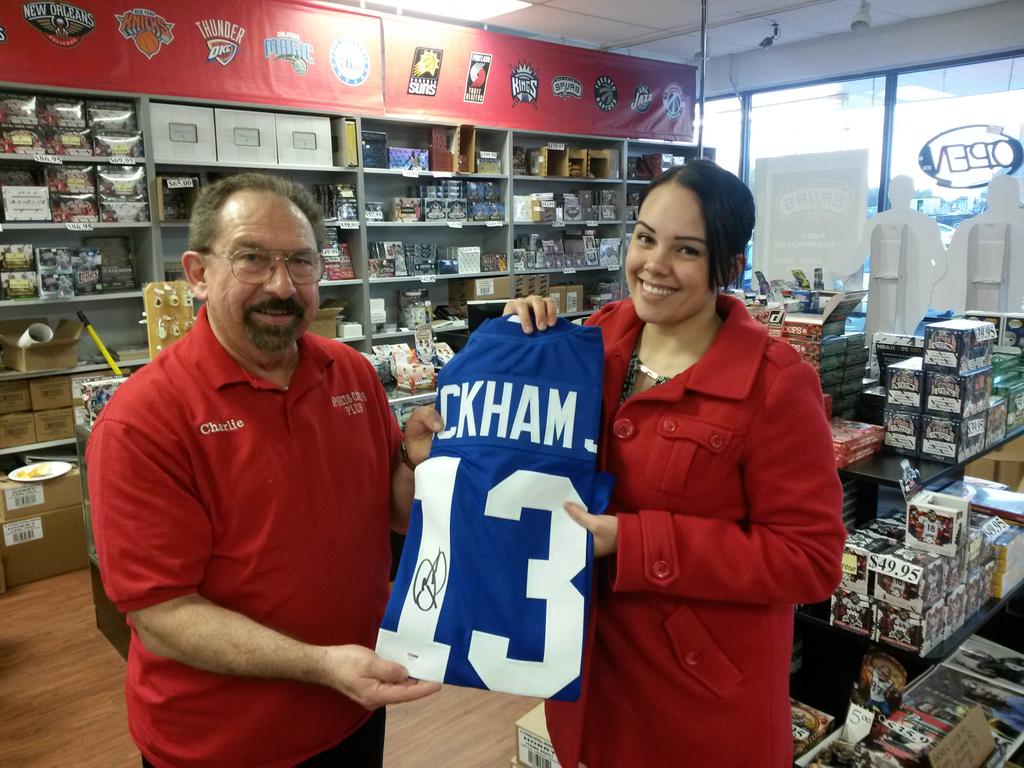 At Sports Cards Plus you always get more! Buy a box of 2015 Panini Immaculate Football ($375 per box) or the NEW 2015 Panini Immaculate Multi-Sport ($375 per box) and get a FREE ENTRY to WIN your choice of a Todd Gurley Autographed Jersey or Jameis Winston Autographed Jersey. Winner will be randomly drawn once 50 entries are collected.
What? You want more? Get FOUR FREE Panini Black Friday Packs with each Immaculate Box Purchase! Come on in and have some fun!
WIN $500.00 IN GIFT CERTIFICATES TO SPORTS CARDS PLUS !
Every time you make a purchase at Sports Cards Plus you are eligible to enter our drawing for a total of $500.00 in Gift Certificates to Sports Cards Plus. Drawing will be held at close of business on January 31st, 2016.
1. Your total purchase amount will determine your prize entry amount. EXAMPLE: Buy $350 in products at Sports Cards Plus. You can fill out up to 10 entries of at least $25 which total $350. If your purchase amount is less than $25, you may fill out one entry for the amount you purchased. The number of entries you may fill out is your total purchase amount divided by $25, plus one entry for the amount left over. Ten is the maximum entries you may fill out in one day.
2. Exactly $500.00 in Gift Certificates will be given away on August 31, 2010 at store closing. Need not be present to win.
A. Entries will be pulled out of jar until we exceed a total of $500.00 in winners. The last winner will be limited to the amount on the winner's entry minus the total amount in excess of $500.
1) For example: First four winners total $450.00. The fifth winner had an entry value of $150.00 which gives us a total of $600. This amount is $100 over the limited amount of $500 in total winnings, therefore the fifth winner has won $150 - $100 = $50.
2) One person may have more than one winning entry and is eligible to win the total winnings of $500.
B. Winners over 18 years old will be published on our web-site. Winners under 18 years old will only be publish with the consent of their parents.
On Monday October 26th from 6:00 P.M. to 7:30 everyone is invited to Sports Cards Plus meet NBA Legend David Robinson and get a FREE autograph signed by Mr Robinson. Panini America and The NBA will provide a FREE 8" by 10" photo for this autograph session.
This signing event is FREE to the public and is in conjunction with The Sports Cards Plus OFFICIAL GRAND OPENING. On October 26th from 11 A.M. to 6 P.M. Sports Cards Plus will be conducting impromptu SALES and
Contests. Stay tuned to this site for updated information.



NEXT GREAT CARD SHOW IN

SAN ANTONIO IS NOVEMBER 13th -15th

MARK YOUR CALENDAR NOW ! My friends are filling the void for great collectible shows in San Antonio. Although my interests are limited to Sports Cards and Sports Memorabilia, this show will feature some of the state's best collectibles vendors in the areas of Sports, Comics, Coins, Gaming, Knives, Historical and Estate Jewelry. If you collect it, you will find it at this show.

This is the only show Sports Cards Plus has set up for in twenty years. We will be in the southwest corner for this show November 13th to the 15th at the Embassy Suites Hotel at I-10 and Loop 410. See

www.krownproductions.com

for more information. Save the date and have some fun.

JAMES SPENCE AUTHENTICATION TO DO IN-STORE AUTHENTICATION OF AUTOGRAPHS AT SPORTS CARDS PLUS


You know that Michael Jordan Autographed Basketball you have is real. But, unless you get it authenticated by a well known, reputable company, you'll never get half of what its worth when you try to sell it. Get your valuable autographs authenticated by the very best, James Spence Authentication (JSA).

JSA will be at Sports Cards Plus to do IN-STORE AUTHENTICATION - stay tuned for our next date.