The word is spreading. Sports Cards Plus, a.k.a. The Super Hit Factory has THE BEST CASES in The Hobby at everyday LOW,

LOW,

LOW

PRICES. We have the largest inventory in Texas; just about everything you could ever want. Flawless $2400, UD Black Basketball, 2014 Topps Museum $179, Topps Five Star $349.99, 2014 National Treasures Football, 2012 Football products, 2007 Football products, 2005 Football products, 2000 Football products, 1998 Football and more. If you didn't make it in to Sports Cards Plus lately, here is what you missed.
Jonathan came in looking for a BIG ONE and decided 2013 Topps Five Star at ONLY $349.99 was the way to go. Here is Jonathan with two redemptions worth waiting for: a Yasiel Puig Autograph Jersey Patch Gold Parallel #d/10 and a Yu Darvish 3 Piece Auto Book.
At the Super Hit Factory, you don't get just any Huge Hit, you get a Super Hit. We specialize in the first card (ex: 1/25), the last (ex: 25/25) or the jersey number (ex: RG3 12/25). Chris tried a box of 2013-14 Upper Deck UD Black Basketball for ONLY $309.99. Here's Chris with his UD Black Michael Jordan Autographed Arena Book 23/23. That's Right 23/23!
Marcus came in and said, "Charlie with all the great hits I've pulled, I've never pulled an Andrew Luck Autographed RC. Pick me out something." I picked a box of 2012 Topps Valor for ONLY $125 per box. Here is Marcus with his first Andrew Luck Auto RC and it's numbered to just 50.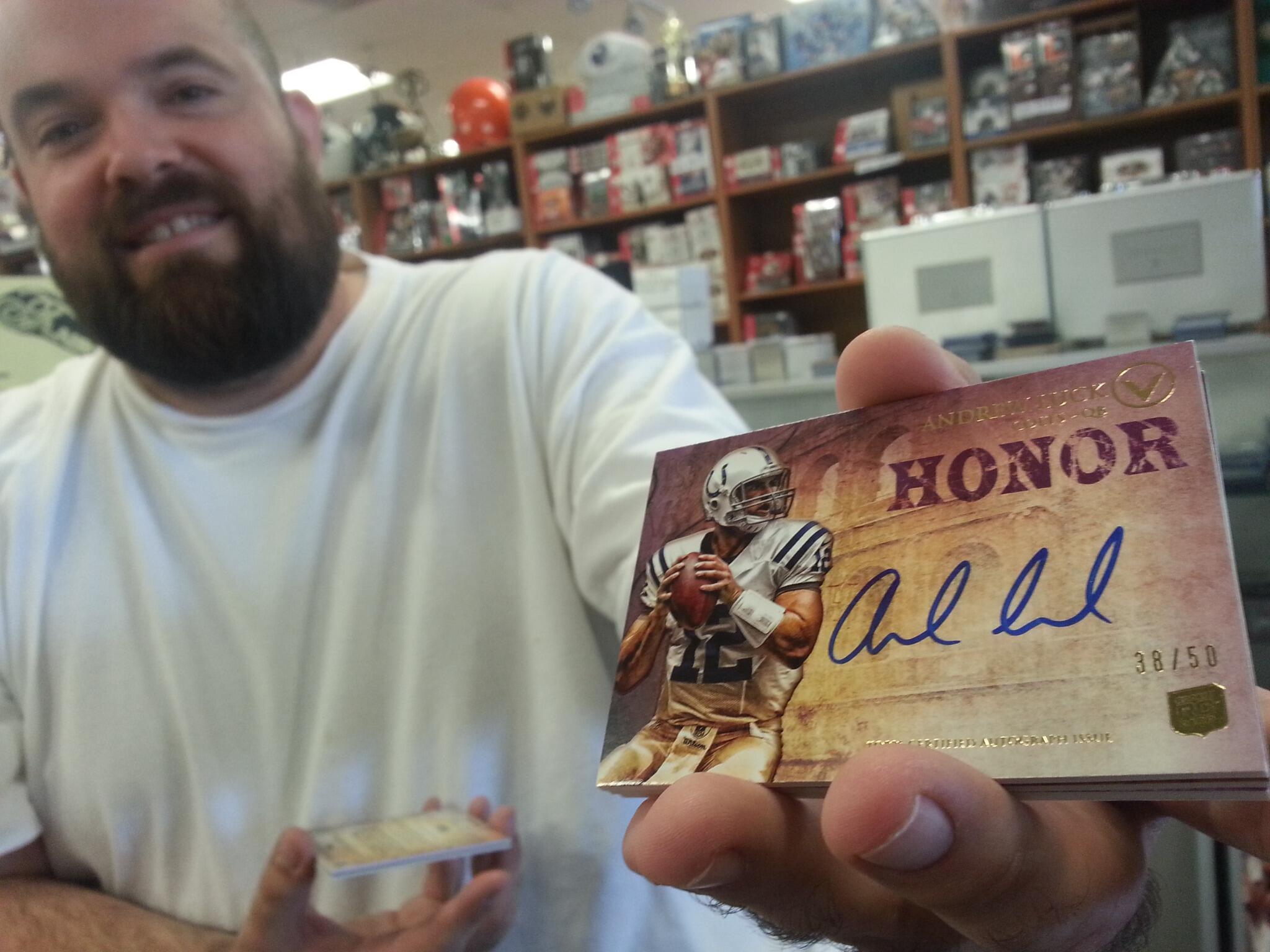 A few days later, Marcus came back and tried another box of 2012 Topps Valor Football. You guessed it, another Andrew Luck Auto RC #d/50. And, that's why we say, "The BEST CASES in The Hobby are at Sports Cards Plus."
Dennis is a 2012 SP Signature Edition Baseball collector. He owns over half the set, having purchased most of them on eBay. He came in looking for singles but we were out. He mentioned the "Hot List" singles were super rare and only saw one on eBay which sold for over $600. He saw a box of SP signature Edition on our shelf and decided he'd give The Super Hit Factory a chance.
Here is Dennis with his 1980's Hot List 1/2 Seven Autographed card of Ken Griffey Jr, Wade Boggs, Will Clark, Bo Jackson, Tony Gwynn, and Brett Saberhagen. That's right, ONLY 2 MADE and it came out of a Super Hit Factory box!
Kenny likes to try his luck buying a pack here and there from open boxes on our counter. Often times he will buy the last couple of packs in a box just to see what others missed. Here is Kenny with his 1/1 Lebron James 2013-14 Pinnacle Basketball Jamfest Artist Proof Parallel.
Jay came in a tried a box of 2014 Leaf Originals Football and pulled a Jadaveon Clowney Auto RC and a Blake Bortles Auto RC. Dwight said, "I like that stuff. Let me give it a try." Dwight also pulled a Jadaveon Clowney Auto RC and a Blake Bortles Auto RC.
How do people from Dallas celebrate their engagement? Take in the Astros Rangers game at the Alamo Dome and pull some great hits at Sports Cards Plus. Here are Alison and Jamie with their Blue Wave and Black Wave hits from a buy a couple of boxes of 2013 Bowman Draft Picks and Prospects.
Jamie was back in town on Thursday for Business and pulled another Black Wave pack and this Austin Meadows Auto Under Armour RC. He came back Friday before his trip back to Dallas and pulled another Black Wave pack from 2013 Bowman Draft Picks and Prospects. And, The Legend of the Super Hit Factory continues..........................
Bryce and his dad enjoy busting a box and trying some packs at Sports Cards Plus. Bryce's dad had him pick a pack of TriStar Hidden Treasures Autographed 8x10 History of Football. Here's Bryce with his Autographed "Joe Willie Namath" Photo.
Nice way to cap-off the day at The Super Hit Factory.
So what are you waiting for? Come in TODAY! Because at Sports Cards Plus you always get more:
1. Buy any box of 2012-13 Panini Basketball products and get a FREE ticket. If that ticket number matches our list, you WIN a FREE SLOT for a 2012-13 National Treasures Basketball Group Break!
2. 2013-14 Panini Titanium Basketball Promotion: Best pull WINS $100. Buy a box of Titanium and get two tickets for a chance to win a FREE SLOT on our 2012-13 National Treasures Basketball Group Break. And, get double tickets for our $500.00 Drawing.
3. Our $500.00 Drawing is May 31st. Every time you make a purchase, you get a FREE ticket matching the amount you spend. On May 31st, we keep pulling tickets until we reach $500.00.
4. Get Free top loaders for your autographs and jerseys when you open your purchased boxes and packs in our store.
5. Trade any time, any day in our store with the best collectors in the hobby, our customers.
6. Pick your box from THE BEST CASES in The Hobby at every day LOW,
LOW,
LOW
PRICES.