Stay tuned to this site this week for some AMAZING! That's right. 2014 Football is hitting our shelves this week and we've loaded up. 2014 Panini Hot Rookies has 4 Autographs per box, one of which is an Autographed Memorabilia Card. Each 50 card box has 10 rookies at least one of which is a numbered parallel. With only 10 rookies per box, even the base rookie cards should be in demand and hold reasonable value.
I missed the boat here. I only ordered three cases of 2014 Bowman Football, thinking I would reorder latter. Well, all distributors tell me they are sold out! Boxes are $139.99 today, but expect prices to quickly go up as demand exceeds supply.
SPx Football has always been one of my favorites. With ten packs per box, every pack has a hit: 2-3 Autographs, 1-2 Memorabilia, 3 Holograms, and 3 Finite Rookies or Veterans.
Besides Rookie Auto Jerseys of all the great rookies, you will find tons of autographs of top veterans and Hall of Famers. Boxes are starting at $109.99.
Basketball fans, we have something for you. Due in Wednesday is 2013-14 Select Basketball. Last year's product was a big hit with Sports Cards Plus customers. Look for more awesomeness. Also due in Wednesday is 2013-14 Contenders Hockey with AT LEAST 4 Autographs per box for ONLY $98 !!!
At Sports Cards Plus, a.k.a. The Super Hit Factory, you always get more. FREE Panini 2014 Father's Day Packs (1 to 5) with your purchase of any Panini Box Product ($40 or more) which was released before March 15th. Your purchases over $20 get you a FREE entry into our $500 Drawing. And, at Sports Cards Plus you can pick your box from THE BEST CASES in The Hobby. So come in Monday and have some fun.
If you didn't make it in to Sports Cards Plus this week this is what you missed: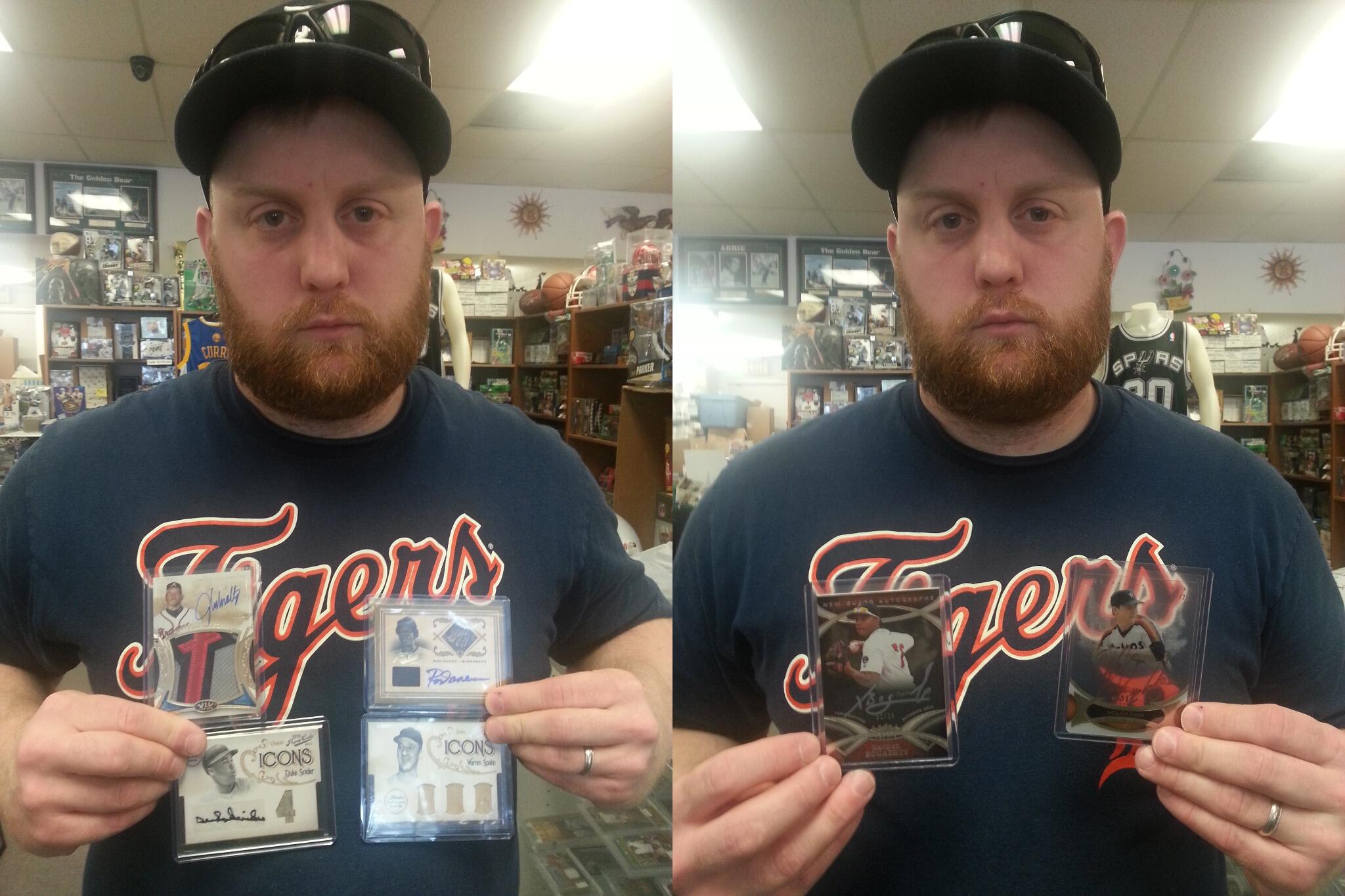 Brandon came in to try out some baseball. Here he is with his favorite hits: a John Smoltz Auto Jersey Patch, a Rod Carew Auto Jersey #d/5, a Duke Snider Auto Jersey, a Warren Spahn Jersey Bat Combo, a Bogaerts Silver Ink Auto RC and a Nolan Ryan Auto #d/25.
Santiago and his dad stopped in on their way to the airport. Before they left town, they just had to try their LUCK with just one more box of Titanium Basketball with 5 FREE Panini Father's Day Packs (Get from 1 to 5 FREE Father's Day Packs with your purchase of ANY Panini Product Box ($40 or more) released before March 15th.). Santiago loved his Titanium hits but that Andrew Luck Father's Day Cracked Ice NIKE Jersey Tag isn't bad for a FREE pack.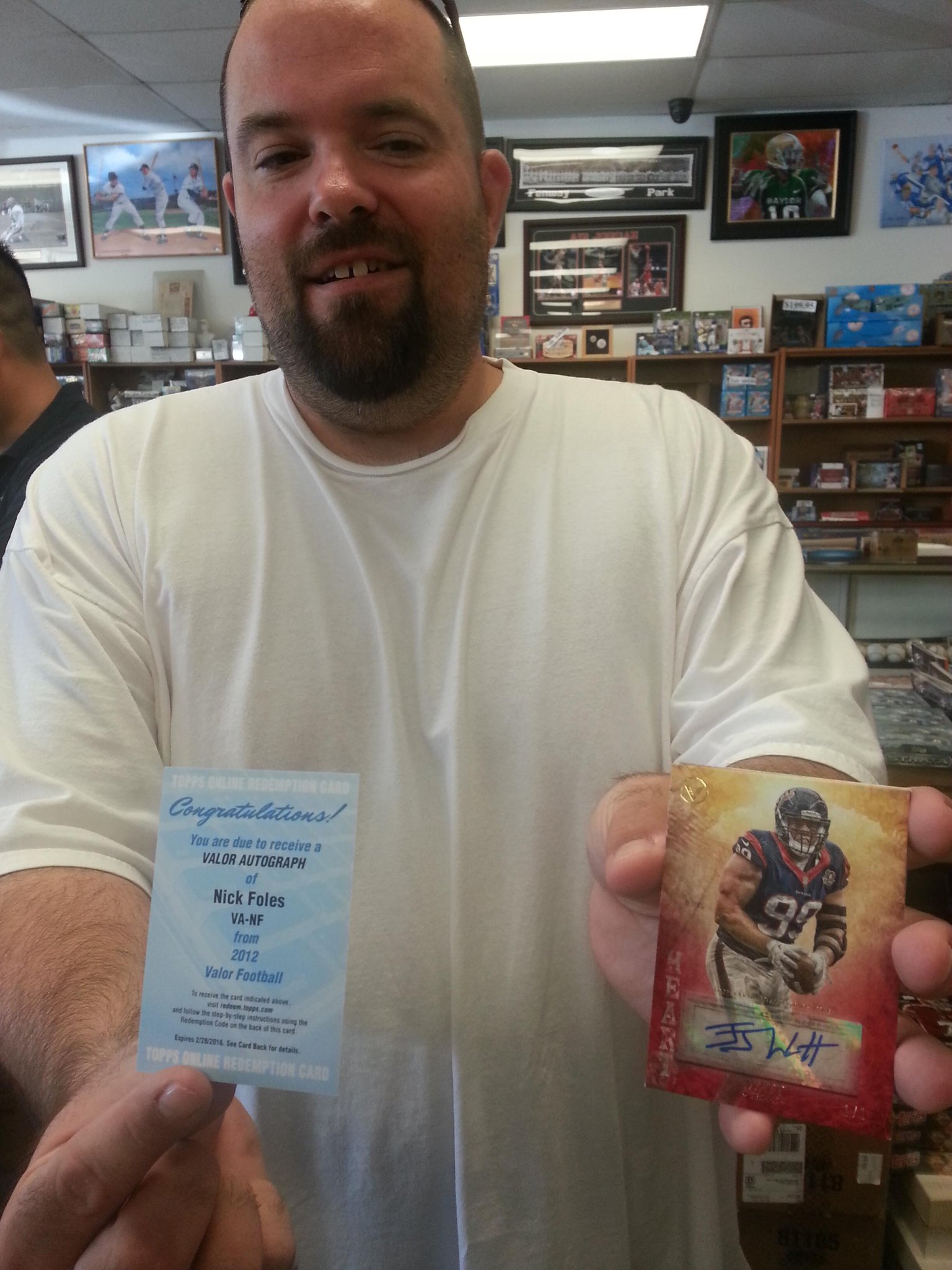 Remember Marcus? Yes, the guy who pulled THREE ANDREW LUCK Auto RCs (#d 50, #d 50, #d 35) from our cases of 2012 Topps Valor. Well, he decided to give Topps Valor Football another try. Here he is with his J. J. Watt Auto #d 1/1 and Nick Foles Auto RC. 2012 Topps Valor Football boxes are ONLY $129.99. Do like Marcus and give it a try.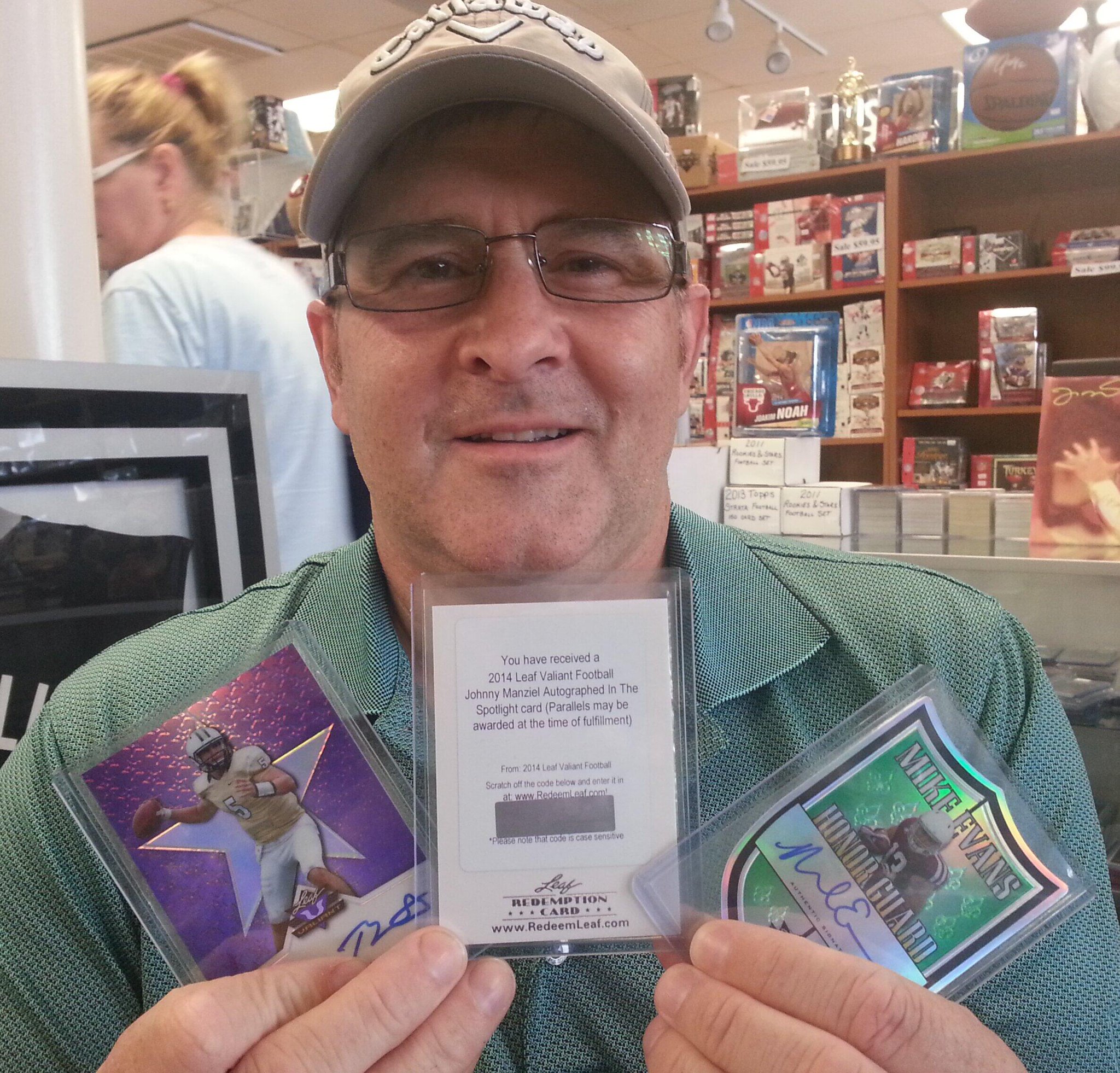 Jay came in looking for some 2014 Leaf Valiant Football. He tried a couple of boxes. The first box had a sweet Blake Bortles Auto #d/5. The second box had a Mike Evans Auto #d/25 and a "Johnny Football" Manziel Auto redemption.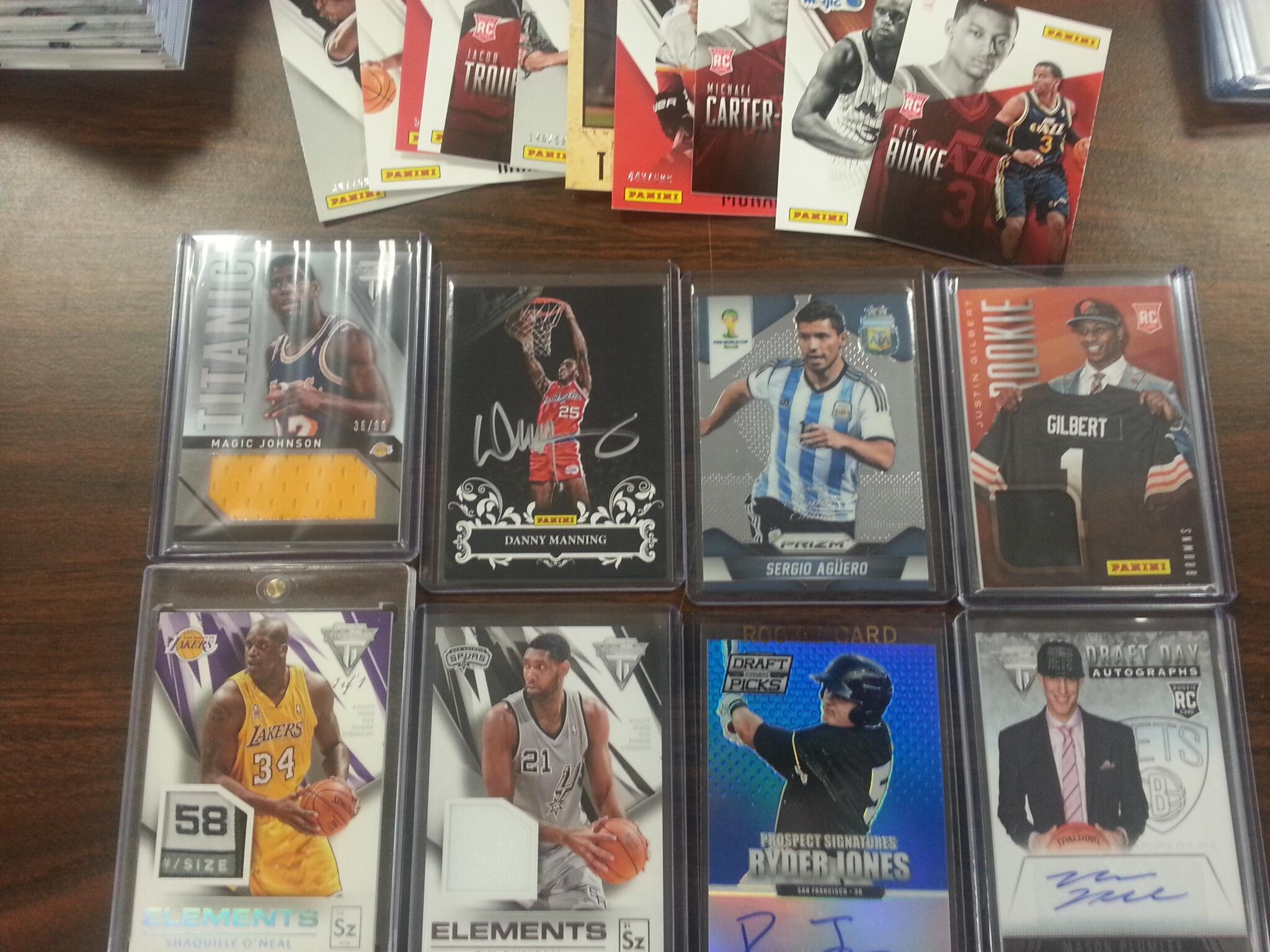 Mr. XX (under Witness Protection) tried a box of Titanium Basketball with 5 FREE Panini Father's Day Packs. The Titanium Box hits included a 1/1 Shaq Jersey Laundry Tag. The 5 FREE Father's Day Pack hits are a nice added bonus.
This new customer was not a collector. His brother lives too far away to drive to The Super Hit Factory, so he was asked to pick up a couple of boxes of Panini Prizm World Cup Soccer. When Jeff told him of all the great stuff being pulled from our boxes of Panini Prizm (ONLY $108 per box), he decided to try a couple himself. Here he is with his Pele Autograph and Messi Gold Power Prizm 1/5.
Not a fan of Panini Prizm 2014 World Cup Soccer? How about a fan of pulling cards that sell on eBay for $700 to $2000 each? What are the odds? At Sports Cards Plus, a.k.a. The Super Hit Factory, forget the odds. Our customers have pulled TWO Pele Autos, a Messi Auto, a Baggio Auto, THREE Finite Black Prizms, at least TEN Gold Power Prizms and Jereme and Bryce ended our Saturday with this Ronaldo Auto.