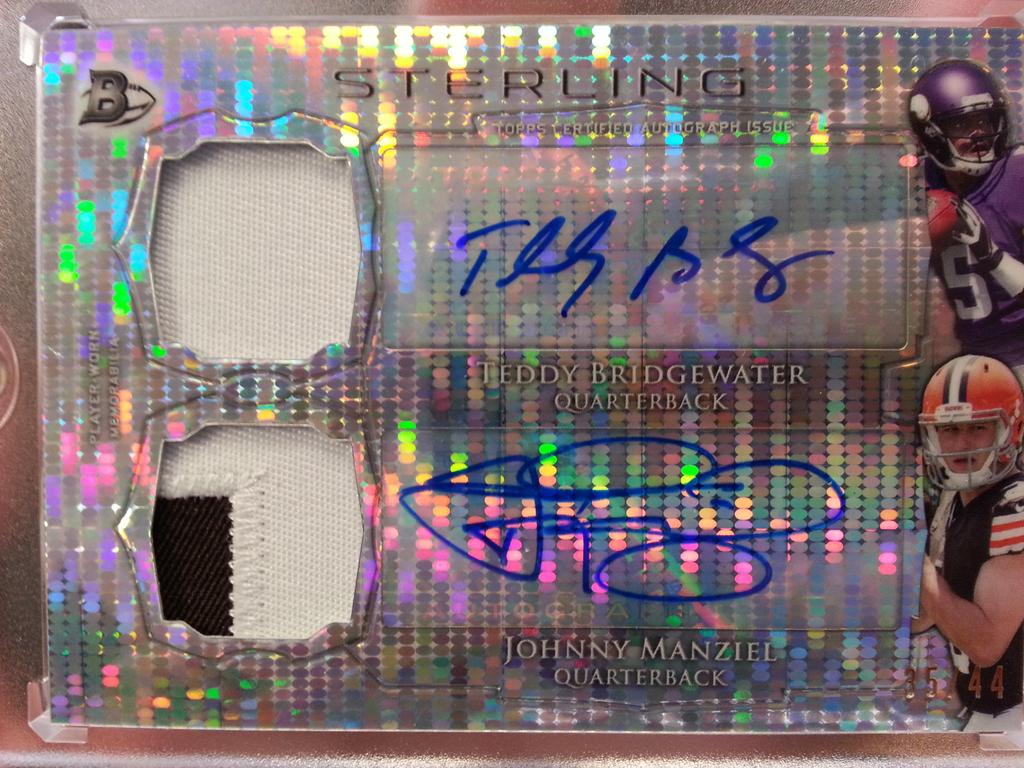 HUGE SATURDAY is waiting for you at Sports Cards Plus, a.k.a. The Super Hit Factory. Panini, Topps, Upper Deck and Leaf. Sports Cards Plus is the home of The BEST CASES in The Hobby. Rare Hits, Super Hits, 1 of 1s. You will find them all at Sports Cards Plus at our LOW,

LOW,

LOW

Prices.
Starting TODAY, our
LOW,
LOW,

LOW
Prices
just got
LOWER
. Don't be the guy who says, "That could have been my picture." Go to Sports Cards Plus TODAY. Pick your box from The BEST CASES in The Hobby and SAVE, SAVE SAVE! Our
CHRISTMAS SALE
starts TODAY!
Here are just a few of the Super Hits from the last couple of days: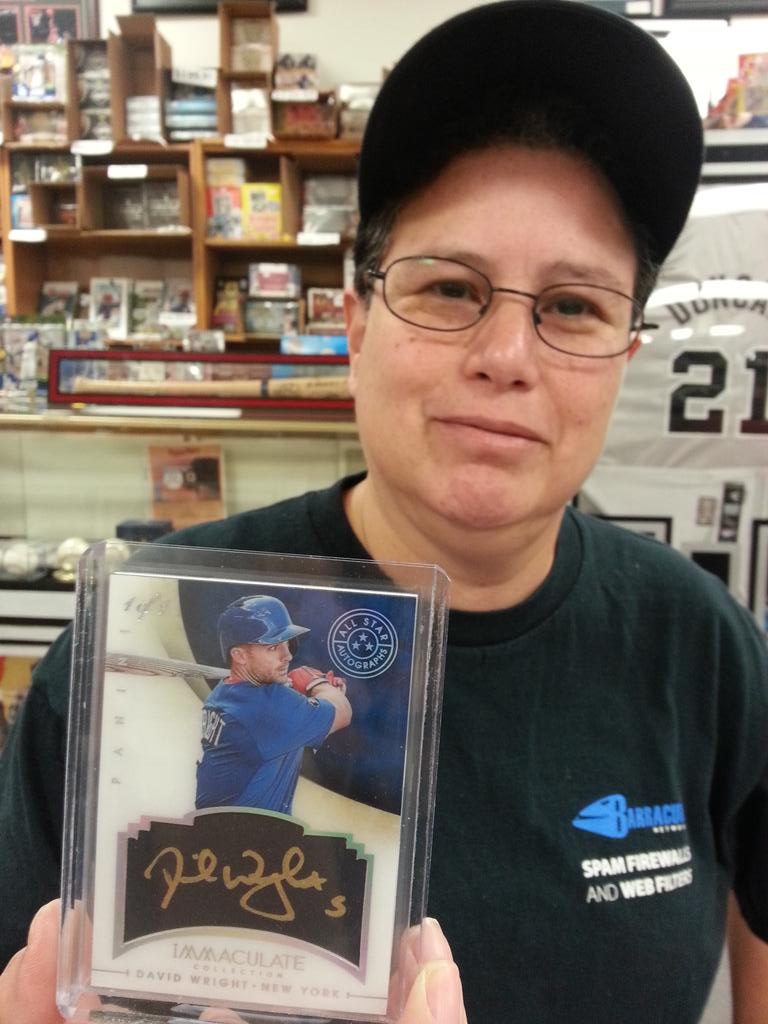 Maria came in and tried a box of 2014 Panini Immaculate Baseball for only $129.95 per box and pulled this 1 of 1 David Wright Autograph.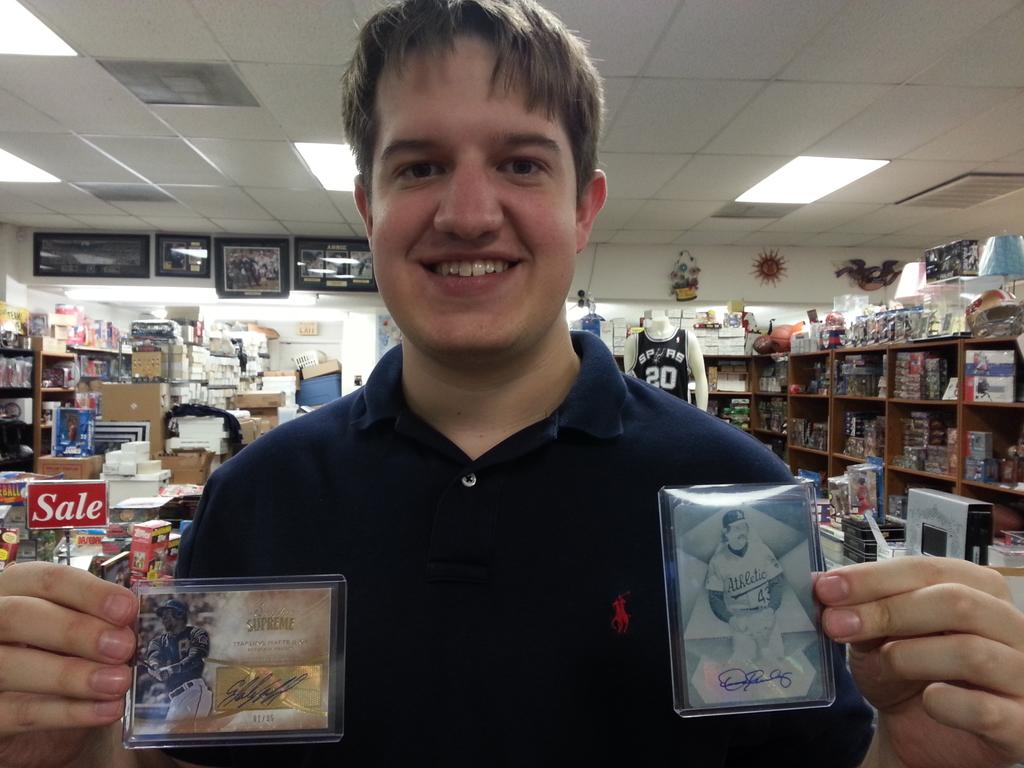 Nate came in and tried a box of 2014 Topps Supreme Baseball with Two Autographed Cards numbered to 50 or less. Nate pulled this 1 of 1 Dennis Eckersley Autographed Print Plate.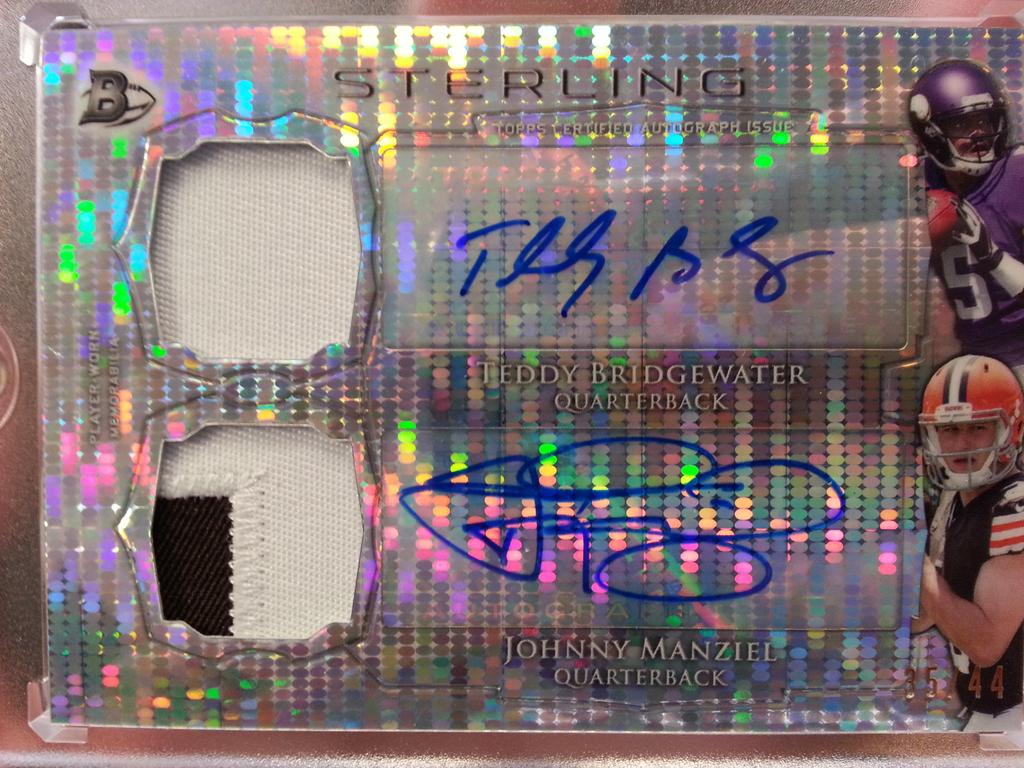 Will is a big Aggie Fan and is always looking to pull Johnny Manziel. Will tried a box of 2014 Bowman Sterling Football and pulled this Johnny Manziel & Teddie Bridgewater Dual Autographed Dual Patch Pulsar Refractor RC #d/44. Click
HERE
to make your best offer for this amazing card.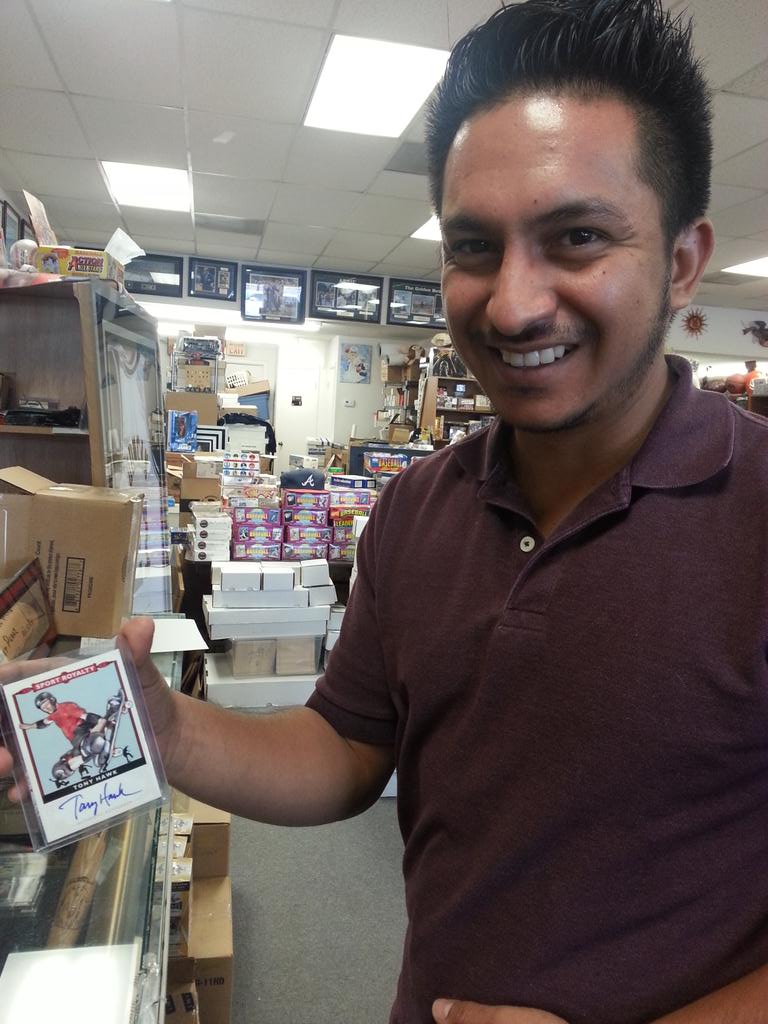 Xavier likes to buy packs from our counter top. Here is Xavier with his Tony Hawk 2013 Upper Deck Goodwin Champions Sports Royalty Autographed card. Odds of pulling any Sports Royalty Autograph card are 1:4171, but at Sports Cards Plus, you can forget the odds. Mike pulled a Peyton Manning Sports Royalty Autograph just last month.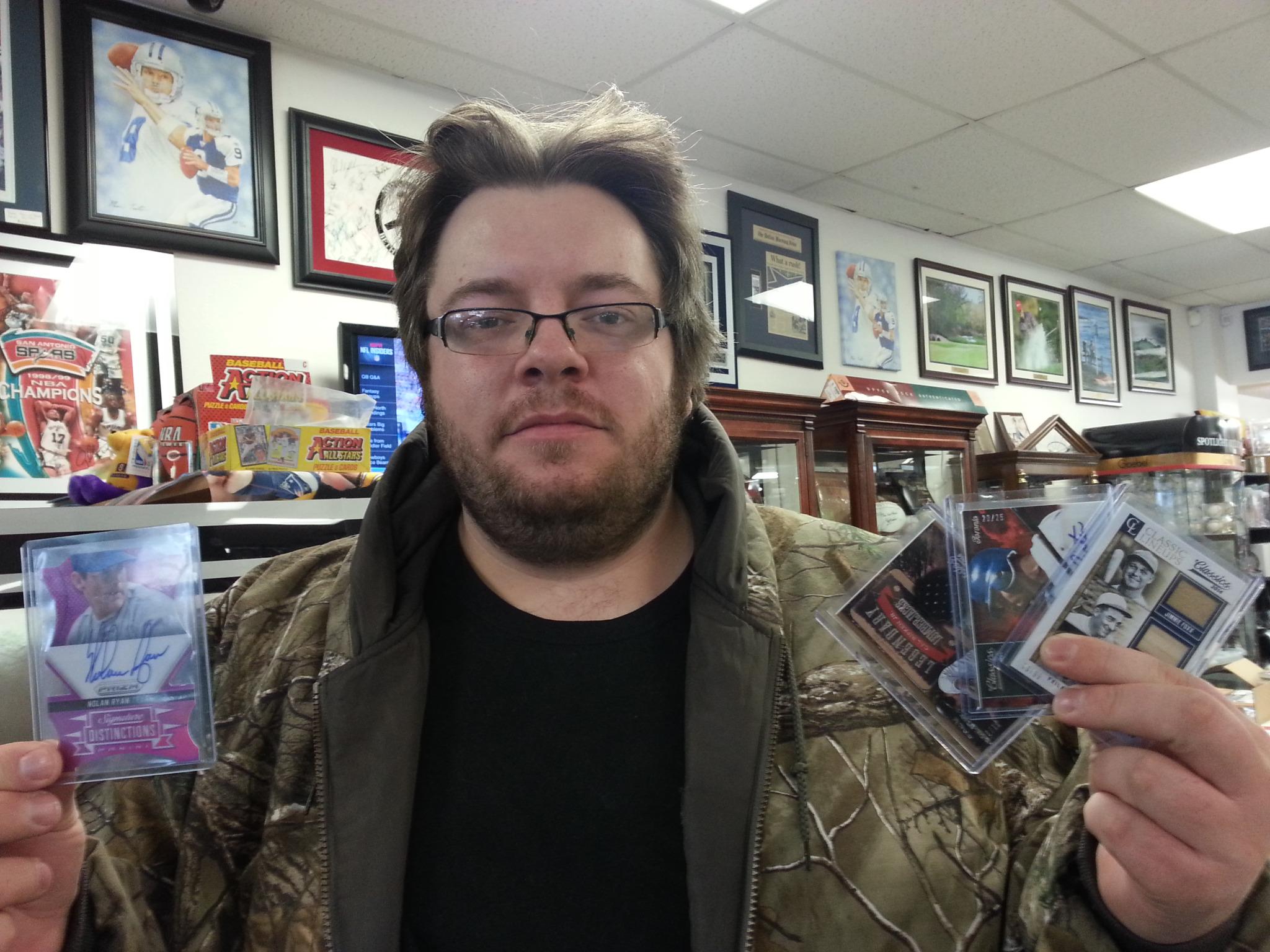 Mike likes to bust a couple of boxes when he comes in from the oil fields. Mike's box of 2014 Panini Prizm Baseball got him the Nolan Ryan Die Cut MOJO Purple Prizm Autograph. His box of 2014 Panini Classic Baseball got him some great hits including the Triple Relic Card with Jimmie Foxx Jersey.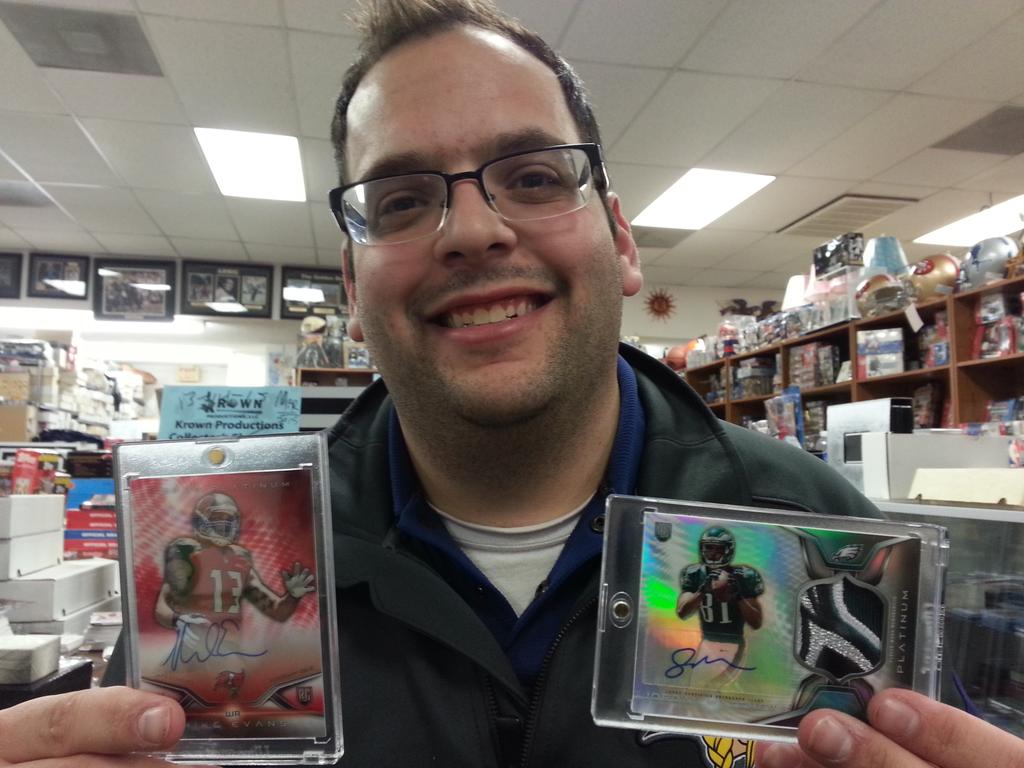 Adam loves 2014 Topps Platinum Football (
call for our lowest price
) with THREE Autographs per box. Here is Adam with his Mike Evans RED Refractor #d/5 and Jordan Mathews Autographed (sick) Jersey Patch Refractor.
There's a million reasons to go to Sports Cards Plus, a.k.a. The Super Hit Factory TODAY:
1. Our
Christmas Sale starts TODAY.
2. Pick your box from The BEST CASES in The Hobby.
3. First to pull a Johnny Manziel Auto RC from 2014 Bowman Draft Picks & Prospects Baseball WINS $100.
4. FREE Panini Black Friday Packs with your purchase of ANY Panini Product $50 or more.
5. FREE Upper Deck 25th Anniversary Pack with $100 purchase of any Upper Deck Product.
6. FREE entry into our $500.00 Drawing with your purchase $20 or more.
7. FREE top loaders for your autos and jerseys when you open your purchases in our store.