Every week at Sports Cards Plus, a.k.a. The Super Hit Factory is HUGE, but this week will be one of EPIC proportions....... Beckett Grading will be at Sports Cards Plus to do IN-STORE Grading while you wait! What? You don't have enough cards to take advantage of all the grading special offers for this amazing grading event?
Sports Cards Plus has the answer. Our "Norma's (my wife) Birthday SALE" offers our lowest prices throughout the store. All your favorite products at LOW, Lower, lowest Prices. Bowman Chrome Baseball ($61.95 Hobby Box or $81.95) is a baseball rookie prospector's dream product and is great for Beckett Grading.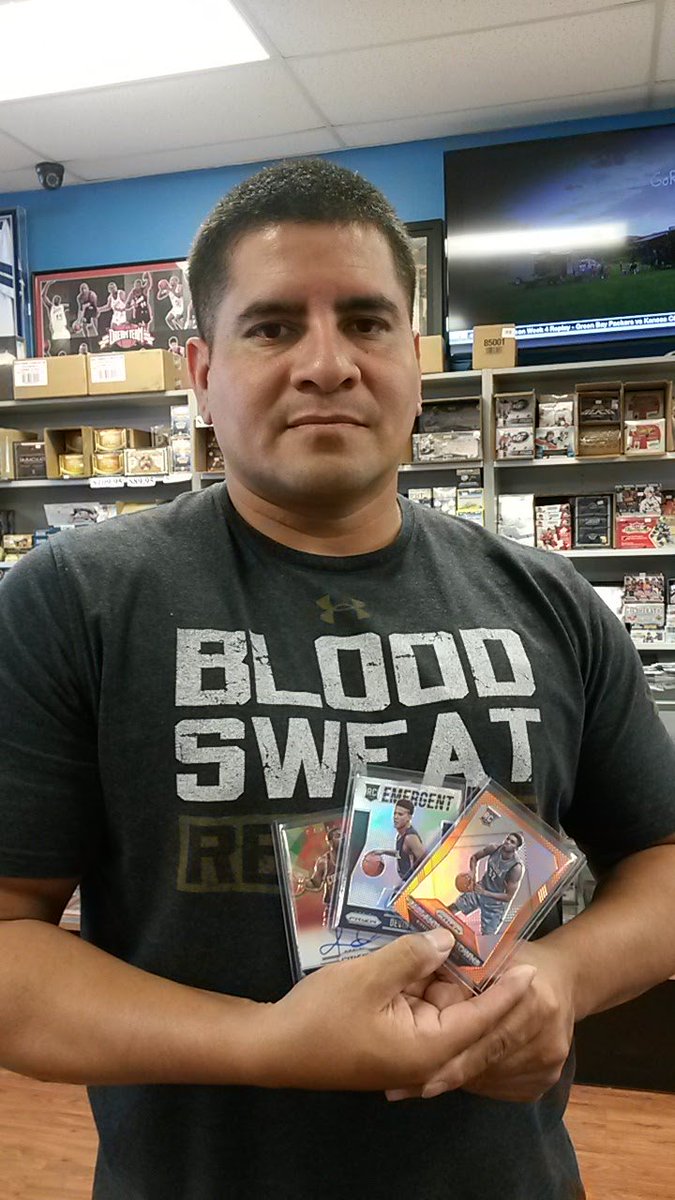 2015-16 Prizm Basketball is hot, Hot, HOT. All the internet dealers are out but not at Sports Cards Plus. Prizm Basketball Hobby boxes are
$64.95
and JUMBO Boxes are
$124.95
. With Prizm Boxes being so hot, 2015-16 Select Basketball Boxes (
$139.95
) are heating up again. And, what about 2012-13 Basketball products with some of the greatest rookies of all-time. At Sports Cards Plus, we have the most complete selection of 2012-13 Basketball products at the LOWEST Prices in the Galaxy.
Wow..... If that's not exciting enough, check this out. Arriving this Wednesday are
2015-16 Immaculate Basketball ($646.64 per box pre-order price)
, 2016 Spectra Football ($275 per box), 2016 Immaculate Football ($375 per box) and 2016 Topps Triple Threads Baseball ($174.95 per box).
We will be doing
5-Box Case Group Breaks and Box Group Breaks of 2015-16 Immaculate Basketball
starting this Wednesday at 6:00 PM CST. The 5-Box Case Group Break will be Random Team Format. Every $107.95 Spot will receive One 2015 Panini Father's Day Pack and all the cards of your Randomly Assigned Team from a factory sealed box. Call Charlie at 210-524-2337 to Pay for your spot.
The Box Group Break will follow the Case Group Break and will be a random card format. Six spots per box and every $107.95 Spot receives one random card from a factory sealed box. Call Charlie at 210-524-2337 to Pay for your spot.
Arriving Wednesday is 2016 Spectra Football with 11 HITS per box for just $275. Last year's Spectra Football currently retails on the internet for $330 per box. This year's rookie class looks to outperform last year's by a mile, so look for 2016 Spectra to sell fast and go up in price quickly. Prepay for your box TODAY and lock-in on the low price.
College Football fans will love 2016 Immaculate College Football for just $375 per box. Besides Ezekiel Elliott, Dak Prescott, Carson Wentz, Jared Goff, Paxton Lynch, Corey Coleman, Will Fuller, Josh Doctson and Laquon Treadwell, this year's draft is the deapest in years.
Baseball fans, don't feel left out. 2016 Topps Triple Threads Baseball ($174.95 per box) also arrives on Wednesday. Triple Treads offers a generous mix of top-level rookies, stars and hall of famers. 2015 Topps Triple Threads Baseball are currently retailing at $200 per box on the internet. 2016 Topps Triple Threads is a bargain at $174.95.
And, at Sports Cards Plus you always get more. Get a FREE Entry to our $500.00 Drawing on November 30th. Your every purchase gets you a FREE Entry matching the amount of your purchase. So go to Sports Cards Plus TODAY and get more cards for This Weekend's Beckett Grading Event.