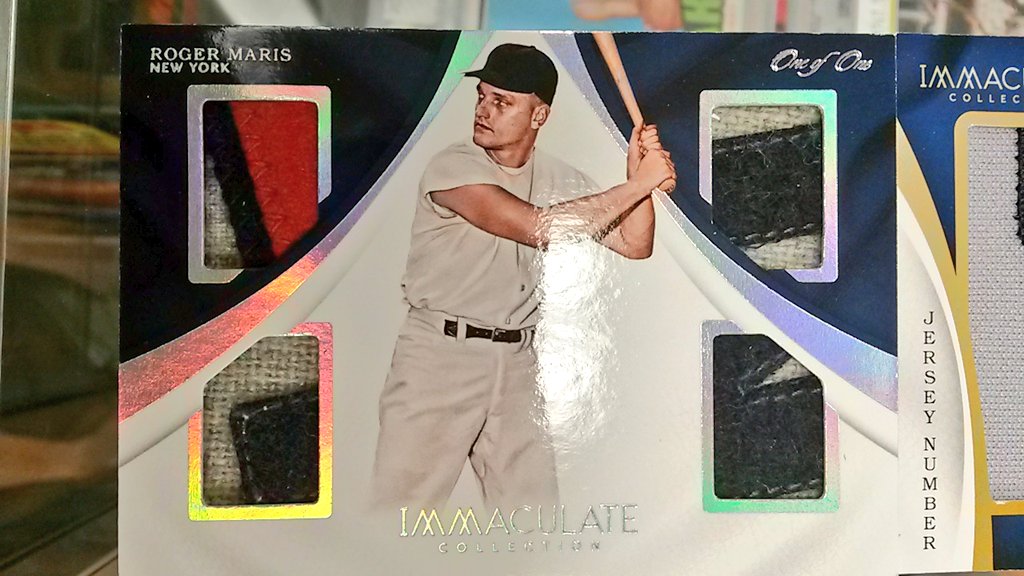 At Sports Cards Plus, a.k.a. The Super Hit Factory, you pick your box from The BEST CASES in The Hobby at The Lowest Price in The Galaxy. And, at Sports Cards Plus, you always Get more.
Our Inventory Reduction Sale
gives our customers CRAZY LOW PRICES, Free Packs and HUGE Contests.
Get a FREE Panini National Convention Silver Pack with each Panini Box you buy ($49.95 or more). What can you pull from a FREE Silver Pack? Ask Chris... Chris pulled a Lonzo Ball National Convention Silver Pack Autographed Prospect Card. Although this card is not numbered, it is so rare, only about 5 have been listed on eBay. Click
HERE
to see Chris' card on eBay.
Justin pulled this Dale Earnhardt JR 1/1 Autograph from a 2017 Panini VIP Party Gold Pack and sold it on eBay for $400. We still have a limited number of 2017 Panini VIP Party Gold Packs for $12.95 each or 10 for $100. If you want to match Chris's Lonzo Ball Auto, we are selling 2017 Panini National Convention Silver Packs for $6.95 each or 20 for $100.
At close of business on September 4th, a lucky Sports Cards Plus customer will
WIN This Deshaun Watson signed Clemson Jersey with Beckett COA
. Get a FREE Drawing Entry with each $100 you spend at Sports Cards Plus.
And, your every purchase at Sports Cards Plus gets you a
FREE Entry to our October 31st $500.00 Drawing
. You always get more for your money at Sports Cards Plus.
The Hurricane Harvey slowed things down last weekend, but those who braved the weather got some REALLY GREAT DEALS. If you couldn't make it in for our HURRICANE SPECIALS, don't worry. We still have a limited supply of GREAT Boxes at Hurricane Special Prices:
........................................................................Internet.....Our Price
2017 Panini Origins Hobby Football................................$110.........$104.95
2017 Topps Clearly Authentic Baseball...........................$65...........$ 54.95
2017 Topps Chrome Hobby Baseball...............................$100.........$ 94.95
2017 Donruss Optic Hobby Baseball...............................$110.........$104.95
2017 Stadium Club Hobby Baseball..................................$95...........$ 89.95
2017 Allen & Ginter Hobby Baseball.................................$95...........$ 94.95
2017 Diamond Kings Baseball...........................................$ 80..........$ 74.95
2017 Immaculate Baseball..................................................$235.........$235
2017 Topps Series 1 JUMBO Baseball..............................$130.........$129.95
2017 Topps Series 2 JUMBO Baseball..............................$115.........$114.95
2016 Bowman Draft Picks JUMBO Baseball.....................$150........$144.95
2016 Topps Dynasty Baseball............................................$440.........$415
2016 Topps Tier One Baseball...........................................OUT..........$119.95
2015 Topps Draft Picks JUMBO Baseball.........................$190.........$184.95
2017 Origins Hobby Football..............................................$110.........$104.95
2017 Gold Standard Football...............................................OUT.........$150
2017 Unparalleled Football.................................................$ 90..........$ 90
2017 Certified Football........................................................$ 95..........$ 95
2017 Majestic Football........................................................$225.........$199.95
2016 Clear Vision Football..................................................$.42..........$ 39.95
2016 Prizm Super Value Pack Box.....................................OUT..........$119.95
2016-17 Grand Reserve Basketball....................................$155.........$154.95
2016-17 Absolute Basketball..............................................$ 63..........$ 59.95
2016-17 National Treasures Basketball.............................$800.........$775
2016-17 Noir Basketball......................................................$495.........$495
2016-17 Prizm Super Value Pack Box...............................$150..........$119.95
2015-16 Clear Vision Basketball........................................$ 33...........$ 29.95
2015-16 National Treasures Basketball.............................OUT..........$1100
2013-14 National Treasures Basketball.............................OUT..........$1000
2013-14 Crusade Basketball...............................................$ 45..........$ 42.95
2013-14 Innovation Basketball...........................................OUT..........$ 49.95
2013-14 Gold Standard Basketball.....................................$115.........$109.95
2012-13 Timeless Treasures Basketball.............................$ 55..........$ 49.95
2012-13 Innovation Basketball............................................$ 65..........$ 64.95
2012-13 Limited Basketball..................................................$ 68..........$ 67.95
2012-13 Intrigue Basketball.................................................OUT...........$89.95
2012-13 Threads Basketball................................................$100..........$99.95
2012-13 Contenders Basketball..........................................$110...........$104.95
2012-13 Gold Standard........................................................$140...........$139.95
2012-13 FLAWLESS Basketball.........................................$3000..........$2795