by Beckett Media
Need more Aaron Judge and Cody Bellinger RCs? If your Christmas list included Turkey and Ugly Sweater parallels, you're getting your wish. The 2017 Topps Holiday hobby shop promotion is bringing them both along with some other fixings.
2017 TOPPS HOLIDAY BOWMAN HOBBY SHOP PROMOTION DETAILS
Starting November 17, collectors who visit
SPORTS CARDS PLUS
and spend at least $10 on Topps cards receive
ONE FREE PACK
(
limit of 1 pack per person per day
) of three exclusive 2017 Topps Bowman Holiday baseball cards.
Topps announced that in addition to such thematic parallels as Ugly Sweater, Wintry Wonderland and Turkey.
Autographs are also randomly inserted.
A new card of Santa Claus is also part of the mix. He's joined by Rudolph and a Snowman on the 2017 Topps Bowman Holiday Baseball checklist.
Base Set Checklist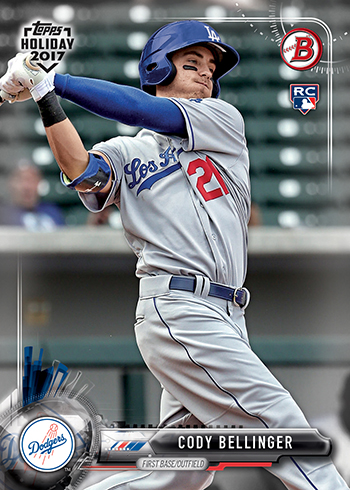 • Turkey
• Ugly Sweater
• Wintry Wonderland
Other parallels possible.
TH-AB Andrew Benintendi
TH-ABR Alex Bregman
TH-AJ Aaron Judge
TH-AM Austin Meadows
TH-AR Amed Rosario
TH-ARE Alex Reyes
TH-ARI Anthony Rizzo
TH-AS Andrew Sopko
TH-AV Alex Verdugo
TH-AY Andy Yerzy
TH-BB Bo Bichette
TH-BD Bobby Dalbec
TH-BH Brent Honeywell
TH-BHA Bryce Harper
TH-BR Bryan Reynolds
TH-BRO Brendan Rodgers
TH-BRU Blake Rutherford
TH-BZ Bradley Zimmer
TH-CA Christian Arroyo
TH-CB Cody Bellinger
TH-CBL Charlie Blackmon
TH-CC Carlos Correa
TH-CF Clint Frazier
TH-CK Clayton Kershaw
TH-CS Christin Stewart
TH-CSA Chris Sale
TH-CSE Corey Seager
TH-CW Colton Welker
TH-DC Dylan Cease
TH-DD David Dahl
TH-DS Dansby Swanson
TH-EJ Eloy Jimenez
TH-FB Franklin Barreto
TH-FL Francisco Lindor
TH-FM Francisco Mejia
TH-FR Francisco Rios
TH-FW Forrest Whitley
TH-GL Gavin Lux
TH-GS Giancarlo Stanton
TH-GT Gleyber Torres
TH-HR Hunter Renfroe
TH-IH Ian Happ
TH-JA Jorge Alfaro
TH-JAB Jose Abreu
TH-JAL Jose Altuve
TH-JC Jake Cave
TH-JG Jay Groome
TH-JL Jesus Luzardo
TH-JS Justus Sheffield
TH-JSO Juan Soto
TH-KB Kris Bryant
TH-KH Kyle Holder
TH-KM Kevin Maitan
TH-KT Kyle Tucker
TH-LA Lazarito Armenteros
TH-LB Lewis Brinson
TH-LE Lucas Erceg
TH-LT Leody Taveras
TH-MB Mookie Betts
TH-MC Michael Conforto
TH-MCA Miguel Cabrera
TH-MF Michael Fulmer
TH-MG Mike Gerber
TH-MK Mitch Keller
TH-MKO Michael Kopech
TH-MM Manny Machado
TH-MM Mickey Moniak
TH-MS Max Scherzer
TH-MT Mike Trout
TH-NA Nolan Arenado
TH-NS Nick Senzel
TH-NSY Noah Syndergaard
TH-OA Ozzie Albies
TH-PC P.J. Conlon
TH-PG Paul Goldschmidt
TH-PW Patrick Weigel
TH-R Rudolph
TH-RA Ronald Acuna
TH-RD Rafael Devers
TH-RH Rhys Hoskins
TH-RHE Ryon Healy
TH-RM Ryan Mountcastle
TH-RT Raimel Tapia
TH-S Snowman
TH-SC Santa Claus
TH-SK Scott Kingery
TH-SN Sean Newcomb
TH-TE Thairo Estrada
TH-TL Tim Lynch
TH-TM Triston McKenzie
TH-TMA Trey Mancini
TH-TS Tyler Stephenson
TH-TT Taylor Trammell
TH-VGJ Vladimir Guerrero Jr.
TH-VR Victor Robles
TH-WB Wuilmer Becerra
TH-WBU Walker Buehler
TH-WC Willie Calhoun
TH-WM Yoan Moncada
TH-YG Yulieski Gurriel
2017 Holiday Baseball Autographs Checklist
TH-AR Amed Rosario
TH-ARI Anthony Rizzo
TH-AS Andrew Sopko
TH-AY Andy Yerzy
TH-BD Bobby Dalbec
TH-BH Brent Honeywell
TH-BR Bryan Reynolds
TH-CBL Charlie Blackmon
TH-CS Christin Stewart
TH-DD David Dahl
TH-FR Francisco Rios
TH-GL Gavin Lux
TH-GT Gleyber Torres
TH-IH Ian Happ
TH-JA Jorge Alfaro
TH-JC Jake Cave
TH-JG Jay Groome
TH-JL Jesus Luzardo
TH-JS Justus Sheffield
TH-KH Kyle Holder
TH-KM Kevin Maitan
TH-LE Lucas Erceg
TH-MC Michael Conforto
TH-MF Michael Fulmer
TH-MG Mike Gerber
TH-MK Mitch Keller
TH-MM Manny Machado
TH-PW Patrick Weigel
TH-RA Ronald Acuna
TH-RD Rafael Devers
TH-RM Ryan Mountcastle
TH-RT Raimel Tapia
TH-SK Scott Kingery
TH-TE Thairo Estrada
TH-TL Tim Lynch
TH-TM Triston McKenzie
TH-TMA Trey Mancini
TH-TS Tyler Stephenson
TH-TT Taylor Trammell
TH-WB Wuilmer Becerra
TH-WBU Walker Buehler
TH-YG Yulieski Gurriel