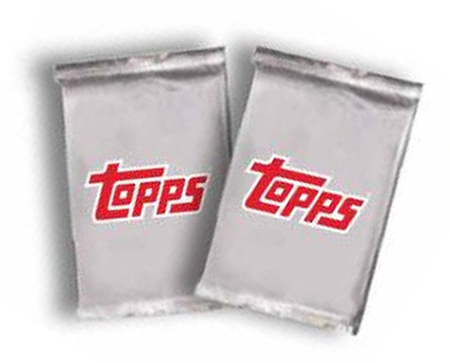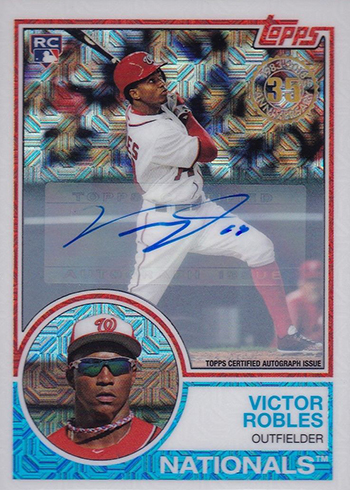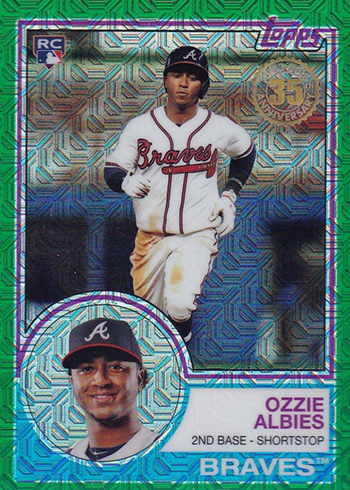 2018 Topps Baseball Silver Packs are a bonus for collectors buying 2018 Topps Series 1 and 2018 Topps Series 2 hobby boxes. The cards are an added incentive, providing exclusive cards not available anywhere else.
Special 1983 Topps Silver Pack cards are done in chrome. This makes different from the 1983 Topps inserts found in regular packs. The Silver Pack versions also have a patterned background similar to last year's cards to make them quickly recognizable.
For Series 1, the checklist has 50 cards covering superstars, rookies and some big-name retired players. Refractor parallels come in Blue (/150), Green (/99), Purple (/75), Gold (/50), Orange (/25), Red (/5) and Superfractors (1/1).
Autographs are also randomly inserted. A total of 40 players have signatures in the bonus packs. Parallels for these include Orange Refractors (/25), Red Refractors (/5) and Superfractors (1/1).
This is the second year for the program. 2017 Topps Silver Packs delivered special 1987 Topps Chrome cards. Rather than keeping with the 30th anniversary theme, and moving ahead to 1988, they're jumping backwards. Although 1988 has its fans, 1983 Topps Baseball is considered by many to not only be one of the most attractive sets of the decade but all-time.
2018 Topps Silver Packs are hobby-only.
Collectors buying a 2018 Topps Baseball hobby box from Sports Cards Plus, a.k.a. The Super Hit Factory get one of the special Silver Packs. Hobby JUMBO boxes are good for two Silver Packs.
2018 Topps Series 1 Baseball releases on January 31. The program is scheduled to continue with a second batch of exclusive cards for Series 2.
2018 Topps Baseball 1983 Silver Packs Checklist
This checklist will expand with the release of 2018 Topps Series 2 Baseball.
Base Set Checklist
50 cards.
Parallels:
• Blue Refractors – /150
• Green Refractors – /99
• Purple Refractors – /75
• Gold Refractors – /50
• Orange Refractors – /25
• Red Refractors – /5
• Superfractors – 1/1
1 Derek Jeter, New York Yankees
2 Mike Trout, Los Angeles Angels
3 Ichiro, Miami Marlins
4 Brandon Woodruff, Milwaukee Brewers
5 Mark McGwire, Oakland Athletics
6 Cal Ripken Jr., Baltimore Orioles
7 Kris Bryant, Chicago Cubs
8 Carlos Correa, Houston Astros
9 Manny Machado, Baltimore Orioles
10 Clayton Kershaw, Los Angeles Dodgers
11 Anthony Rizzo, Chicago Cubs
12 Nicky Delmonico, Chicago White Sox
13 Aaron Judge, New York Yankees
14 Jack Flaherty, St. Louis Cardinals
15 Jose Altuve, Houston Astros
16 Cody Bellinger, Los Angeles Dodgers
17 Noah Syndergaard, New York Mets
18 Andrew Benintendi, Boston Red Sox
19 Clint Frazier, New York Yankees
20 Rafael Devers, Boston Red Sox
21 Garrett Cooper, New York Yankees
22 Javier Baez, Chicago Cubs
23 Giancarlo Stanton, Miami Marlins
24 Amed Rosario, New York Mets
25 Luis Severino, New York Yankees
26 Ozzie Albies, Atlanta Braves
27 Victor Robles, Washington Nationals
28 Trey Mancini, Baltimore Orioles
29 Ian Happ, Chicago Cubs
30 Paul Goldschmidt, Arizona Diamondbacks
31 Harrison Bader, St. Louis Cardinals
32 Zack Granite, Minnesota Twins
33 Walker Buehler, Los Angeles Dodgers
34 Paul DeJong, St. Louis Cardinals
35 Rhys Hoskins, Philadelphia Phillies
36 Dominic Smith, New York Mets
37 Dustin Fowler, Oakland Athletics
38 Miguel Andujar, New York Yankees
39 Hank Aaron, Atlanta Braves
40 Bryce Harper, Washington Nationals
41 J.P. Crawford, Philadelphia Phillies
42 Joey Votto, Cincinnati Reds
43 Ryne Sandberg, Chicago Cubs
44 Ryan McMahon, Colorado Rockies
45 Andrew Stevenson, Washington Nationals
46 Alex Verdugo, Los Angeles Dodgers
47 Francisco Mejia, Cleveland Indians
48 Wade Boggs, Boston Red Sox
49 Max Fried, Atlanta Braves
50 Parker Bridwell, Los Angeles Angels
Autographs Checklist
40 cards.
Known print runs are noted.
Parallels:
• Orange Refractors – /25
• Red Refractors – /5
• Superfractors – 1/1
83-JF Jack Flaherty, St. Louis Cardinals
83-PG Paul Goldschmidt, Arizona Diamondbacks
83-VR Victor Robles, Washington Nationals /99
83A-ARI Anthony Rizzo, Chicago Cubs
83A-ARO Amed Rosario, New York Mets
83A-AST Andrew Stevenson, Washington Nationals /199
83A-AV Alex Verdugo, Los Angeles Dodgers
83A-BW Brandon Woodruff, Milwaukee Brewers
83A-CF Clint Frazier, New York Yankees
83A-CKE Clayton Kershaw, Los Angeles Dodgers
83A-CR Cal Ripken Jr., Baltimore Orioles
83A-DFW Dustin Fowler, Oakland Athletics
83A-DJE Derek Jeter, New York Yankees
83A-DSI Dominic Smith, New York Mets
83A-GC Garrett Cooper, New York Yankees
83A-HA Hank Aaron, Atlanta Braves
83A-HB Harrison Bader, St. Louis Cardinals
83A-IH Ian Happ, Chicago Cubs
83A-JBZ Javier Baez, Chicago Cubs
83A-JC J.P. Crawford, Philadelphia Phillies
83A-JV Joey Votto, Cincinnati Reds
83A-KBR Kris Bryant, Chicago Cubs
83A-LS Luis Severino, New York Yankees
83A-MA Miguel Andujar, New York Yankees
83A-MF Max Fried, Atlanta Braves
83A-MMA Manny Machado, Baltimore Orioles
83A-MMG Mark McGwire, Oakland Athletics
83A-MTR Mike Trout, Los Angeles Angels
83A-ND Nicky Delmonico, Chicago White Sox /199
83A-NSY Noah Syndergaard, New York Mets
83A-OAL Ozzie Albies, Atlanta Braves
83A-PBR Parker Bridwell, Los Angeles Angels
83A-PD Paul DeJong, St. Louis Cardinals
83A-RD Rafael Devers, Boston Red Sox
83A-RHO Rhys Hoskins, Philadelphia Phillies
83A-RM Ryan McMahon, Colorado Rockies
83A-RS Ryne Sandberg, Chicago Cubs
83A-TM Trey Mancini, Baltimore Orioles
83A-WB Wade Boggs, Boston Red Sox
83A-ZG Zack Granite, Minnesota Twins