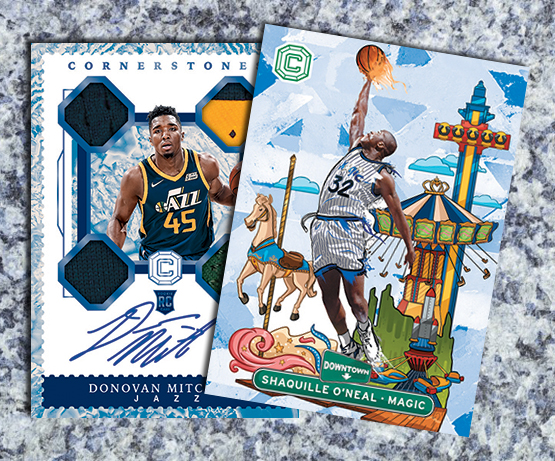 2017-18 Panini Cornerstones Basketball ($140 per box) arrives Wednesday at Sports Cards Plus. Each 6-Card Box delivers 2 Autographs, 1 Memorabilia, 1 Special Card Stock PVC Insert and 2 low numbered base cards/parallels (150 Veterans each #d/165 and less, 39 Rookies each #d/199 and less).
2017-18 Panini Cornerstones Basketball's Cornerstones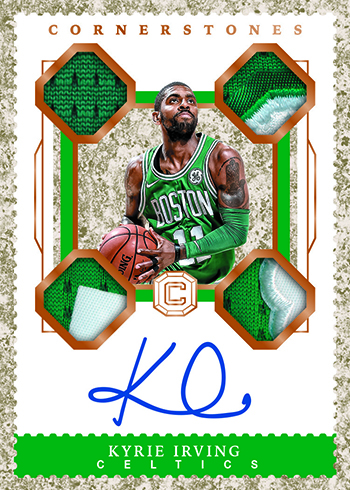 2017-18 Panini Cornerstones Basketball gets its name from the autograph quad memorabilia card in each box. This is one of the carryover elements as these types of Cornerstone cards appeared in . These come an on-card autograph and four swatches laid out in four different corners. Base versions have no more than 199 copies each.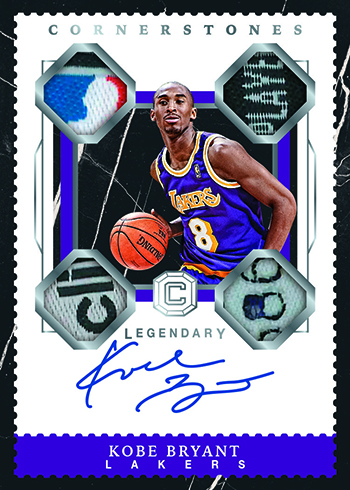 Parallels stick with the stone theme, coming in Crystal (/75), Quartz (/49), Granite (/25), Marble (/10) and Onyx (1/1). Besides the lower numbering, all parallels have at least one Prime swatch with a patch or other premium piece. Marble and Onyx cards are all prime.
The full Cornerstones checklist includes veterans, retired players and rookies.
Autographs, Memorabilia and Other Inserts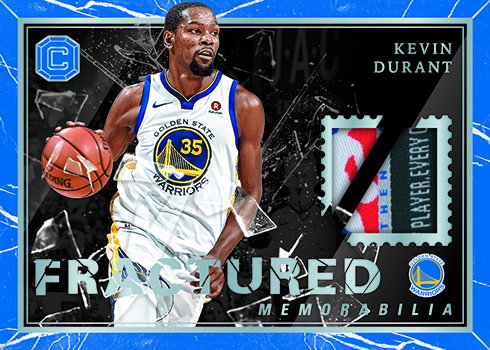 Besides the Cornerstones card, each box of the product has two additional hits. At least one of these is an autograph. Signed inserts include Keystone Signatures and Pillars of Power Autographs.
Among the relic offering is Fractured Memorabilia.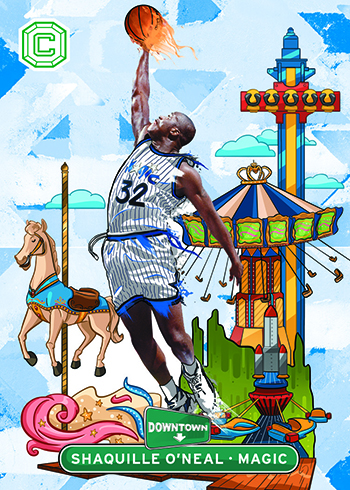 Downtown is an off-shoot of the popular . The mix of player photo with a location-based cartoon returns. Like all regular inserts in 2017-18 Panini Cornerstones Basketball, they're done on PVC.
• Crystal – /89
• Quartz – /49
• Granite – /25
• Marble – /10
• Onyx – 1/1
Rookie Cornerstones
• Crystal – /75 (Hart /59)
• Quartz – /49 (Hart /42)
• Granite – /25
• Marble – /10
• Onyx – 1/1
151 Markelle Fultz /199
152 Lonzo Ball /199
153 Jayson Tatum /199
154 Josh Jackson /199
155 De'Aaron Fox /199
156 Jonathan Isaac /199
157 Lauri Markkanen /199
158 Frank Ntilikina /199
159 Dennis Smith Jr. /199
160 Zach Collins /199
161 Malik Monk /199
162 Luke Kennard /199
163 Donovan Mitchell /199
164 Bam Adebayo /199
165 Justin Jackson /199
166 Justin Patton /199
167 John Collins /199
168 Harry Giles /199
169 Kyle Kuzma /199
170 Jordan Bell /199
172 Milos Teodosic /199
173 Semi Ojeleye /199
174 TJ Leaf /199
175 OG Anunoby /199
176 Frank Mason III /199
177 Josh Hart /80
178 Jarrett Allen /199
179 D.J. Wilson /199
180 Wes Iwundu /199
181 Davon Reed /199
182 Tyler Lydon /199
183 Ike Anigbogu /199
184 Frank Jackson /199
185 Bogdan Bogdanovic /199
186 Sterling Brown /199
187 Tyler Dorsey /199
188 Dwayne Bacon /199
189 Dillon Brooks /199