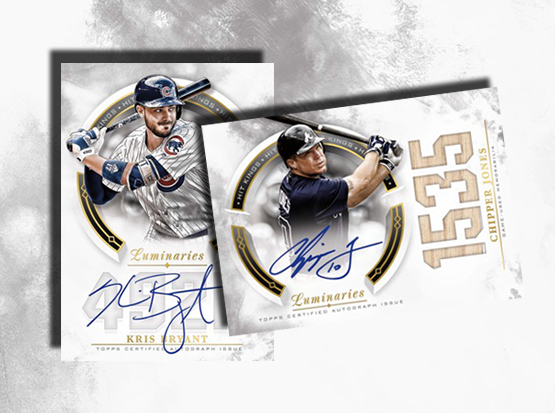 2018 Topps Luminaries Baseball ($199.95 per box), another super premium product, arrives Friday at Sports Cards Plus. The checklist is limited to only the top tier of Hall of Famers, stars and rookies in Major League Baseball. Autographed cuts are plentiful and contain an impressive list Hall of Famers and fan favorites. Each box comes with just one card — an autograph numbered to 15 or less.
Like the line's , the vast majority of cards fall under one of three themes that highlight past and present hitters, sluggers and pitchers.
2018 Topps Luminaries Home Run Kings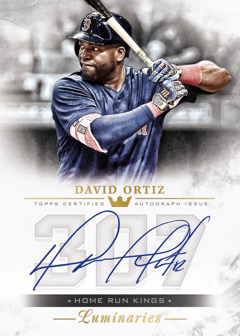 Home Run Kings cards, in all their forms, are all about power hitters. Like the entire 2018 Topps Luminaries Baseball checklist, it's not just current stars, either. Retired greats and Hall of Famers are also in the product.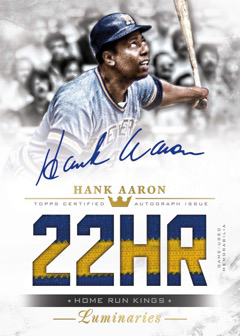 Basic Home Run Kings Autographs are numbered to 15 copies. Parallels come in Red (/10), Blue (/5) and Black (1/1).
In addition to these are Home Run Kings Autograph Relics (/15). These have only Red (/10) and Black (1/1) parallels. Autograph patch versions have five copies plus one Black parallel.
Home Run Kings Autograph Patch Dual and Triple cards are both one-of-ones. These are done in a book card format.
For those looking for larger numbers of autographs, there are a couple more books. The Home Run Kings Ultra Book card (1/1) has ten signatures. And while that sounds like a lot (because it is), the
Ultimate Book lands with 50 autographs.

Hit Kings and Masters of the Mound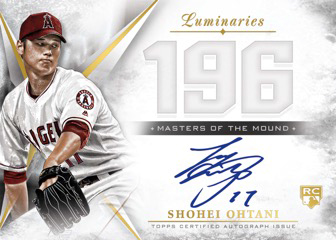 Hit Kings and Masters of the Mound are the other running themes in 2018 Topps Luminaries Baseball. The approach for each is the same as Home Run Kings with regular autographs numbered to 15 and three levels of parallels.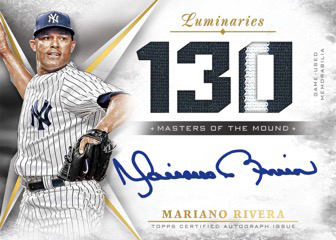 The autograph relics for both is also the same with the base versions having 15 copies each to go with Red (/10) and Black (1/1) parallels plus Patches (/5) for select players.
Masters of the Mound has Dual Book cards (1/1) while Hit Kings has Autograph Patch Dual Books (1/1).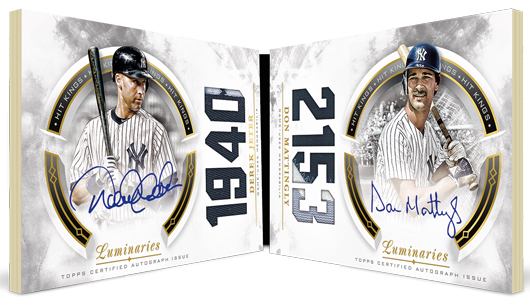 Ultra Books return for both themes. Like Home Run Kings, these have ten signatures and are one-of-ones. The Hit Kings Ultimate Book has 40 autographs while Masters of the Mound has signatures from 30 different pitchers.
Other Rarities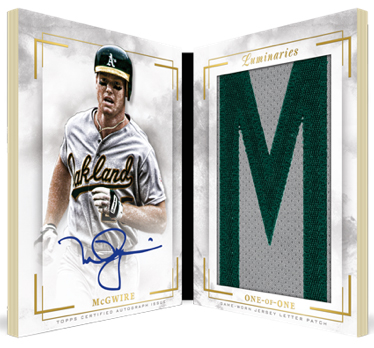 The 2018 Topps Luminaries Baseball checklist rounds out with some additional one-of-a-kind cards. Letter Books have an autograph on one side and a full letter piece from the back of a jersey on the other.
Cut Signatures are joined by Cut Signature Relics (1/1) and Cut Signature Bat Knobs.
Cut Signatures Checklist
CS-BD Bill Dickey, New York Yankees 1/1
CS-BDO Bobby Doerr, Boston Red Sox 1/1
CS-BF Bob Feller, Cleveland Indians 1/1
CS-BH Billy Herman, Chicago Cubs 1/1
CS-BK Bowie Kuhn 1/1
CS-BL Buck Leonard 1/1
CS-BM Bobby Murcer, New York Yankees 1/1
CS-BO Buck O'Neil 1/1
CS-BR Babe Ruth, New York Yankees 1/1
CS-BT Bobby Thomson, New York Giants 1/1
CS-BV Bill Veeck, Chicago White Sox 1/1
CS-CH Carl Hubbell, New York Giants 1/1
CS-CS Casey Stengel, New York Yankees 1/1
CS-CY Cy Young, Boston Red Sox 1/1
CS-DD Dizzy Dean, St. Louis Cardinals 1/1
CS-DDR Don Drysdale, Los Angeles Dodgers 1/1
CS-DS Duke Snider, Brooklyn Dodgers 1/1
CS-EB Ernie Banks, Chicago Cubs 1/1
CS-EC Earle Combs, New York Yankees 1/1
CS-EH Ernie Harwell, Detroit Tigers 1/1
CS-EM Eddie Mathews, Milwaukee Braves 1/1
CS-ES Enos Slaughter, St. Louis Cardinals 1/1
CS-EW Early Wynn, Cleveland Indians 1/1
CS-FC Frank Crosetti, New York Yankees 1/1
CS-GH Gil Hodges, Brooklyn Dodgers 1/1
CS-GK George Kell, Detroit Tigers 1/1
CS-HC Happy Chandler 1/1
CS-HG Hank Greenberg, Detroit Tigers 1/1
CS-HN Hal Newhouser, Detroit Tigers 1/1
CS-HW Honus Wagner, Pittsburgh Pirates 1/1
CS-HWI Hoyt Wilhelm, New York Giants 1/1
CS-JB Jim Bunning, Detroit Tigers 1/1
CS-JD Joe DiMaggio, New York Yankees 1/1
CS-JF Jimmie Foxx, Boston Red Sox 1/1
CS-JM Joe Medwick, St. Louis Cardinals 1/1
CS-JMC Joe McCarthy, New York Yankees 1/1
CS-JMI Johnny Mize, St. Louis Cardinals 1/1
CS-JR Jackie Robinson, Brooklyn Dodgers 1/1
CS-JT Jim Thorpe, New York Giants 1/1
CS-KP Kirby Puckett, Minnesota Twins 1/1
CS-LA Luke Appling, Chicago White Sox 1/1
CS-LB Lou Boudreau, Cleveland Indians 1/1
CS-LD Larry Doby, Cleveland Indians 1/1
CS-LDU Leo Durocher, New York Giants 1/1
CS-LG Lefty Grove, Boston Red Sox 1/1
CS-LGE Lou Gehrig, New York Yankees 1/1
CS-MI Monte Irvin, New York Giants 1/1
CS-NL Nap Lajoie, Cleveland Naps 1/1
CS-PR Phil Rizzuto, New York Yankees 1/1
CS-PWR Pee Wee Reese, Brooklyn Dodgers 1/1
CS-RA Richie Ashburn, Philadelphia Phillies 1/1
CS-RB Red Barber, Brooklyn Dodgers 1/1
CS-RC Roberto Clemente, Pittsburgh Pirates 1/1
CS-RK Ralph Kiner, Pittsburgh Pirates 1/1
CS-RM Roger Maris, New York Yankees 1/1
CS-RMA Rube Marquard, New York Giants 1/1
CS-RR Red Ruffing, New York Yankees 1/1
CS-RRO Robin Roberts, Philadelphia Phillies 1/1
CS-RS Ron Santo, Chicago Cubs 1/1
CS-SJW Smoky Joe Wood, Boston Red Sox 1/1
CS-SM Stan Musial, St. Louis Cardinals 1/1
CS-SO Sadaharu Oh 1/1
CS-SP Satchel Paige, Cleveland Indians 1/1
CS-TC Ty Cobb, Detroit Tigers 1/1
CS-TS Tris Speaker, Cleveland Indians 1/1
CS-TW Ted Williams, Boston Red Sox 1/1
CS-WA Walter Alston, Los Angeles Dodgers 1/1
CS-WG Warren Giles, Major League Baseball 1/1
CS-WH Waite Hoyt, New York Yankees 1/1
CS-WS Warren Spahn, Milwaukee Braves 1/1
CS-WST Willie Stargell, Pittsburgh Pirates 1/1
CS-ZW Zack Wheat, Brooklyn Dodgers 1/1
Cut Signature Bat Knob Book Cards Checklist
CSB-HG Hank Greenberg, Detroit Tigers 1/1
CSB-RH Rogers Hornsby, St. Louis Cardinals 1/1
CSB-TS Tris Speaker, Cleveland Indians 1/1
Cut Signature Relics Checklist
CSR-BF Bob Feller, Cleveland Indians 1/1
CSR-CS Casey Stengel, New York Yankees 1/1
CSR-DS Duke Snider, Brooklyn Dodgers 1/1
CSR-EB Ernie Banks, Chicago Cubs 1/1
CSR-EM Eddie Mathews, Milwaukee Braves 1/1
CSR-ES Enos Slaughter, St. Louis Cardinals 1/1
CSR-EW Early Wynn, Cleveland Indians 1/1
CSR-GH Gil Hodges, Brooklyn Dodgers 1/1
CSR-HG Hank Greenberg, Detroit Tigers 1/1
CSR-HW Honus Wagner, Pittsburgh Pirates 1/1
CSR-HWI Hoyt Wilhelm, New York Giants 1/1
CSR-JD Joe DiMaggio, New York Yankees 1/1
CSR-JM Johnny Mize, St. Louis Cardinals 1/1
CSR-JR Jackie Robinson, Brooklyn Dodgers 1/1
CSR-KP Kirby Puckett, Minnesota Twins 1/1
CSR-NL Nap Lajoie, Cleveland Naps 1/1
CSR-PR Phil Rizzuto, New York Yankees 1/1
CSR-PWR Pee Wee Reese, Brooklyn Dodgers 1/1
CSR-RC Roberto Clemente, Pittsburgh Pirates 1/1
CSR-RH Rogers Hornsby, St. Louis Cardinals 1/1
CSR-RK Ralph Kiner, Pittsburgh Pirates 1/1
CSR-SM Stan Musial, St. Louis Cardinals 1/1
CSR-TS Tris Speaker, Cleveland Indians 1/1
CSR-TW Ted Williams, Boston Red Sox 1/1
CSR-WS Warren Spahn, Milwaukee Braves 1/1