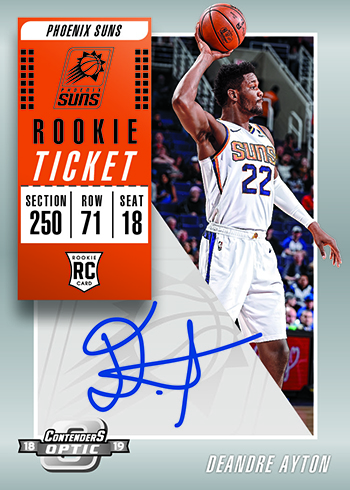 2018-19 Panini Contenders Optic Basketball cards puts the Opti-Chrome spin on
. Think of it as what Donruss Optic is to Donruss. Not only does "Optic" mean beautiful shiny cards but several levels of very collectible colorful parallels. And as with the regular Contenders product, autographs play a key role with Contenders Optic as well.
Hobby boxes are more like buying a premium pack, with just a single pack of six cards. The breakdown includes one autograph card, two inserts, a pair of parallels and a single base card (which means the base card is relatively rare and very collectible.
Panini is following the winning single pack box formula of 2018-19 Prizm Choice (sells for $149.95 if you can find it) and 2018-19 Donruss Optic Choice (sells for $149.95 per box) which is even harder to find than Prizm Choice.
PRE-PAY $114.95 per box for 2018-19 Contenders Optic Basketball TODAY at Sports Cards Plus.
2018-19 Panini Contenders Optic Basketball Overview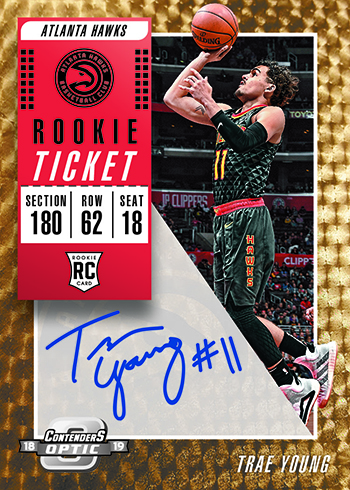 Contenders Optic Basketball autographs include veteran stars, all-time greats and the top rookies of 2018-19. The Rookie Ticket Autographs are one of the keys to the set. These are hard signed directly on the card. Additional versions come in a variety of colors coming in varying quantities down to one-of-one Gold Vinyl.
Up and Coming Contenders Autographs take an insert approach to rookie ink.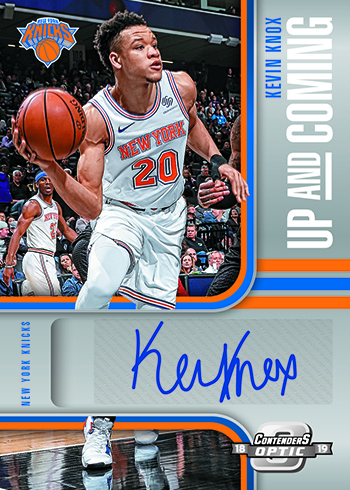 Veteran Ticket Autographs adopt a similar design to the base set, making space for signatures from non-rookie players.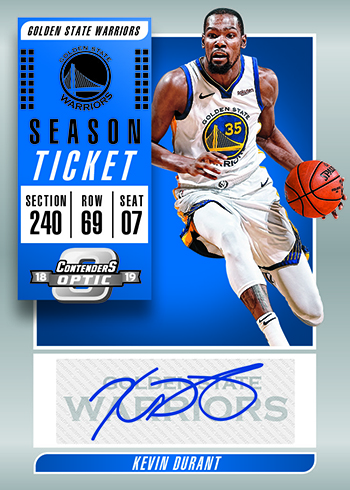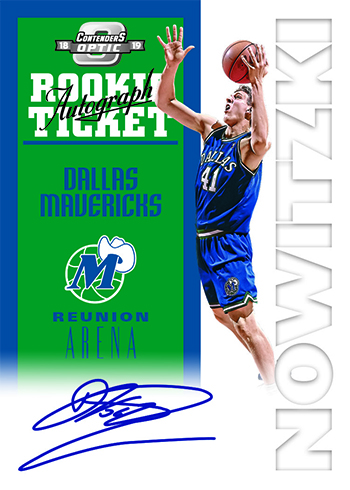 Taking a page from Contenders Optic Football, there are tough Contenders Tribute Autographs that use Contenders designs from 1998, 2003 and 2007. The players on these match up with rookies from those seasons. 1981 Donruss is also incorporated into autographs.
As far as other inserts go, Superstar Die-Cuts are instantly recognizable due to their shape. Other sets include Hall of Fame Contenders, Historic MVPs, Historic Rookies of the Year, and Playing the Numbers Game.