MLB Baseball's June draft is a key part of 2019 Panini Contenders Draft Picks Baseball. Everyone will be looking for the very first cards of the future of MLB, including MLB Number 8 Draft Pick,
San Antonio's own Josh Jung.
Here are the picks:
Baltimore Orioles: Adley Rutschman, C, Oregon State University
Kansas City Royals: Bobby Witt Jr., SS, Colleyville Heritage HS (TX)
White Sox: Andrew Vaughn, 1B, University of California
Marlins: JJ Bleday, OF, Vanderbilt University
Tigers: Riley Greene, OF, Hagerty HS (FL)
Padres: C.J. Abrams, SS, Blessed Trinity Catholic HS (GA)
Reds: Nick Lodolo, LHP, Texas Christian University
Rangers: Josh Jung, 3B, Texas Tech University
Braves: Shea Langeliers, C, Baylor University
Giants: Hunter Bishop, OF, Arizona State University
Blue Jays: Alek Manoah, RHP, West Virginia University
Mets: Brett Baty, 3B, Lake Travis HS (TX)
Twins: Keoni Cavaco, 3B, Eastlake HS (CA)
Phillies: Bryson Stott, SS, University of Nevada, Las Vegas
Angels: Will Wilson, SS, North Carolina State University
Diamondbacks: Corbin Carroll, OF, Lakeside HS (WA)
Nationals: Jackson Rutledge, RHP, San Jacinto JC (TX)
Pirates: Quinn Priester, RHP, Cary-Grove HS (IL)
Cardinals: Zack Thompson, LHP, University of Kentucky
Mariners: George Kirby, RHP, Elon University
Braves: Braden Shewmake, SS, Texas A&M University
Rays: Greg Jones, SS, University of North Carolina-Wilmington
Rockies: Michael Toglia, 1B, University of California-Los Angeles
Indians: Daniel Espino, RHP, Georgia Premier Academy (HS)
Dodgers: Kody Hoese, 3B, Tulane University
Diamondbacks: Blake Walston, LHP, New Hanover HS (NC)
Cubs: Ryan Jensen, RHP, Fresno State
Brewers: Ethan Small, LHP, Mississippi State
Athletics: Logan Davidson, SS, Clemson
Yankees: Anthony Volpe, SS, Delbarton School (NJ)
Dodgers: Michael Busch, 1B, University of North Carolina
Astros: Korey Lee, C, Cal
Diamondbacks: Brennan Malone, RHP, IMG Academy (FL; compensatory pick)
Diamondbacks: Drey Jameson, RHP, Ball State (compensatory pick)
Marlins: Kameron Misner, OF, Missouri (Competitive Balance Round A)
Rays: JJ Goss, RHP, Cypress Ranch HS (TX; Competitive Balance Round A)
Pirates: Sammy Siani, OF, William Penn Charter School (PA; Competitive Balance Round A)
Yankees: TJ Sikkema, LHP, Missouri (Competitive Balance Round A)
Twins: Matt Wallner, OF, Southern Mississippi (Competitive Balance Round A)
Rays: Seth Johnson, RHP, Campbell University (Competitive Balance Round A)
Rangers: Davis Wendzel, 3B, Baylor (Competitive Balance Round A)
However, the 2019 Contenders Draft Picks Baseball checklist goes well beyond the 2019 MLB Draft. Prospects at all levels of the game are the anchor of the release, and it delves into the MLB Draft's past as well.
Hobby boxes average an autograph per pack with six total signature cards average in each six-pack Hobby Box.
2019 Panini Contenders Draft Picks Baseball Overview
The base set more than doubles in size for 2019. It's still not huge with just 60 cards, but it's significantly bigger than the 25 of . This is where collectors will find a range of generations, starting with players who have yet to make it to the big leagues and folding in some who have long since put the final touches on their Hall of Fame careers. Variations also return.
Season Ticket cards show players in their college uniforms. This is true for a lot of the checklist, not just the base set.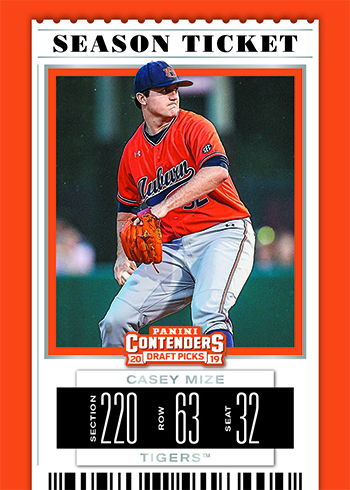 The 2019 MLB Draft is covered extensively with the RPS Draft Ticket Autographs. These include on-card signatures from many of the players taken in the first three rounds.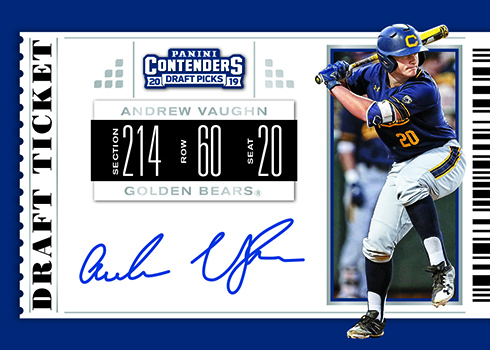 Parallels include Prospect Ticket (/99 or less), Cracked Ice Ticket (/23), Playoff Ticket (/18), Diamond Ticket (/15), Building Blocks Ticket (/10), Fame Ticket (/5), Printing Plates (1/1) and Championship Ticket (1/1).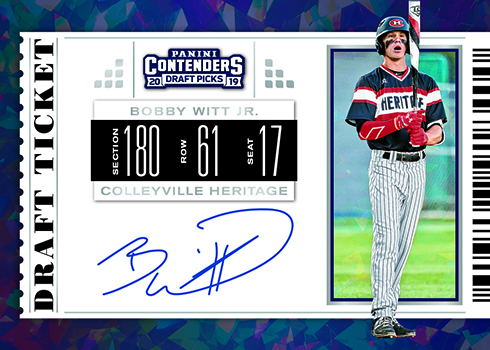 Some players also have Contenders Optic autographs, which are done on chromium stock.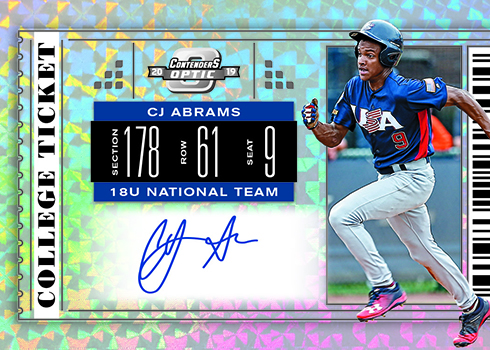 Bringing in other areas of signatures are International Ticket, which encompass players from around the world, and Prospect Ticket cards for those who aren't new draft picks but have still shown a lot of promise.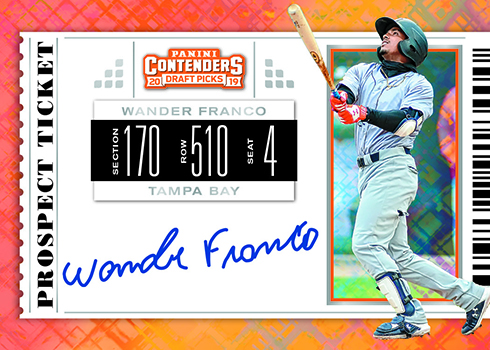 Collegiate Connections Signatures are dual autograph cards highlighting players from the same school.