2019 Panini Prizm Football continues the evolution of Panini's cornerstone brand. For collectors that means new Prizm colors, inserts making their gridiron debut and more surprises.
While the hobby and the retail market which exists in several configurations, hobby boxes are where collectors will find both signatures and Prizms parallels in quantity and variety. Among the hobby box hits are three autographs, four inserts and ten total Prizms.
2019 Panini Prizm Football Base Set Basics
The main 2019 Prizm Football set has a total of 400 cards. Of those, 300 are a mix of current vets and retired greats. Rookies, which land roughly two per hobby pack (24 per hobby box), take up the remaining 100 spots.
Prizms parallels, which stand out for the rainbow backgrounds and colorful borders, come in a lot of varieties. Hobby boxes have one Prizms Silver card along with nine additional serial numbered Prizms. Colors and patterns include Orange (/249), Blue Wave (/199), Hyper (/175), Red Wave (/149), Blue Ice (/99), Green Scope (/75), Purple Power (/49), Camo (/25), Gold (/10), Gold Vinyl (/5) and Black Finite (1/1). Blue Ice and Green Scope are both making their Prizm Football debuts.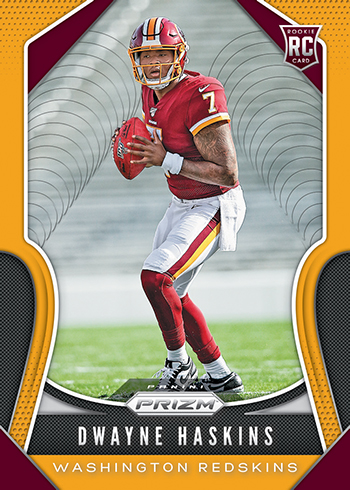 The 2019 Panini Prizm Football rainbow grows further with some retail exclusives. Blaster boxes have one Prizms Laser card. Red, White and Blue cards are once again three per fat pack. New ten-pack retail Mega Boxes have one Neon Green Pulsar parallel.
Autographs and Memorabilia Cards
As far as signatures go, Rookie Autographs lead the way. Taking a tweaked approach to the base set, like past years for the brand, these use stickers. Rookie Autographs Prizms available in hobby packs include Red Wave (/149 or less), Green Scope (/75 or less), Purple Power (/49 or less), Camo (/25 or less), Gold (/10 or less), Gold Vinyl (/5 or less) and Black Finite (1/1). Neon Green Rookie Autographs are one per retail Mega Box.
Rookie Patch Autographs are a case hit. Base versions top out at 99 copies each with additional parallels in Purple Power (/49 or less), Gold (/10) and Black Finite (1/1).
New to 2019 Panini Prizm Football are Franchise Legends Signatures that include some all-time NFL greats. Blue Ice (/99 or less), Green Scope (/75 or less), Purple Power (/49 or less), Camo (/25 or less), Gold (/10 or less) and one-of-one Black Finite are among the parallels.
Other new signed inserts include Flashback Autographs and Sensational Signatures.
Outside of the Rookie Patch Autographs, hobby packs don't have any additional memorabilia possibilities. However, retail blaster boxes have one relic.

Additional Inserts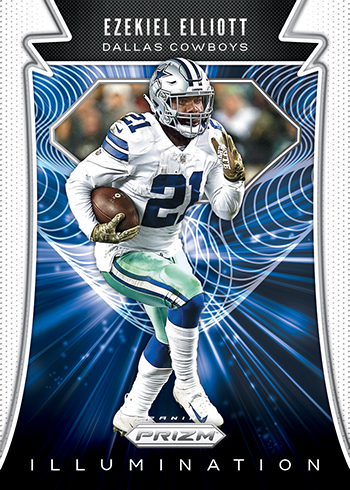 The 2019 Prizm Football checklist has several other insert sets. Among them are five particularly tough themes: Aurora, Breakthrough, Class Acts, Illumination and Color Blast. These all combine to land approximately one per case. Of these, Color Blast cards are particularly scarce, falling about 1:10 hobby cases.
Some of the other inserts in the product are Brilliance, Emergent, Fireworks, Hype, Legendary Talents and Unstoppable.
2019 Panini Prizm Football:
Cards per pack: Hobby – 12
Packs per box: Hobby – 12
Boxes per case: Hobby – 12
Set size: 400 cards
Release date: October 25, 2019
What to expect in a hobby box:
Autographs – 3
Inserts – 4
Silver Prizms – 1
Additional Prizms – 9
Rookies – 24