Building off it's impressive run last year, 2019 Playbook Hobby Football ($150/box) is back with the unique configuration and clean look which brings the set to life. Each Hobby box has one 4-Card Pack includes 3 Autographs and one Booklet Card, which may also include an Autographed Patch Booklet.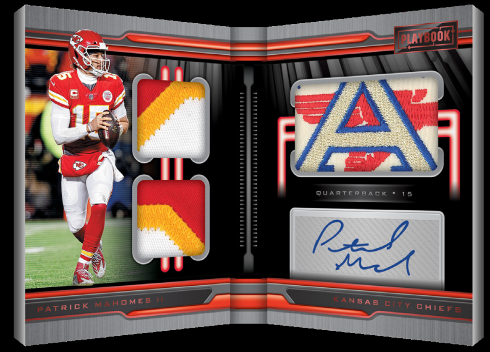 2019 Panini Playbook Football Autographs
Autographs continue to be a driving force for Playbook. In this set, autographs are featured next to impressive ensembles.
In Playbook Material Autos, the signature is the final piece in a player-worn material square. There are 49 regular Material Autos, /25 or less of Green version and /10 or less of the Red variation. Other 1/1 versions are NFL Shield Black, Nike Swoosh Black, Printing Plate Cyan, Printing Plate Magenta, Printing Plate Yellow and Printing Plate Black.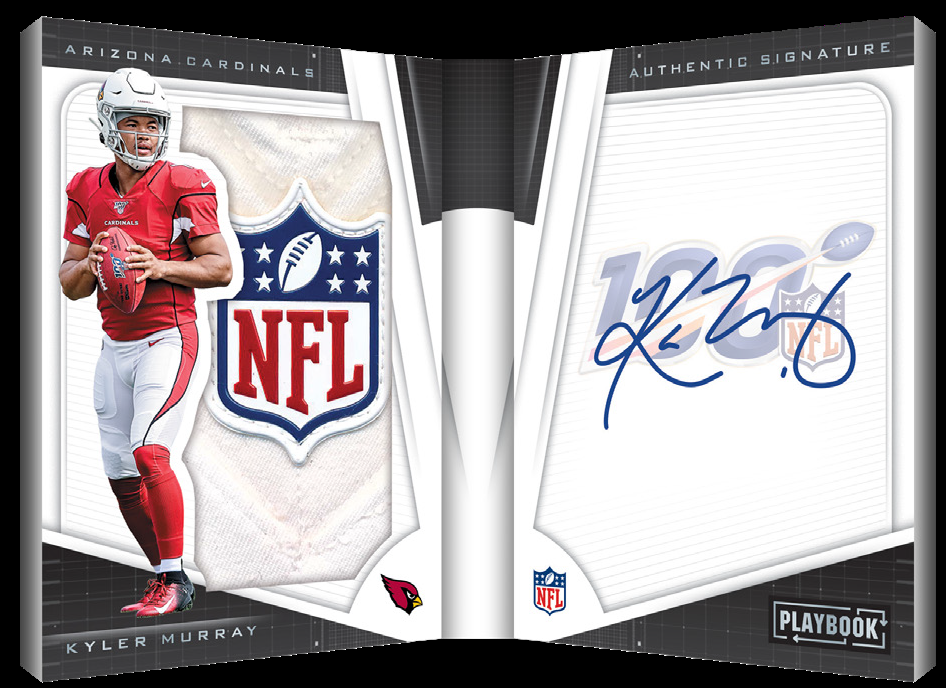 Rookie Jersey Autographs is certain to be popular because it has everything a collector wants in a card: rookie, autograph, memorabilia. In this case, the base is numbered to 249. Variations Gold (/125), Platinum (/49), Green (/25) and Red (/10) and Glove (/5) add some flair. As do 1/1 NFL Shield, Brand Logo, Laundry Tag, Printing Plate Cyan, Printing Plate Magenta, Printing Plate Yellow and Printing Plate Black.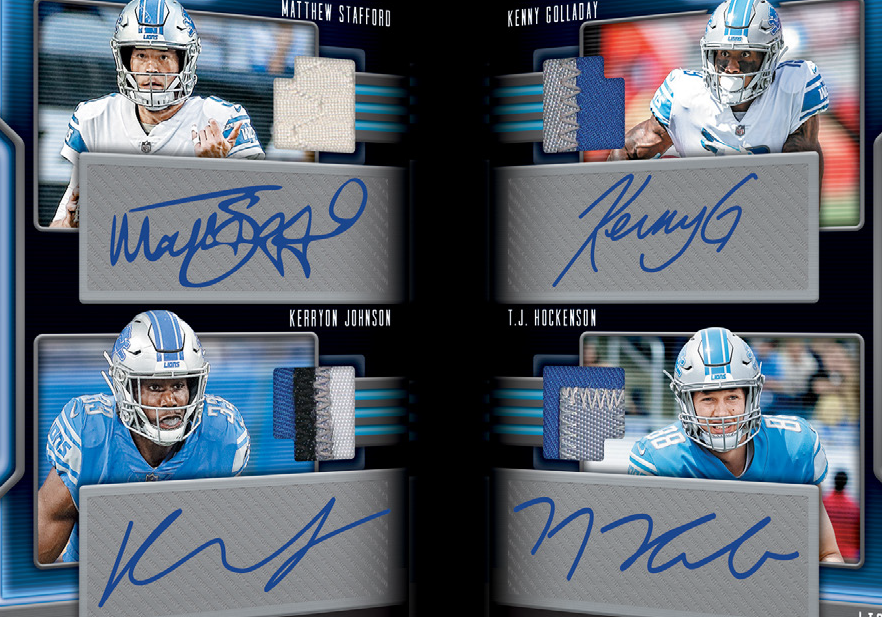 Showing style, Front 4 is the most booklet looking of all the booklets. It, too, is a complete package. Start-studded, it takes four franchise players with player-worn material and autographs. Finds are rare, with the original model numbered the 25 and Prime edition numbered to 10 and Tag version a 1/1.
Trifolds Expand Reach
Getting bigger, two trifolds are essentially a conglomerate combining memorabilia and autographs. To start, Vault Tri Fold Jersey Auto stands out. True to the name, it resembles a vault with more valuable than Al Capone's with up to 10 swatches and the signature. A rare find, the standard is numbered the 25 and two additions: Gold (/25) and Premium (1/1). Similarly, Rookie Signature Locker "holds a locker full of memorabilia plus an autograph."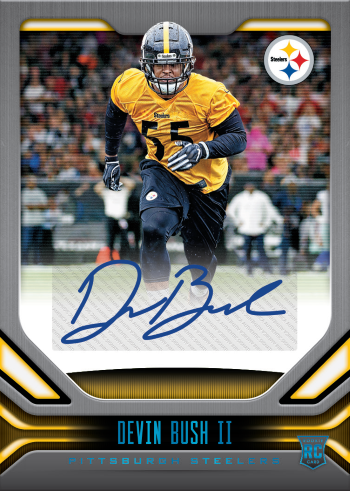 Showing excellence in standalone cards, there is also a Rookie Signatures program stand stands out among the playbooks. Still rare, cards are lower numbered, which includes Platinum (/75), Blue (/49), Green (/25), Gold (/10), Black (/5) top the list with Printing Plate Cyan, Printing Plate Magenta, Printing Plate Yellow, Printing Plate Black are 1/1 each.
2019 Panini Playbook Football Memorabilia
Booklets are the bread and butter of 2019 Panini Playbook Football. The come in a variety of styles. The most eye-popping of which is the Game of Inches. The display is wide acetate with photography that almost pops off the card. It features big player-worn material on either side. It comes in base (/25) Gold (/10) and Premium (1/1).

Rookie Jumbo Memorabilia Booklet

is another grand entrance into the market. The bifold display is dominated by a logo in the center. The player who wore the logo is featured on the side. Panini's top 40 rookies are featured in the set. There are several 1/1 in the set, making them great finds. In addition to the base (/49), variations include Prime (/25), Nike Swoosh (/2), Complete Logo (1/1), Leather NFL Shield (1/1) NFL Shield (1/1) and Gloves (1/1).
Going with a different yet impressive look is the Nexus Tri Fold Jumbo. For instance, it's a three-pronged approach. It features three teammates, each with player-worn material. Regular Jumbo is numbered to 25. Gold editions are numbered to 10 and Premium is 1/1.