Every box of
2015 Bowman Draft Asia Edition
has three autographs and 50 exclusives only available in Asia. The special boxes, which are distributed exclusively for the overseas market, promise more than 50 cards per box that aren't available in American boxes.
You don't have to take a plane to Japan to get these beauties, they're at Sports Cards Plus, a.k.a. The Super Hit Factory.
Click
HERE
to see the possibilities on eBay.
The most plentiful of the 2015 Bowman Draft Baseball Asia exclusives are Black Refractors. Multiple are included in every pack (at least 3 per pack). Black and Red paper parallels are also fairly common. Each box also has one or two exclusive Black Wave Refractors.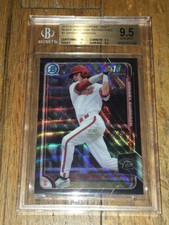 2015 Bowman Draft Asia boxes also have some autograph and relic parallels not available anywhere else.
Chrome Draft Pick Autograph Black Refractors are numbered to 35. The Asia Edition is the only way to find Prime Pairings Autograph Superfractors (1/1). Futures Game Relics have Red (#/5) and Black (1/1) parallels.
2015 Bowman Draft Baseball Asia boxes are the same size as regular jumbo boxes. Each has 12 packs of 32 cards with the promise of three autographs. In addition to the exclusives, Asia boxes have all the regular inserts and parallels as well.
So if your looking for the uncommon common,
every 2015 Bowman Draft pack
offers FOUR or FIVE Asia Exclusives and the chance for a truly valuable collectible.