At Sports Cards Plus, you always get more!
One lucky Sports Cards Plus customer will be a ball boy at The January 2018 U. S. Army Army All-American Bowl Game.
Every customer who buys a box of 2017 Leaf Metal US Army All-American Football will get a FREE Entry to our September 30th Drawing (or sooner when we sell out). Here is the announcement from Scott Jordan, Vice President of Leaf Trading Cards:
Leaf will provide your contest winner with 2
tickets to the event with the opportunity for 1 of the 2
participants to be a ball boy for the game. Each ball boy
works on the sideline during the game retrieving balls that
go out of bounds and helps to supply balls to the ball
manager who works with the referees. Ball boys are given a
game t-shirt and are in close proximity to the players
before and during the game. They are also supplied snacks
and refreshments at half time.
We look forward to working with you on this
program.
Thank you!
Scott Jordan
Leaf Trading Cards
Due in Friday is 2017 Leaf U. S. Army All-American Football with 8 Autographs per box for just $69.95. Only 2985 BOXES made!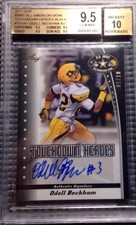 The average eight-card box of 2017 Leaf Metal US Army All-American Football have five Metal Autographs, a pair of Selection Tour Autographs and one Patch Autograph.
Click
HERE
to see cards from previous issues of Leaf Metal U. S. Army All-American Bowl Football.