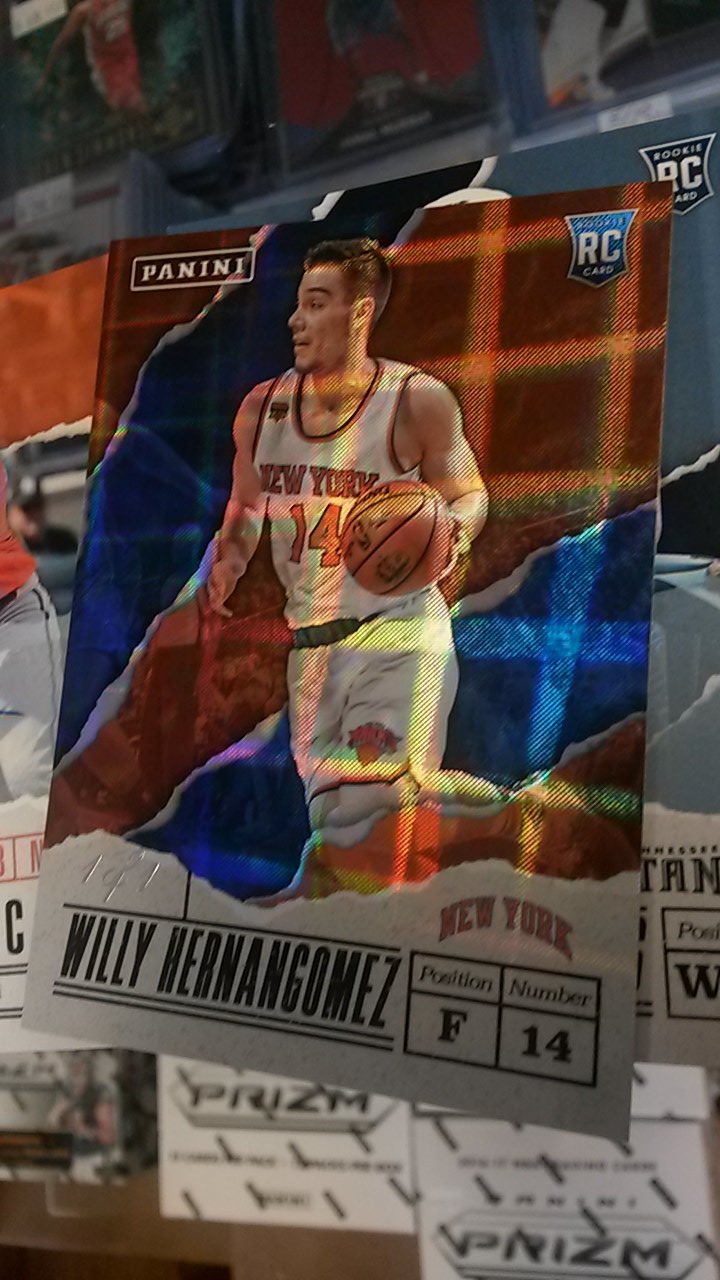 Sports Cards Plus will be closed on TUESDAY, 4th of July. But on

Monday and Wednesday

we invite Sports Cards Plus customers to celebrate with us, with FREE T-Shirts, FREE Panini Packs, FREE Topps Baseball Spring Fever Packs, FREE empty Immaculate boxes and FREE empty National Treasures boxes to store your cards (

limit one item per person per day or one item with each box purchased $50 or more.

). Pictured above are a few of the great hits from the Panini Father's Day Packs.
Get a FREE Entry to our October 30th $500.00 Drawing matching the amount of our total purchase.
Buy a box of 2017 Leaf Metal US Army All American Football for a FREE Drawing Entry to WIN Two Tickets to the January 2018 US Army All-American Game and be an OFFICAL BALL BOY at the game.
Sports Cards Plus boasts the LARGEST selection in the Galaxy (all of Texas). Many products we always carry, you can't find anywhere else. As always, at Sports Cards Plus, you pick your box from The BEST CASES in The Hobby at The LOWEST Price in The Galaxy. Here is a sample of our LOW,

LOW,

LOW

Prices:
.................................................................Internet........Our Price
2016-17 Spectra Basketball.......................$326.............$326
2016-17 Panini Prizm Extra Value Bskt....$150.............$119.95
2016-17 National Treasures Basketball....$775.............$729.95
2015-16
National Treasures Basketball....OUT.............$1079
2013-14 National Treasures Basketball....OUT.............$895
2015-16 Noir Basketball............................OUT..............$489
2015-16 Panini Replay Basketball............$64...............$59.95
2015-16 Panini Prizm Hobby Bskt............$170.............$169.95
2015-16 Panini Prizm JUMBO Bskt..........$300.............$299.95
2016 FLAWLESS Football.......................$1350............$1299
2017 TOPPS INCEPTION Baseball.........$75................$74.95
2017 TOPPS TIER ONE Baseball............$135..............$129.95
2017 Bowman Baseball (1 Auto).............$170...............$164.95
2017 Topps I JUMBO Baseball................$140...............$129.95
2017 Topps Gypsy Queen Baseball........$150..............$139.95
2016 Bowman JUMBO.............................$265...............$249.95
2016 Bowman Draft Picks JUMBO..........$145...............$139.95
2016 Bowman Draft Picks Super Jumbo..$245..............$224.95
2016 National Treasures Baseball..........$340...............$324.95
2016 Immaculate Baseball.......................OUT...............$164.95
2016 FLAWLESS Baseball........................OUT...............$1165
2016 Allen & Ginter Baseball.....................$83...............$ 79.95
2016 Topps I JUMBO...............................$117..............$109.95
2016 Topps II JUMBO...............................$ 75...............$ 71.95
2016 Topps Update JUMBO....................OUT................$ 64.95
2016 Topps Tier One...............................OUT...............$119.95
2016 Topps Tribute.................................$225...............$219.95
2015 Bowman Chrome JUMBO..............$500...............$499.95
2015 Bowman Chrome JUMBO Pack.....OUT................$49.95
2015 Bowman Draft Picks JUMBO Asia...OUT...............$270
2015 Bowman DP JUMBO Asia Pack.......OUT...............$24.95
2015 High Tek Asia....................................$70................$69.95
2016 Tier One Asia.....................................$110..............$104.95
2015 Tier One Asia....................................OUT...............$109.95
2014 Bowman Asia....................................OUT...............$74.95
2015 Topps Chrome JUMBO....................$500..............$479.95
2015 Topps Five Star Baseball.................OUT..............$139.95
2015 Panini Contenders Baseball............OUT..............$79.95
2014 Bowman Chrome JUMBO................$450..............$439.95
2014 Bowman Sterling (18 Autographs)...OUT..............$449.95
2014 Topps Chrome JUMBO.....................OUT..............$149.95
2014 National Treasures Baseball............OUT..............$599.95
2017 Elite Football......................................$112.............$112
2017 Leaf US Army All-American FB........$70...............$69.95
2016 Panini Pheonix Football....................$102.............$99.95
2016 Panini Clear Vision Football.............$42................$39.95
2016 Panini Prizm Extra Value FB.............OUT..............$119.95
2016 Contenders Draft Football.................$75...............$74.95
2016 Donruss Signatures Football............$80...............$79.95