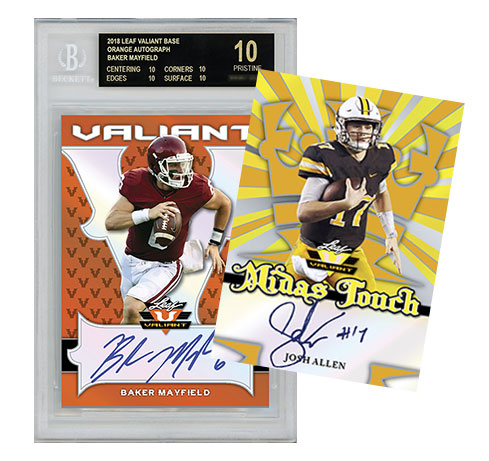 In 2017, Valiant evolved by adding a BGS-graded card in each box. That addition continues with 2018 Leaf Valiant Football.
With today's cost to have cards graded, that addition truly adds value to this product.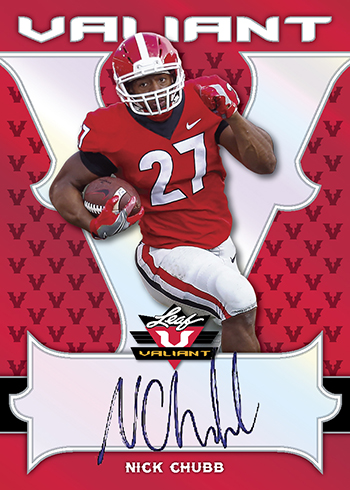 As usual, it's an all-autograph release centered on the year's draft class with particular attention on offensive players from positions like quarterback and running back.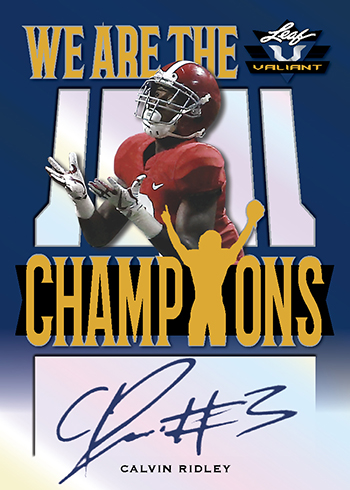 Every box of 2018 Leaf Valiant Football has four cards. All are signed with on-card autographs. Bright colors and chromium stock are another thing that's back for another year. This includes parallels throughout the various aspects of the checklist, both base autographs and inserts.
The insert lineup includes Midas Touch, Rising Stock, We Are the Champions, Big Targets and Take It to the House. There's also Here Comes the Boom, which has a pop art look to it.
All of the BGS-graded cards in the product are either 9.5, 10 or BGS 10 Black Label cards.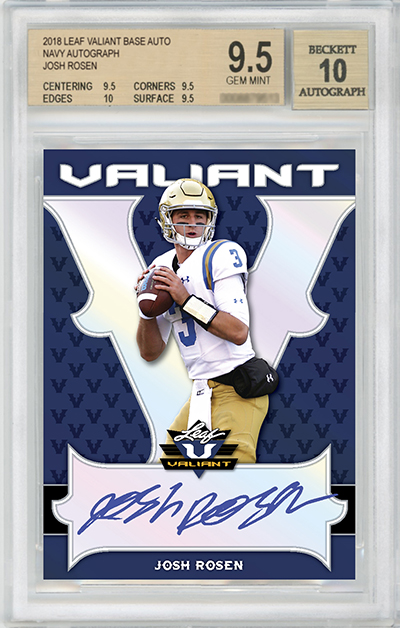 Base Autographs
Orange – /35

Navy – /25

Purple – /15

Yellow – /10

Black – /5

Red – 1/1

Printing Plates – 1/1 (each has Black, Cyan, Magenta and Yellow versions)
Players without Printing Plates: B. Chubb, Cobbs, Flowers, Fumagalli, Gesicki, Moore, Penny, Scarbrough, Thomas, Thompson
BA-AK1 Arden Key /60
BA-AL1 Allen Lazard /60
BA-AM1 Anthony Miller /60
BA-AT1 Auden Tate /60
BA-AW1 Akrum Wadley /60
BA-BB1 Braxton Berrios /60
BA-BC1 Bradley Chubb /60 – Some via redemption
BA-BM1 Baker Mayfield /60
BA-BS1 Bo Scarbrough /60
BA-CD1 Carlton Davis /60
BA-CK1 Christian Kirk /60
BA-CR1 Calvin Ridley /60
BA-CS1 Courtland Sutton /60
BA-CS2 Cam Serigne /60
BA-CW1 Cedrick Wilson Jr. /60
BA-DB1 Deontay Burnett /60
BA-DC1 Deon Cain /60
BA-DC2 Darren Carrington II /60
BA-DG1 Derrius Guice /60 – Some via redemption
BA-DG2 DeAndre Goolsby /60
BA-DG3 Dallas Goedert /60
BA-DJC D.J. Chark /60
BA-DJM D.J. Moore /60 – Redemption
BA-DP1 Dante Pettis /60
BA-DRP Daron Payne /60
BA-DS2 Durham Smythe /60
BA-DS3 Dalton Schultz /60
BA-DW1 Denzel Ward /60
BA-HH1 Hayden Hurst /60
BA-IS1 Ito Smith /60
BA-IT1 Ian Thomas /60 – Redemption
BA-JA1 Josh Allen /60
BA-JA2 Josh Adams /60
BA-JJ1 Justin Jackson /60
BA-JK1 John Kelly /60
BA-JMM J'Mon Moore /60
BA-JR1 Josh Rosen /60
BA-JW1 Jake Wieneke /60
BA-JW2 James Washington /60
BA-JW3 Javon Wims /60
BA-KB1 Kurt Benkert /60
BA-KC1 Keke Coutee /60
BA-KH1 Kenny Hill /60
BA-KJ1 Kerryon Johnson /60
BA-LF1 Luke Falk /60
BA-LW1 Logan Woodside /60
BA-MA1 Mark Andrews /60
BA-MA2 Marcell Ateman /60
BA-MB1 Marcus Baugh /60
BA-MC1 Martez Carter /60
BA-MF1 Minkah Fitzpatrick /60
BA-MG1 Michael Gallup /60
BA-MG2 Mike Gesicki /60
BA-MH1 Maurice Hurst /60
BA-MR1 Mason Rudolph /60
BA-MW1 Mark Walton /60
BA-MW2 Mike White /60
BA-NC1 Nick Chubb /60
BA-QF1 Quinton Flowers /60
BA-RE1 Rashaan Evans /60
BA-RF1 Royce Freeman /60
BA-RF2 Riley Ferguson /60
BA-RJ2 Ronald Jones II /60
BA-RP1 Rashaad Penny /60 – Redemption
BA-RS1 Roquan Smith /60
BA-RW1 Ralph Webb /60
BA-SC1 Simmie Cobbs Jr. /60
BA-SD1 Sam Darnold /60
BA-SH1 Sam Hubbard /60
BA-SM1 Sony Michel /60
BA-TF1 Troy Fumagalli /60
BA-TT1 Trenton Thompson /60
BA-VV1 Vita Vea /60 – Some via redemption
Big Targets
Orange – /35

Navy – /25

Purple – /15

Yellow – /10

Black – /5

Red – 1/1

Printing Plates – 1/1 (each has Black, Cyan, Magenta and Yellow versions; no Thomas)
BT-CS2 Cam Serigne /60
BT-DG2 DeAndre Goolsby /60
BT-DG3 Dallas Goedert /60
BT-DS2 Durham Smythe /60
BT-DS3 Dalton Schultz /60
BT-HH1 Hayden Hurst /60
BT-IT1 Ian Thomas /60 – Redemption
BT-MA1 Mark Andrews /60
BT-MB1 Marcus Baugh /60
BT-MG2 Mike Gesicki /60
BT-TF1 Troy Fumagalli /60
Here Comes the Boom
Orange – /35

Navy – /25

Purple – /15

Yellow – /10

Black – /5

Red – 1/1

Printing Plates – 1/1 (each has Black, Cyan, Magenta and Yellow versions; no Chubb, Thompson)
HB-AK1 Arden Key /60
HB-BC1 Bradley Chubb /60
HB-CD1 Carlton Davis /60
HB-DRP Daron Payne /60
HB-DW1 Denzel Ward /60
HB-MF1 Minkah Fitzpatrick /60
HB-MH1 Maurice Hurst /60
HB-RE1 Rashaan Evans /60
HB-RS1 Roquan Smith /60
HB-SH1 Sam Hubbard /60
HB-TT1 Trenton Thompson /60
HB-VV1 Vita Vea /60 – Some via redemption
Midas Touch
Orange – /35

Navy – /25

Purple – /15

Yellow – /10

Black – /5

Red – 1/1

Printing Plates – 1/1 (each has Black, Cyan, Magenta and Yellow versions; no Flowers, White)
MT-BM1 Baker Mayfield /60
MT-JA1 Josh Allen /60
MT-JR1 Josh Rosen /60
MT-KB1 Kurt Benkert /60
MT-KH1 Kenny Hill /60
MT-LF1 Luke Falk /60
MT-LW1 Logan Woodside /60
MT-MR1 Mason Rudolph /60
MT-MW2 Mike White /60
MT-QF1 Quinton Flowers /60
MT-RF2 Riley Ferguson /60
MT-SD1 Sam Darnold /60
Rising Stock
Orange – /35

Navy – /25

Purple – /15

Yellow – /10

Black – /5

Red – 1/1

Printing Plates – 1/1 (each has Black, Cyan, Magenta and Yellow versions; no Penny)
RS-AW1 Akrum Wadley /60
RS-DJC D.J. Chark /60
RS-JW2 James Washington /60
RS-LF1 Luke Falk /60
RS-NC1 Nick Chubb /60
RS-RF2 Riley Ferguson /60
RS-RP1 Rashaad Penny /60 – Redemption
RS-SM1 Sony Michel /60
Take It to the House
Orange – /35

Navy – /25

Purple – /15

Yellow – /10

Black – /5

Red – 1/1

Printing Plates – 1/1 (each has Black, Cyan, Magenta and Yellow versions; no Cobbs, Moore, Penny, Scarbrough, Wadley, Washington)
TH-AL1 Allen Lazard /60
TH-AM1 Anthony Miller /60
TH-AT1 Auden Tate /60
TH-AW1 Akrum Wadley /60
TH-BB1 Braxton Berrios /60
TH-BS1 Bo Scarbrough /60
TH-CK1 Christian Kirk /60
TH-CR1 Calvin Ridley /60
TH-CS1 Courtland Sutton /60
TH-CW1 Cedrick Wilson Jr. /60
TH-DB1 Deontay Burnett /60
TH-DC1 Deon Cain /60
TH-DC2 Darren Carrington II /60
TH-DG1 Derrius Guice /60 – Some via redemption
TH-DJC D.J. Chark /60
TH-DJM D.J. Moore /60 – Redemption
TH-DP1 Dante Pettis /60
TH-IS1 Ito Smith /60
TH-JA2 Josh Adams /60
TH-JJ1 Justin Jackson /60
TH-JK1 John Kelly /60
TH-JMM J'Mon Moore /60
TH-JW1 Jake Wieneke /60
TH-JW2 James Washington /60
TH-JW3 Javon Wims /60
TH-KC1 Keke Coutee /60
TH-KJ1 Kerryon Johnson /60
TH-MA2 Marcell Ateman /60
TH-MC1 Martez Carter /60
TH-MG1 Michael Gallup /60
TH-MW1 Mark Walton /60
TH-NC1 Nick Chubb /60
TH-RF1 Royce Freeman /60
TH-RJ2 Ronald Jones II /60
TH-RP1 Rashaad Penny /60 – Redemption
TH-RW1 Ralph Webb /60
TH-SC1 Simmie Cobbs Jr. /60
TH-SM1 Sony Michel /60
We Are the Champions
Orange – /35

Navy – /25

Purple – /15

Yellow – /10

Black – /5

Red – 1/1

Printing Plates – 1/1 (each has Black, Cyan, Magenta and Yellow versions; no Scarbrough)
WC-BS1 Bo Scarbrough /60
WC-CR1 Calvin Ridley /60
WC-DRP Daron Payne /60
WC-MF1 Minkah Fitzpatrick /60
WC-RE1 Rashaan Evans /60