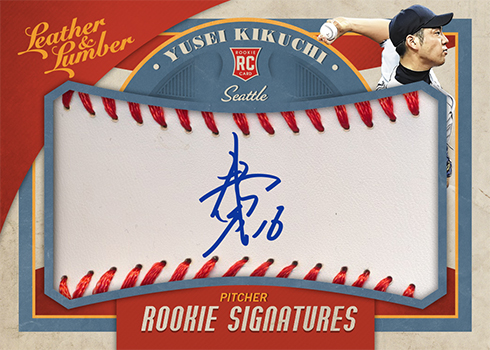 With a price tag of just $225 per box, few baseball products offer more bang for your buck than 2019 Panini Leather and Lumber Baseball. While Panini's Leather and Lumber card designs have been used in a couple of insert sets over the last few years, 2019 Panini Leather and Lumber Baseball marks the first time it has been a full release since 2005. This time around, it's a hits-heavy product with each hobby pack (four packs per box) averaging an autograph and a memorabilia card.
Each hobby box delivers four autograph cards, a matching number of relics, 15 inserts and a pair of numbered parallels.
2019 Panini Leather and Lumber Baseball Base Set Overview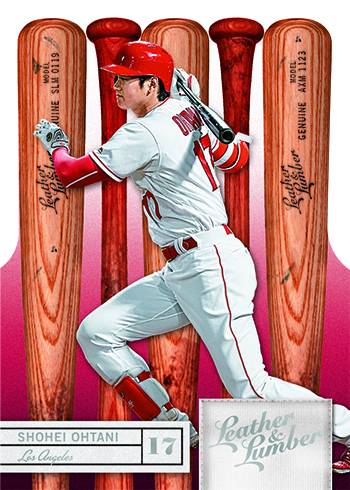 2019 Panini Leather and Lumber Baseball has a 100-card base set. The base set is divided into to sections, reflecting the set's overall theme. Fifty cards are "Gloves," showcasing players fielding. The other 50 are "Bats" and center on offense.
Die-cut versions for both are exclusive to hobby.
Autographs and Memorabilia Cards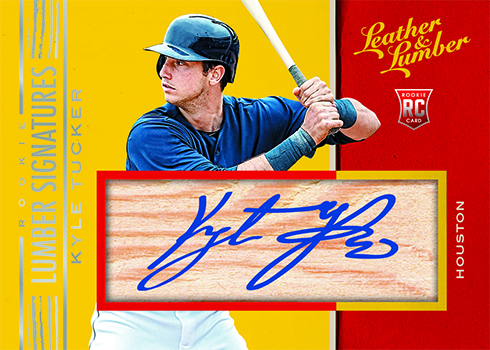 Living up to its name, signatures are on a variety of materials. This comes through with a trio of rookie autograph styles where signatures can be found on baseballs, leather and wood.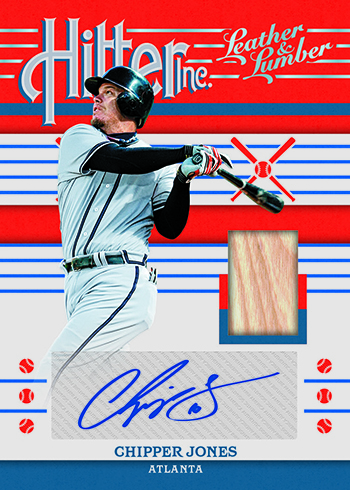 Hitter Inc. Signatures are autograph memorabilia cards. Versions include Bat, Bat Gold (/99 or less), Jersey (/25 or less), Jersey Holo Gold (/10 or less), and Jersey Platinum Blue (1/1).
Material Cut Signatures take the cut concept and add a pieces of game-used memorabilia to go with it.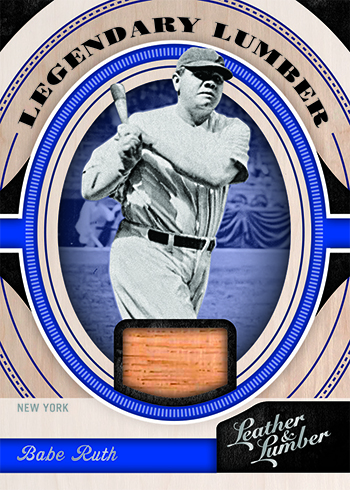 Among the strictly relic inserts is Legendary Lumber, which has a checklist that includes the likes of Babe Ruth, Joe DiMaggio, Jimmie Foxx and more.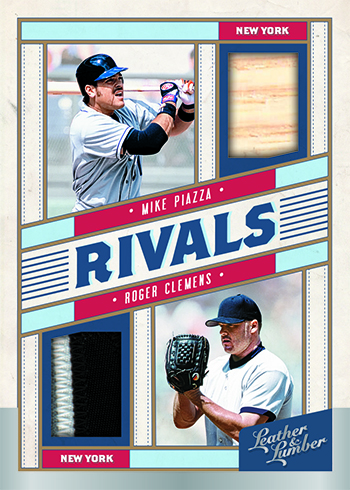 Rivals has a pair of swatches from two different players. In addition to the base versions are Gold (/99 or less), Holo Silver (/25 or less), Holo Gold (/10 or less) and Platinum Blue (1/1) parallels.
Other memorabilia inserts include 500 Home Run Club, Big Bats, Flashing the Leather, Grip-It-N-Rip-It, Leather and Lumber Duals, and Sweet Feet.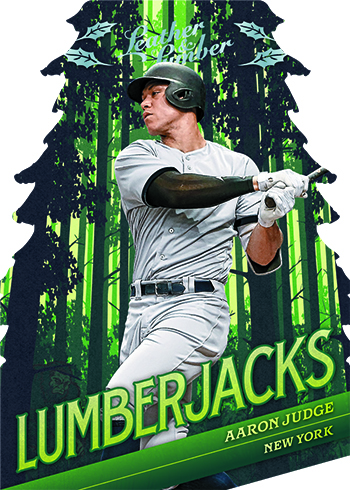 As far as other inserts go, both hobby and retail have some exclusives to call their own. And names might be familiar to those who were collecting back in the '90s and '00s. Hobby inserts include Benchmarks, Knothole Gang and Naturals.
Among the retail inserts are Bat Patrol, Equalizers, Hit-N-Run, Home Run Kings, Life on the Edge, Maple and Ash, and Slugfest.
2019 Panini Leather and Lumber Baseball cards at a glance:
Cards per pack: 10
Packs per box: 4
Boxes per case: 10
Set size: 100 cards
Release date: May 29, 2019
What to expect in a hobby box:
Autographs – 4
Memorabilia Cards – 4
Inserts – 15
Parallels – 2