2019 Topps Definitive Collection Baseball is everything a premium baseball product should be. With on-card signatures and premium swatches, Definitive Collection is well worth the $1,100 price tag. Each box delivers six autographs or autographed premium swatches and two premium memorabilia cards. The checklist is a who's who of Hall of Famers, current super stars and only the top rookie prospects.
2019 Topps Definitive Collection Baseball Autograph Overview
Base Autograph Relic Collection cards take the helm as the main cards in the set. As with previous years for the brand, rookies and veterans make up the checklist. Base versions have 50 copies or less.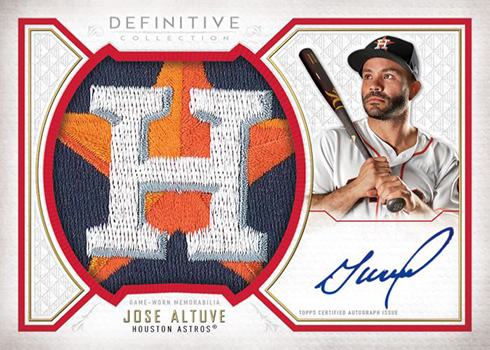 Parallels start with Green (/25) and Purple (/10). Red versions come in five different styles, each a one-of-one: Jersey Button, Laundry Tag, Team Logo, Majestic Logo, and MLB Logo.
Top young players make up the Definitive Rookie Autographs checklist. Base versions come numbered to 50 or less while additional parallels can be found in Green (/25), Purple (/10) and Red (1/1).
Going to the opposite end of the spectrum are Legendary Autograph Collection cards (/25 or less), which look to the past. Parallels for these are limited to Purple (/5) and Red (1/1).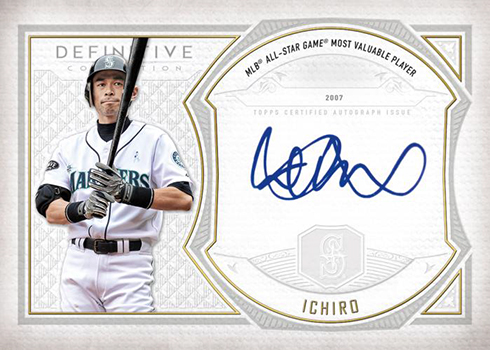 Defining Moments Autographs (/50 or less) highlight a specific achievement. This is a new insert set for 2019 Topps Definitive Collection Baseball.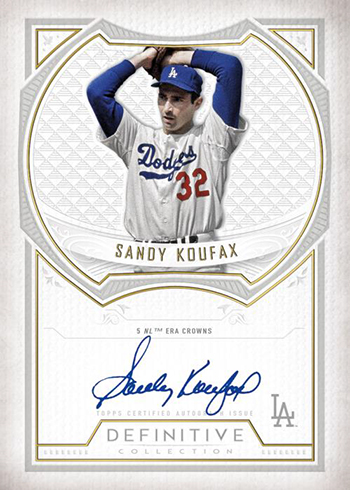 There's also the Definitive Autograph Collection, which feature the trifecta of vets, rookies and retired stars. All come numbered and Red parallels (1/1) are also available.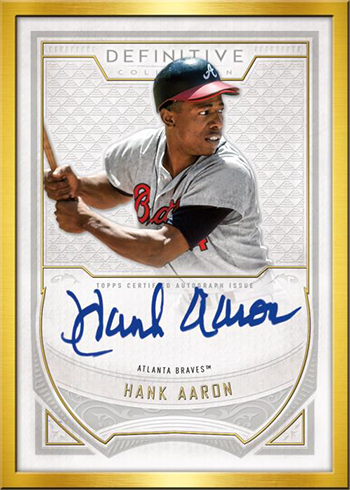 Framed Autographs and Framed Autograph Patch Collection (/30 or less) both return. Parallels include Purple (/10) and Red (1/1).
Dual Autograph Collection cards double up the signatures. Besides numbered base versions, these have Green (/10), Purple (/5) and Red (1/1) cards, too. There are also Dual Autograph Relics (/35 or less) that add swatches.
Autograph Patch Book Collection (/5 or less) opens up to showcase a jumbo swatch on one side of the card and a signature on the other. Team Logo Patch Red (1/1) are the lone parallels.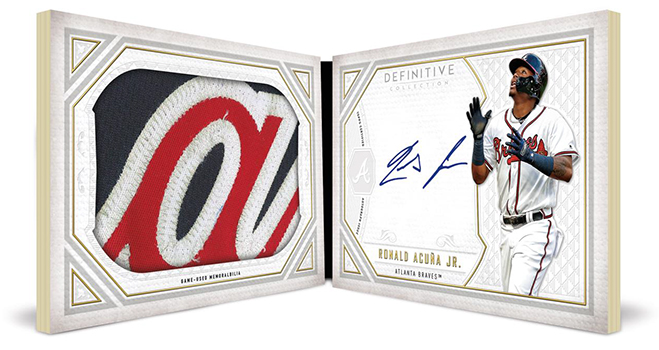 Cut Signatures are also available. These are all one-of-ones.
Memorabilia Cards
2019 Topps Definitive Collection Baseball relics aren't run-of-the mill memorabilia cards.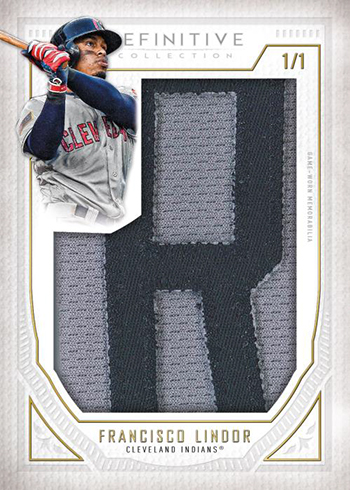 Jumbo Relic Collection cards (/50 or less) come with MLB Authentication. The hologram on these trace the exact game they're from. Swatches include pieces from commemorative jerseys. Parallels include Blue (/30), Green (/15), Purple (/5) and Red (1/1).
Definitive Helmet Collection (/50 or less) bypass the usual uniform swatches for pieces of game-used batting helmets. The parallel lineup begins with Purple (/10). Four one-of-one Red versions can be found in MLB Logo, MPH, Rawlings Authentic Tag, and Rawlings Logo.
One-of-a-kind relic cards include Definitive Patch Collection and Definitive Nameplate Collection.
DEFINITIVE AUTOGRAPH COLLECTION

DCA-ABR
Alex Bregman
Houston Astros®
DCA-AJ
Aaron Judge
New York Yankees®
DCA-AP
Andy Pettitte
New York Yankees®
DCA-AR
Anthony Rizzo
Chicago Cubs®
DCA-BG
Bob Gibson
St. Louis Cardinals®
DCA-BJ
Bo Jackson
Kansas City Royals®
DCA-BL
Barry Larkin
Cincinnati Reds®
DCA-BP
Buster Posey
San Francisco Giants®
DCA-CJ
Chipper Jones
Atlanta Braves™
DCA-CK
Clayton Kershaw
Los Angeles Dodgers®
DCA-CR
Cal Ripken Jr.
Baltimore Orioles®
DCA-DE
Dennis Eckersley
Oakland Athletics™
DCA-DJ
Derek Jeter
New York Yankees®
DCA-DM
Don Mattingly
New York Yankees®
DCA-DO
David Ortiz
Boston Red Sox®
DCA-EJ
Eloy Jimenez
Chicago White Sox®
DCA-FF
Freddie Freeman
Atlanta Braves™
DCA-FL
Francisco Lindor
Cleveland Indians®
DCA-FT
Frank Thomas
Chicago White Sox®
DCA-HA
Hank Aaron
Atlanta Braves™
DCA-HM
Hideki Matsui
New York Yankees®
DCA-ICH
Ichiro
Seattle Mariners™
DCA-JA
Jose Altuve
Houston Astros®
DCA-JR
Jose Ramirez
Cleveland Indians®
DCA-JS
Juan Soto
Washington Nationals®
DCA-JSM
John Smoltz
Atlanta Braves™
DCA-JV
Joey Votto
Cincinnati Reds®
DCA-KB
Kris Bryant
Chicago Cubs®
DCA-MMA
Manny Machado
Los Angeles Dodgers®
DCA-MMC
Mark McGwire
St. Louis Cardinals®
DCA-MT
Mike Trout
Angels®
DCA-NR
Nolan Ryan
Texas Rangers®
DCA-NS
Noah Syndergaard
New York Mets®
DCA-OA
Ozzie Albies
Atlanta Braves™
DCA-OS
Ozzie Smith
St. Louis Cardinals®
DCA-PG
Paul Goldschmidt
Arizona Diamondbacks®
DCA-PM
Pedro Martinez
Boston Red Sox®
DCA-RA
Roberto Alomar
Toronto Blue Jays®
DCA-RAJ
Ronald Acuña Jr.
Atlanta Braves™
DCA-RH
Rhys Hoskins
Philadelphia Phillies®
DCA-RHE
Rickey Henderson
Oakland Athletics™
DCA-RJ
Reggie Jackson
New York Yankees®
DCA-RJO
Randy Johnson
Seattle Mariners™
DCA-RS
Ryne Sandberg
Chicago Cubs®
DCA-SK
Sandy Koufax
Los Angeles Dodgers®
DCA-SO
Shohei Ohtani
Angels®
DCA-VG
Vladimir Guerrero
MONTRÉAL EXPOS™
DCA-VGJ
Vladimir Guerrero Jr.
Toronto Blue Jays®
DCA-WC
Will Clark
San Francisco Giants®
DCA-YM
Yadier Molina
St. Louis Cardinals®
LEGENDARY AUTOGRAPH COLLECTION
LAC-AD
Andre Dawson
Chicago Cubs®
LAC-AK
Al Kaline
Detroit Tigers®
LAC-AP
Andy Pettitte
New York Yankees®
LAC-AR
Alex Rodriguez
New York Yankees®
LAC-BG
Bob Gibson
St. Louis Cardinals®
LAC-BJA
Bo Jackson
Chicago White Sox®
LAC-CJ
Chipper Jones
Atlanta Braves™
LAC-CR
Cal Ripken Jr.
Baltimore Orioles®
LAC-DE
Dennis Eckersley
Oakland Athletics™
LAC- DJ
Derek Jeter
New York Yankees®
LAC-DM
Dale Murphy
Atlanta Braves™
LAC-DMA
Don Mattingly
New York Yankees®
LAC-DO
David Ortiz
Boston Red Sox®
LAC-FM
Fred McGriff
Atlanta Braves™
LAC-FT
Frank Thomas
Chicago White Sox®
LAC-HA
Hank Aaron
Milwaukee Braves™
LAC-HM
Hideki Matsui
New York Yankees®
LAC-ICH
Ichiro
Seattle Mariners™
LAC-JB
Johnny Bench
Cincinnati Reds®
LAC-JM
Juan Marichal
San Francisco Giants®
LAC-LB
Lou Brock
St. Louis Cardinals®
LAC-MMC
Mark McGwire
Oakland Athletics™
LAC-MP
Mike Piazza
Los Angeles Dodgers®
LAC-MR
Mariano Rivera
New York Yankees®
LAC-NR
Nolan Ryan
Houston Astros®
LAC-OS
Ozzie Smith
St. Louis Cardinals®
LAC-PM
Pedro Martinez
Montréal Expos™
LAC-RA
Roberto Alomar
Toronto Blue Jays®
LAC-RC
Rod Carew
Minnesota Twins®
LAC-RH
Rickey Henderson
Toronto Blue Jays®
LAC-RJA
Reggie Jackson
New York Yankees®
LAC-RS
Ryne Sandberg
Chicago Cubs®
LAC-RY
Robin Yount
Milwaukee Brewers™
LAC-SC
Steve Carlton
St. Louis Cardinals®
LAC- SK
Sandy Koufax
Los Angeles Dodgers®
LAC-WB
Wade Boggs
New York Yankees®
LAC-WC
Will Clark
San Francisco Giants®
DEFINITIVE ROOKIE AUTOGRAPHS
DRA-BL
Brandon Lowe
Tampa Bay Rays™
DRA-CA
Chance Adams
New York Yankees®
DRA-CAD
Chance Adams
New York Yankees®
DRA-CBU
Corbin Burnes
Milwaukee Brewers™
DRA-CM
Cedric Mullins
Baltimore Orioles®
DRA-CMU
Cedric Mullins
Baltimore Orioles®
DRA-CS
Christin Stewart
Detroit Tigers®
DRA-CST
Christin Stewart
Detroit Tigers®
DRA-DJ
Danny Jansen
Toronto Blue Jays®
DRA-DJA
Danny Jansen
Toronto Blue Jays®
DRA-ELJ
Eloy Jimenez
Chicago White Sox®
DRA-FTJ
Fernando Tatis Jr.
San Diego Padres™
DRA-JB
Jake Bauers
Tampa Bay Rays™
DRA-JM
Jeff McNeil
New York Mets®
DRA-JMC
Jeff McNeil
New York Mets®
DRA-JS
Justus Sheffield
New York Yankees®
DRA-JUS
Justus Sheffield
New York Yankees®
DRA-KA
Kolby Allard
Atlanta Braves™
DRA-KOA
Kolby Allard
Atlanta Braves™
DRA-KT
Kyle Tucker
Houston Astros®
DRA-KW
Kyle Wright
Atlanta Braves™
DRA-KWR
Kyle Wright
Atlanta Braves™
DRA-KYT
Kyle Tucker
Houston Astros®
DRA-LU
Luis Urias
San Diego Padres™
DRA-LUR
Luis Urias
San Diego Padres™
DRA-MIK
Michael Kopech
Chicago White Sox®
DRA-MK
Michael Kopech
Chicago White Sox®
DRA-PA
Peter Alonso
New York Mets®
DRA-RL
Ramon Laureano
Oakland Athletics™
DRA-RO
Ryan O'Hearn
Kansas City Royals®
DRA-SD
Steven Duggar
San Francisco Giants®
DRA-TT
Touki Toussaint
Atlanta Braves™
DRA-TTO
Touki Toussaint
Atlanta Braves™
DRA-VGJ
Vladimir Guerrero Jr.
Toronto Blue Jays®
DRA-YK
Yusei Kikuchi
Seattle Mariners™
FRAMED AUTOGRAPH COLLECTION
DCFA-ABR
Alex Bregman
Houston Astros®
DCFA-AJ
Aaron Judge
New York Yankees®
DCFA-AR
Anthony Rizzo
Chicago Cubs®
DCFA-BG
Bob Gibson
St. Louis Cardinals®
DCFA-BJO
Bo Jackson
Kansas City Royals®
DCFA-BL
Barry Larkin
Cincinnati Reds®
DCFA-BP
Buster Posey
San Francisco Giants®
DCFA-CJ
Chipper Jones
Atlanta Braves™
DCFA-CK
Clayton Kershaw
Los Angeles Dodgers®
DCFA-CRJ
Cal Ripken Jr.
Baltimore Orioles®
DCFA-DE
Dennis Eckersley
Oakland Athletics™
DCFA-DJ
Derek Jeter
New York Yankees®
DCFA-DM
Don Mattingly
New York Yankees®
DCFA-DO
David Ortiz
Boston Red Sox®
DCFA-EJ
Eloy Jimenez
Chicago White Sox®
DCFA-FL
Francisco Lindor
Cleveland Indians®
DCFA-FT
Frank Thomas
Chicago White Sox®
DCFA-GT
Gleyber Torres
New York Yankees®
DCFA-HA
Hank Aaron
Atlanta Braves™
DCFA-HM
Hideki Matsui
New York Yankees®
DCFA-ICH
Ichiro
Seattle Mariners™
DCFA-JA
Jose Altuve
Houston Astros®
DCFA-JBE
Johnny Bench
Cincinnati Reds®
DCFA-JR
Jose Ramirez
Cleveland Indians®
DCFA-JS
Juan Soto
Washington Nationals®
DCFA-JV
Joey Votto
Cincinnati Reds®
DCFA-KB
Kris Bryant
Chicago Cubs®
DCFA-MM
Manny Machado
Los Angeles Dodgers®
DCFA-MMC
Mark McGwire
St. Louis Cardinals®
DCFA-MT
Mike Trout
Angels®
DCFA-NR
Nolan Ryan
Texas Rangers®
DCFA-OS
Ozzie Smith
St. Louis Cardinals®
DCFA-PG
Paul Goldschmidt
Arizona Diamondbacks®
DCFA-PM
Pedro Martinez
Boston Red Sox®
DCFA-RA
Roberto Alomar
Toronto Blue Jays®
DCFA-RAJ
Ronald Acuña Jr.
Atlanta Braves™
DCFA-RH
Rhys Hoskins
Philadelphia Phillies®
DCFA-RHE
Rickey Henderson
Oakland Athletics™
DCFA-RJ
Reggie Jackson
New York Yankees®
DCFA-RJO
Randy Johnson
Seattle Mariners™
DCFA-RS
Ryne Sandberg
Chicago Cubs®
DCFA-SK
Sandy Koufax
Los Angeles Dodgers®
DCFA-SO
Shohei Ohtani
Angels®
DCFA-VG
Vladimir Guerrero
MONTRÉAL EXPOS™
DCFA-VGJ
Vladimir Guerrero Jr.
Toronto Blue Jays®
DCFA-WC
Will Clark
San Francisco Giants®
DCFA-YK
Yusei Kikuchi
Seattle Mariners™
DCFA-YM
Yadier Molina
St. Louis Cardinals®
DUAL AUTOGRAPH COLLECTION
DAC-AA
Ozzie Albies
Atlanta Braves™
DAC-AA
Ronald Acuña Jr.
Atlanta Braves™
DAC-BR
Kris Bryant
Chicago Cubs®
DAC-BR
Anthony Rizzo
Chicago Cubs®
DAC-BS
Javier Baez
Chicago Cubs®
DAC-BS
Kyle Schwarber
Chicago Cubs®
DAC-CG
Vladimir Guerrero
Angels®
DAC-CG
Rod Carew
Angels®
DAC-CM
Mark McGwire
Oakland Athletics™
DAC-CM
Will Clark
San Francisco Giants®
DAC-DG
Vladimir Guerrero
Montreal Expos™
DAC-DG
Andre Dawson
Montreal Expos™
DAC-GB
Lou Brock
St. Louis Cardinals®
DAC-GB
Bob Gibson
St. Louis Cardinals®
DAC-GG
Vladimir Guerrero Jr.
Toronto Blue Jays®
DAC-GG
Vladimir Guerrero
Montreal Expos™
DAC-GR
Ivan Rodriguez
Texas Rangers®
DAC-GR
Yadier Molina
St. Louis Cardinals®
DAC-HC
Rickey Henderson
Oakland Athletics™
DAC-HC
Jose Canseco
Oakland Athletics™
DAC-ICH
Ichiro
Seattle Mariners™
DAC-ICH
Hideki Matsui
New York Yankees®
DAC-ICHI
Shohei Ohtani
Angels®
DAC-ICHI
Ichiro
Seattle Mariners™
DAC-JA
Andruw Jones
Atlanta Braves™
DAC-JA
Ozzie Albies
Atlanta Braves™
DAC-JG
Chipper Jones
Atlanta Braves™
DAC-JG
Tom Glavine
Atlanta Braves™
DAC-JJ
Aaron Judge
New York Yankees®
DAC-JJ
Derek Jeter
New York Yankees®
DAC-JT
Gleyber Torres
New York Yankees®
DAC-JT
Aaron Judge
New York Yankees®
DAC-KM
Clayton Kershaw
Los Angeles Dodgers®
DAC-KM
Manny Machado
Los Angeles Dodgers®
DAC-LR
Francisco Lindor
Cleveland Indians®
DAC-LR
Jose Ramirez
Cleveland Indians®
DAC-MJ
Chipper Jones
Atlanta Braves™
DAC-MJ
Dale Murphy
Atlanta Braves™
DAC-MO
Pedro Martinez
Boston Red Sox®
DAC-MO
David Ortiz
Boston Red Sox®
DAC-MS
Pedro Martinez
Boston Red Sox®
DAC-MS
Chris Sale
Boston Red Sox®
DAC-MT
Mike Trout
Angels®
DAC-MT
Shohei Ohtani
Angels®
DAC-PS
Chris Sale
Boston Red Sox®
DAC-PS
Dustin Pedroia
Boston Red Sox®
DAC-RA
Jose Altuve
Houston Astros®
DAC-RA
Nolan Ryan
Houston Astros®
DAC-RG
Juan Gonzalez
Texas Rangers®
DAC-RG
Ivan Rodriguez
Texas Rangers®
DAC-RT
Aaron Judge
New York Yankees®
DAC-RT
Mike Trout
Angels®
DAC-SB
Alex Bregman
Houston Astros®
DAC-SB
George Springer
Houston Astros®
DAC-SBE
Kris Bryant
Chicago Cubs®
DAC-SBE
Ryne Sandberg
Chicago Cubs®
DAC-SD
Noah Syndergaard
New York Mets®
DAC-SD
Jacob deGrom
New York Mets®
DAC-SM
Ozzie Smith
St. Louis Cardinals®
DAC-SM
Yadier Molina
St. Louis Cardinals®
DAC-SR
Juan Soto
Washington Nationals®
DAC-SR
Victor Robles
Washington Nationals®
DAC-TS
Luis Severino
New York Yankees®
DAC-TS
Gleyber Torres
New York Yankees®
DAC-WP
Bernie Williams
New York Yankees®
DAC-WP
Jorge Posada
New York Yankees®
DAC-YF
Carlton Fisk
Boston Red Sox®
DAC-YF
Carl Yastrzemski
Boston Red Sox®
DEFINING MOMENTS AUTOGRAPH COLLECTION
DMAC-AK
Al Kaline
Detroit Tigers®
DMAC-AP
Andy Pettitte
New York Yankees®
DMAC-AR
Alex Rodriguez
New York Yankees®
DMAC-BG
Bob Gibson
St. Louis Cardinals®
DMAC-BW
Bernie Williams
New York Yankees®
DMAC-CJ
Chipper Jones
Atlanta Braves™
DMAC-CRJ
Cal Ripken Jr.
Baltimore Orioles®
DMAC-DJ
Derek Jeter
New York Yankees®
DMAC-DM
Don Mattingly
New York Yankees®
DMAC-DO
David Ortiz
Boston Red Sox®
DMAC-DS
Darryl Strawberry
New York Mets®
DMAC-FT
Frank Thomas
Chicago White Sox®
DMAC-GT
Gleyber Torres
New York Yankees®
DMAC-HA
Hank Aaron
Atlanta Braves™
DMAC-ICH
Ichiro
Seattle Mariners™
DMAC-JA
Jose Altuve
Houston Astros®
DMAC-JB
Johnny Bench
Cincinnati Reds®
DMAC-JS
John Smoltz
Atlanta Braves™
DMAC-KB
Kris Bryant
Chicago Cubs®
DMAC-MM
Mark McGwire
Oakland Athletics™
DMAC-MR
Mariano Rivera
New York Yankees®
DMAC-MT
Mike Trout
Angels®
DMAC-NG
Nomar Garciaparra
Boston Red Sox®
DMAC-NR
Nolan Ryan
California Angels™
DMAC-OS
Ozzie Smith
St. Louis Cardinals®
DMAC-RA
Roberto Alomar
Toronto Blue Jays®
DMAC-RC
Rod Carew
Minnesota Twins®
DMAC-RH
Rickey Henderson
Oakland Athletics™
DMAC-RJ
Reggie Jackson
New York Yankees®
DMAC-RS
Ryne Sandberg
Chicago Cubs®
DMAC-SK
Sandy Koufax
Los Angeles Dodgers®
DMAC-SO
Shohei Ohtani
Angels®
DMAC-TG
Tom Glavine
Atlanta Braves™
DMAC-VG
Vladimir Guerrero
MONTRÉAL EXPOS™
DMAC-WB
Wade Boggs
New York Yankees®
DMAC-WC
Will Clark
San Francisco Giants®
DMAC-YM
Yadier Molina
St. Louis Cardinals®
AUTOGRAPH RELIC
FRAMED AUTOGRAPH PATCH COLLECTION
FAC-AB
Alex Bregman
Houston Astros®
FAC-ABE
Adrian Beltre
Texas Rangers®
FAC-AJ
Aaron Judge
New York Yankees®
FAC-AR
Anthony Rizzo
Chicago Cubs®
FAC-BP
Buster Posey
San Francisco Giants®
FAC-CK
Clayton Kershaw
Los Angeles Dodgers®
FAC-CS
Chris Sale
Boston Red Sox®
FAC-DP
Dustin Pedroia
Boston Red Sox®
FAC-FF
Freddie Freeman
Atlanta Braves™
FAC-FL
Francisco Lindor
Cleveland Indians®
FAC-GSP
George Springer
Houston Astros®
FAC-GT
Gleyber Torres
New York Yankees®
FAC-JA
Jose Altuve
Houston Astros®
FAC-JD
Jacob deGrom
New York Mets®
FAC-JV
Joey Votto
Cincinnati Reds®
FAC-KB
Kris Bryant
Chicago Cubs®
FAC-KD
Khris Davis
Oakland Athletics™
FAC-KS
Kyle Schwarber
Chicago Cubs®
FAC-LS
Luis Severino
New York Yankees®
FAC-MC
Matt Carpenter
St. Louis Cardinals®
FAC-MH
Mitch Haniger
Seattle Mariners™
FAC-MT
Mike Trout
Angels®
FAC-MTA
Masahiro Tanaka
New York Yankees®
FAC-NS
Noah Syndergaard
New York Mets®
FAC-OA
Ozzie Albies
Atlanta Braves™
FAC-PG
Paul Goldschmidt
Arizona Diamondbacks®
FAC-RD
Rafael Devers
Boston Red Sox®
FAC-RH
Rhys Hoskins
Philadelphia Phillies®
FAC-SO
Shohei Ohtani
Angels®
FAC-SP
Salvador Perez
Kansas City Royals®
FAC-WC
Willson Contreras
Chicago Cubs®
BASE AUTOGRAPH RELIC COLLECTION
ARC-ABE
Adrian Beltre
Texas Rangers®
ARC-AJ
Aaron Judge
New York Yankees®
ARC-ALB
Alex Bregman
Houston Astros®
ARC-AR
Anthony Rizzo
Chicago Cubs®
ARC-BP
Buster Posey
San Francisco Giants®
ARC-BSN
Blake Snell
Tampa Bay Rays™
ARC-CK
Clayton Kershaw
Los Angeles Dodgers®
ARC-CS
Chris Sale
Boston Red Sox®
ARC-DG
Didi Gregorius
New York Yankees®
ARC-DP
Dustin Pedroia
Boston Red Sox®
ARC-FF
Freddie Freeman
Atlanta Braves™
ARC-FL
Francisco Lindor
Cleveland Indians®
ARC-GS
George Springer
Houston Astros®
ARC-GSA
Gary Sanchez
New York Yankees®
ARC-GT
Gleyber Torres
New York Yankees®
ARC-IH
Ian Happ
Chicago Cubs®
ARC-JA
Jose Altuve
Houston Astros®
ARC-JBA
Javier Baez
Chicago Cubs®
ARC-JD
Jacob deGrom
New York Mets®
ARC-JS
Juan Soto
Washington Nationals®
ARC-JU
Justin Upton
Angels®
ARC-JUS
Justus Sheffield
New York Yankees®
ARC-JV
Joey Votto
Cincinnati Reds®
ARC-KB
Kris Bryant
Chicago Cubs®
ARC-KD
Khris Davis
Oakland Athletics™
ARC-KS
Kyle Schwarber
Chicago Cubs®
ARC-KT
Kyle Tucker
Houston Astros®
ARC-LS
Luis Severino
New York Yankees®
ARC-MAN
Miguel Andujar
New York Yankees®
ARC-MAT
Matt Carpenter
St. Louis Cardinals®
ARC-MCH
Matt Chapman
Oakland Athletics™
ARC-MH
Mitch Haniger
Seattle Mariners™
ARC-MMI
Miles Mikolas
St. Louis Cardinals®
ARC-MO
Marcell Ozuna
St. Louis Cardinals®
ARC-MT
Mike Trout
Angels®
ARC-MTA
Masahiro Tanaka
New York Yankees®
ARC-NS
Noah Syndergaard
New York Mets®
ARC-OA
Ozzie Albies
Atlanta Braves™
ARC-PG
Paul Goldschmidt
Arizona Diamondbacks®
ARC-RA
Ronald Acuña Jr.
Atlanta Braves™
ARC-RD
Rafael Devers
Boston Red Sox®
ARC-RH
Rhys Hoskins
Philadelphia Phillies®
ARC-SO
Shohei Ohtani
Angels®
ARC-SP
Salvador Perez
Kansas City Royals®
ARC-WC
Willson Contreras
Chicago Cubs®
ARC-YM
Yadier Molina
St. Louis Cardinals®
DEFINITIVE AUTOGRAPHED RELIC CARD
DARC-AD
Andre Dawson
Chicago Cubs®
DARC-AK
Al Kaline
Detroit Tigers®
DARC-AP
Andy Pettitte
New York Yankees®
DARC-AR
Alex Rodriguez
New York Yankees®
DARC-BGI
Bob Gibson
St. Louis Cardinals®
DARC-BL
Barry Larkin
Cincinnati Reds®
DARC-BO
Bo Jackson
Kansas City Royals®
DARC-BW
Bernie Williams
New York Yankees®
DARC-CF
Carlton Fisk
Boston Red Sox®
DARC-CJ
Chipper Jones
Atlanta Braves™
DARC-CR
Cal Ripken Jr.
Baltimore Orioles®
DARC-CY
Carl Yastrzemski
Boston Red Sox®
DARC-DJ
Derek Jeter
New York Yankees®
DARC-DM
Dale Murphy
Atlanta Braves™
DARC-DMA
Don Mattingly
New York Yankees®
DARC-DO
David Ortiz
Boston Red Sox®
DARC-DS
Dennis Eckersley
Oakland Athletics™
DARC-FM
Fred McGriff
Atlanta Braves™
DARC-FT
Frank Thomas
Chicago White Sox®
DARC-HM
Hideki Matsui
New York Yankees®
DARC-ICH
Ichiro
Seattle Mariners™
DARC-IR
Ivan Rodriguez
Texas Rangers®
DARC-JB
Johnny Bench
Cincinnati Reds®
DARC-JC
Jose Canseco
Oakland Athletics™
DARC-JD
Johnny Damon
Boston Red Sox®
DARC-JMA
Juan Marichal
San Francisco Giants®
DARC-JP
Jorge Posada
New York Yankees®
DARC-JS
John Smoltz
Atlanta Braves™
DARC-KB
Kris Bryant
Chicago Cubs®
DARC-MM
Mark McGwire
Oakland Athletics™
DARC-MP
Mike Piazza
New York Mets®
DARC-MR
Mariano Rivera
New York Yankees®
DARC-MT
Mike Trout
Angels®
DARC-NG
Nomar Garciaparra
Boston Red Sox®
DARC-NR
Nolan Ryan
New York Mets®
DARC-OS
Ozzie Smith
St. Louis Cardinals®
DARC-PM
Pedro Martinez
Boston Red Sox®
DARC-RA
Roberto Alomar
Toronto Blue Jays®
DARC-RC
Roger Clemens
Boston Red Sox®
DARC-RCA
Rod Carew
California Angels™
DARC-RH
Rickey Henderson
Oakland Athletics™
DARC-RJ
Reggie Jackson
New York Yankees®
DARC-RJO
Randy Johnson
Seattle Mariners™
DARC-RS
Ryne Sandberg
Chicago Cubs®
DARC-RY
Robin Yount
Milwaukee Brewers™
DARC-SC
Steve Carlton
Philadelphia Phillies®
DARC-TG
Tom Glavine
Atlanta Braves™
DARC-TR
Tim Raines
MONTRÉAL EXPOS™
DARC-WB
Wade Boggs
Boston Red Sox®
DARC-WC
Will Clark
San Francisco Giants®
DUAL AUTOGRAPHED RELIC COLLECTION
DAR-AA
Ronald Acuña Jr.
Atlanta Braves™
DAR-AA
Ozzie Albies
Atlanta Braves™
DAR-AP
Andy Pettitte
New York Yankees®
DAR-AP
Jorge Posada
New York Yankees®
DAR-AR
Ivan Rodriguez
Texas Rangers®
DAR-AR
Adrian Beltre
Texas Rangers®
DAR-BA
Jose Altuve
Houston Astros®
DAR-BA
Alex Bregman
Houston Astros®
DAR-BR
Anthony Rizzo
Chicago Cubs®
DAR-BR
Kris Bryant
Chicago Cubs®
DAR-CH
Torii Hunter
Angels®
DAR-CH
Rod Carew
Angels®
DAR-CP
Will Clark
San Francisco Giants®
DAR-CP
Buster Posey
San Francisco Giants®
DAR-GB
George Springer
Houston Astros®
DAR-GB
Alex Bregman
Houston Astros®
DAR-GS
Ozzie Smith
St. Louis Cardinals®
DAR-GS
Bob Gibson
St. Louis Cardinals®
DAR-HU
Torii Hunter
Angels®
DAR-HU
Justin Upton
Angels®
DAR-IM
Ivan Rodriguez
Texas Rangers®
DAR-IM
Yadier Molina
St. Louis Cardinals®
DAR-JA
Ronald Acuña Jr.
Atlanta Braves™
DAR-JA
Andruw Jones
Atlanta Braves™
DAR-JG
Bo Jackson
CALIFORNIA ANGELS™
DAR-JG
Vladimir Guerrero
Angels®
DAR-JH
Reggie Jackson
Oakland Athletics™
DAR-JH
Rickey Henderson
Oakland Athletics™
DAR-JS
Chipper Jones
Atlanta Braves™
DAR-JS
John Smoltz
Atlanta Braves™
DAR-LR
Francisco Lindor
Cleveland Indians®
DAR-LR
Jose Ramirez
Cleveland Indians®
DAR-MG
Pedro Martinez
Montreal Expos™
DAR-MG
Vladimir Guerrero
Montreal Expos™
DAR-MO
Pedro Martinez
Boston Red Sox®
DAR-MO
David Ortiz
Boston Red Sox®
DAR-MS
Dale Murphy
Atlanta Braves™
DAR-MS
John Smoltz
Atlanta Braves™
DAR-NA
Jose Altuve
Houston Astros®
DAR-NA
Nolan Ryan
Houston Astros®
DAR-OM
Yadier Molina
St. Louis Cardinals®
DAR-OM
Ozzie Smith
St. Louis Cardinals®
DAR-PS
Dustin Pedroia
Boston Red Sox®
DAR-PS
Chris Sale
Boston Red Sox®
DAR-RC
Rhys Hoskins
Philadelphia Phillies®
DAR-RC
Steve Carlton
Philadelphia Phillies®
DAR-RS
Kyle Schwarber
Chicago Cubs®
DAR-RS
Anthony Rizzo
Chicago Cubs®
DAR-SB
Kris Bryant
Chicago Cubs®
DAR-SB
Ryne Sandberg
Chicago Cubs®
DAR-SD
Jacob deGrom
New York Mets®
DAR-SD
Noah Syndergaard
New York Mets®
DAR-SM
Fred McGriff
Atlanta Braves™
DAR-SM
John Smoltz
Atlanta Braves™
DAR-SR
Juan Soto
Washington Nationals®
DAR-SR
Victor Robles
Washington Nationals®
DAR-TF
Carl Yastrzemski
Boston Red Sox®
DAR-TF
Carlton Fisk
Boston Red Sox®
DAR-TJ
Aaron Judge
New York Yankees®
DAR-TJ
Mike Trout
Angels®
DAR-TS
Gleyber Torres
New York Yankees®
DAR-TS
Luis Severino
New York Yankees®
AUTOGRAPH PATCH BOOK COLLECTION
DAPB-ABE
Adrian Beltre
Texas Rangers®
DAPB-ABR
Alex Bregman
Houston Astros®
DAPB-AR
Anthony Rizzo
Chicago Cubs®
DAPB-BP
Buster Posey
San Francisco Giants®
DAPB-CK
Clayton Kershaw
Los Angeles Dodgers®
DAPB-CSA
Chris Sale
Boston Red Sox®
DAPB-CY
Christian Yelich
Milwaukee Brewers™
DAPB-DO
David Ortiz
Boston Red Sox®
DAPB-DP
Dustin Pedroia
Boston Red Sox®
DAPB-FF
Freddie Freeman
Atlanta Braves™
DAPB-FL
Francisco Lindor
Cleveland Indians®
DAPB-GSP
George Springer
Houston Astros®
DAPB-JA
Jose Altuve
Houston Astros®
DAPB-JB
Javier Baez
Chicago Cubs®
DAPB-JD
Jacob deGrom
New York Mets®
DAPB-JU
Justin Upton
Angels®
DAPB-JV
Joey Votto
Cincinnati Reds®
DAPB-KB
Kris Bryant
Chicago Cubs®
DAPB-KS
Kyle Schwarber
Chicago Cubs®
DAPB-LS
Luis Severino
New York Yankees®
DAPB-MT
Mike Trout
Angels®
DAPB-NS
Noah Syndergaard
New York Mets®
DAPB-OA
Ozzie Albies
Atlanta Braves™
DAPB-PG
Paul Goldschmidt
Arizona Diamondbacks®
DAPB-RA
Ronald Acuña Jr.
Atlanta Braves™
DAPB-RD
Rafael Devers
Boston Red Sox®
DAPB-RH
Rhys Hoskins
Philadelphia Phillies®
DAPB-WC
Willson Contreras
Chicago Cubs®
RELIC
DEFINITIVE HELMET COLLECTION
DHC-FL
Francisco Lindor
Cleveland Indians®
DHC-GS
Gary Sanchez
New York Yankees®
DHC-JA
Jose Altuve
Houston Astros®
DHC-JD
Jacob deGrom
New York Mets®
DHC-KD
Khris Davis
Oakland Athletics™
DHC-MC
Matt Chapman
Oakland Athletics™
DHC-MCA
Matt Carpenter
St. Louis Cardinals®
DHC-RH
Rhys Hoskins
Philadelphia Phillies®
DHC-WC
Willson Contreras
Chicago Cubs®
DHC-YM
Yadier Molina
St. Louis Cardinals®
NAMEPLATE COLLECTION
NC-AB
Andrew Benintendi
Boston Red Sox®
NC-ABR
Alex Bregman
Houston Astros®
NC-AM
Andrew McCutchen
San Francisco Giants®
NC-AP
Albert Pujols
St. Louis Cardinals®
NC-BH
Bryce Harper
Washington Nationals®
NC-BL
Barry Larkin
Cincinnati Reds®
NC-BP
Buster Posey
San Francisco Giants®
NC-CC
Carlos Correa
Houston Astros®
NC-DB
Dellin Betances
New York Yankees®
NC-DG
Dee Gordon
Seattle Mariners™
NC-DK
Dallas Keuchel
Houston Astros®
NC-DO
David Ortiz
Boston Red Sox®
NC-DP
David Price
Boston Red Sox®
NC-DPE
Dustin Pedroia
Boston Red Sox®
NC-DS
Dansby Swanson
Atlanta Braves™
NC-EE
Edwin Encarnacion
Cleveland Indians®
NC-EL
Evan Longoria
San Francisco Giants®
NC-FF
Freddie Freeman
Atlanta Braves™
NC-FFR
Freddie Freeman
Atlanta Braves™
NC-FL
Francisco Lindor
Cleveland Indians®
NC-GS
George Springer
Houston Astros®
NC-JA
Jose Abreu
Chicago White Sox®
NC-JA
Jose Altuve
Houston Astros®
NC-JD
Josh Donaldson
Toronto Blue Jays®
NC-JDE
Jacob deGrom
New York Mets®
NC-JG
Joey Gallo
Texas Rangers®
NC-JH
Jason Heyward
Chicago Cubs®
NC-JM
Joe Mauer
Minnesota Twins®
NC-JP
Joc Pederson
Los Angeles Dodgers®
NC-JR
Jose Ramirez
Cleveland Indians®
NC-JT
Jameson Taillon
Pittsburgh Pirates®
NC-JV
Joey Votto
Cincinnati Reds®
NC-KB
Kris Bryant
Chicago Cubs®
NC-KD
Khris Davis
Oakland Athletics™
NC-KT
Kyle Tucker
Houston Astros®
NC-LS
Luis Severino
New York Yankees®
NC-LU
Luis Urias
San Diego Padres™
NC-MB
Mookie Betts
Boston Red Sox®
NC-MC
Miguel Cabrera
Detroit Tigers®
NC-MCO
Michael Conforto
New York Mets®
NC-MK
Michael Kopech
Chicago White Sox®
NC-MP
Mike Piazza
New York Mets®
NC-MT
Mike Trout
Angels®
NC-NA
Nolan Arenado
Colorado Rockies™
NC-NAR
Nolan Arenado
Colorado Rockies™
NC-NM
Nomar Mazara
Texas Rangers®
NC-OA
Ozzie Albies
Atlanta Braves™
NC-PM
Pedro Martinez
New York Mets®
NC-RB
Ryan Braun
Milwaukee Brewers™
NC-RC
Robinson Cano
Seattle Mariners™
NC-RD
Rafael Devers
Boston Red Sox®
NC-RJ
Reggie Jackson
California Angels™
NC-RZ
Ryan Zimmerman
Washington Nationals®
NC-SG
Scooter Gennett
Cincinnati Reds®
NC-SM
Starling Marte
Pittsburgh Pirates®
NC-TM
Trey Mancini
Baltimore Orioles®
NC-WME
Whit Merrifield
Kansas City Royals®
NC-XB
Xander Bogaerts
Boston Red Sox®
NC-YM
Yoan Moncada
Chicago White Sox®
NC-ZG
Zack Greinke
Arizona Diamondbacks®
DEFINITIVE PATCH COLLECTION
DPC-AB
Andrew Benintendi
Boston Red Sox®
DPC-ABR
Alex Bregman
Houston Astros®
DPC-AM
Andrew McCutchen
San Francisco Giants®
DPC-AN
Aaron Nola
Philadelphia Phillies®
DPC-AP
Albert Pujols
Angels®
DPC-APE
Andy Pettitte
New York Yankees®
DPC-APU
Albert Pujols
St. Louis Cardinals®
DPC-AR
Anthony Rizzo
Chicago Cubs®
DPC-BH
Bryce Harper
Washington Nationals®
DPC-BL
Barry Larkin
Cincinnati Reds®
DPC-BP
Buster Posey
San Francisco Giants®
DPC-CB
Cody Bellinger
Los Angeles Dodgers®
DPC-CBL
Charlie Blackmon
Colorado Rockies™
DPC-CC
Carlos Correa
Houston Astros®
DPC-CJ
Chipper Jones
Atlanta Braves™
DPC-CK
Clayton Kershaw
Los Angeles Dodgers®
DPC-CRJ
Cal Ripken Jr.
Baltimore Orioles®
DPC-CS
Corey Seager
Los Angeles Dodgers®
DPC-CSA
Chris Sale
Boston Red Sox®
DPC-CY
Christian Yelich
Milwaukee Brewers™
DPC-DJ
Derek Jeter
New York Yankees®
DPC-DJE
Derek Jeter
New York Yankees®
DPC-DO
David Ortiz
Boston Red Sox®
DPC-DP
Dustin Pedroia
Boston Red Sox®
DPC-DS
Dansby Swanson
Atlanta Braves™
DPC-EE
Edwin Encarnacion
Cleveland Indians®
DPC-EH
Eric Hosmer
San Diego Padres™
DPC-FF
Freddie Freeman
Atlanta Braves™
DPC-FFR
Freddie Freeman
Atlanta Braves™
DPC-FH
Felix Hernandez
Seattle Mariners™
DPC-FL
Francisco Lindor
Cleveland Indians®
DPC-FLI
Francisco Lindor
Cleveland Indians®
DPC-GB
George Brett
Kansas City Royals®
DPC-GS
George Springer
Houston Astros®
DPC-GSA
Gary Sanchez
New York Yankees®
DPC-GSP
George Springer
Houston Astros®
DPC-GT
Gleyber Torres
New York Yankees®
DPC-ICH
Ichiro
Seattle Mariners™
DPC-JA
Jose Altuve
Houston Astros®
DPC-JA
Jose Abreu
Chicago White Sox®
DPC-JB
Javier Baez
Chicago Cubs®
DPC-JD
Jacob deGrom
New York Mets®
DPC-JM
J.D. Martinez
Boston Red Sox®
DPC-JMA
Joe Mauer
Minnesota Twins®
DPC-JR
Jose Ramirez
Cleveland Indians®
DPC-JRA
Jose Ramirez
Cleveland Indians®
DPC-JS
John Smoltz
Atlanta Braves™
DPC-JSO
Juan Soto
Washington Nationals®
DPC-JT
Jameson Taillon
Pittsburgh Pirates®
DPC-JVO
Joey Votto
Cincinnati Reds®
DPC-JVOT
Joey Votto
Cincinnati Reds®
DPC-KB
Kris Bryant
Chicago Cubs®
DPC-KBR
Kris Bryant
Chicago Cubs®
DPC-KD
Khris Davis
Oakland Athletics™
DPC-KS
Kyle Schwarber
Chicago Cubs®
DPC-LS
Luis Severino
New York Yankees®
DPC-MA
Miguel Andujar
New York Yankees®
DPC-MB
Mookie Betts
Boston Red Sox®
DPC-MC
Michael Conforto
New York Mets®
DPC-MCA
Miguel Cabrera
Detroit Tigers®
DPC-MM
Manny Machado
Baltimore Orioles®
DPC-MMA
Manny Machado
Los Angeles Dodgers®
DPC-MMC
Mark McGwire
Oakland Athletics™
DPC-MMCG
Mark McGwire
St. Louis Cardinals®
DPC-MP
Mike Piazza
New York Mets®
DPC-MS
Max Scherzer
Washington Nationals®
DPC-MT
Mike Trout
Angels®
DPC-MTA
Masahiro Tanaka
New York Yankees®
DPC-NA
Nolan Arenado
Colorado Rockies™
DPC-NAR
Nolan Arenado
Colorado Rockies™
DPC-NS
Noah Syndergaard
New York Mets®
DPC-OA
Ozzie Albies
Atlanta Braves™
DPC-OS
Ozzie Smith
St. Louis Cardinals®
DPC-PG
Paul Goldschmidt
Arizona Diamondbacks®
DPC-PM
Pedro Martinez
Boston Red Sox®
DPC-PMA
Pedro Martinez
New York Mets®
DPC-RA
Ronald Acuña Jr.
Atlanta Braves™
DPC-RB
Ryan Braun
Milwaukee Brewers™
DPC-RC
Robinson Cano
Seattle Mariners™
DPC-RD
Rafael Devers
Boston Red Sox®
DPC-RDE
Rafael Devers
Boston Red Sox®
DPC-RH
Rhys Hoskins
Philadelphia Phillies®
DPC-RZ
Ryan Zimmerman
Washington Nationals®
DPC-SM
Starling Marte
Pittsburgh Pirates®
DPC-SP
Salvador Perez
Kansas City Royals®
DPC-SS
Stephen Strasburg
Washington Nationals®
DPC-TG
Tom Glavine
New York Mets®
DPC-TS
Trevor Story
Colorado Rockies™
DPC-TT
Trea Turner
Washington Nationals®
DPC-WCO
Willson Contreras
Chicago Cubs®
DPC-XB
Xander Bogaerts
Boston Red Sox®
DPC-YC
Yoenis Cespedes
New York Mets®
DPC-YM
Yadier Molina
St. Louis Cardinals®
DPC-ZG
Zack Greinke
Arizona Diamondbacks®
DPC-ZGR
Zack Greinke
Arizona Diamondbacks®
JUMBO RELIC COLLECTION
DJRC-AB
Andrew Benintendi
Boston Red Sox®
DJRC-AM
Andrew McCutchen
San Francisco Giants®
DJRC-BP
Buster Posey
San Francisco Giants®
DJRC-CB
Cody Bellinger
Los Angeles Dodgers®
DJRC-CBL
Charlie Blackmon
Colorado Rockies™
DJRC-CC
Carlos Correa
Houston Astros®
DJRC-DB
Dellin Betances
New York Yankees®
DJRC-DG
Dee Gordon
Seattle Mariners™
DJRC-DK
Dallas Keuchel
Houston Astros®
DJRC-DO
David Ortiz
Boston Red Sox®
DJRC-DP
Dustin Pedroia
Boston Red Sox®
DJRC-DPR
David Price
Boston Red Sox®
DJRC-DS
Dansby Swanson
Atlanta Braves™
DJRC-EE
Edwin Encarnacion
Cleveland Indians®
DJRC-EH
Eric Hosmer
San Diego Padres™
DJRC-EL
Evan Longoria
San Francisco Giants®
DJRC-FFR
Freddie Freeman
Atlanta Braves™
DJRC-FFRE
Freddie Freeman
Atlanta Braves™
DJRC-FL
Francisco Lindor
Cleveland Indians®
DJRC-GSP
George Springer
Houston Astros®
DJRC-JAB
Jose Abreu
Chicago White Sox®
DJRC-JAL
Jose Altuve
Houston Astros®
DJRC-JH
Jason Heyward
Chicago Cubs®
DJRC-JM
J.D. Martinez
Boston Red Sox®
DJRC-JP
Joc Pederson
Los Angeles Dodgers®
DJRC-JR
Jose Ramirez
Cleveland Indians®
DJRC-JT
Jameson Taillon
Pittsburgh Pirates®
DJRC-JV
Joey Votto
Cincinnati Reds®
DJRC-KB
Kris Bryant
Chicago Cubs®
DJRC-KD
Khris Davis
Oakland Athletics™
DJRC-KS
Kyle Schwarber
Chicago Cubs®
DJRC-LS
Luis Severino
New York Yankees®
DJRC-MB
Mookie Betts
Boston Red Sox®
DJRC-MCA
Miguel Cabrera
Detroit Tigers®
DJRC-MCH
Matt Chapman
Oakland Athletics™
DJRC-MCO
Michael Conforto
New York Mets®
DJRC-MO
Marcell Ozuna
St. Louis Cardinals®
DJRC-MS
Max Scherzer
Washington Nationals®
DJRC-NA
Nolan Arenado
Colorado Rockies™
DJRC-NAR
Nolan Arenado
Colorado Rockies™
DJRC-NC
Nicholas Castellanos
Detroit Tigers®
DJRC-NM
Nomar Mazara
Texas Rangers®
DJRC-PD
Paul DeJong
St. Louis Cardinals®
DJRC-PG
Paul Goldschmidt
Arizona Diamondbacks®
DJRC-RB
Ryan Braun
Milwaukee Brewers™
DJRC-RD
Rafael Devers
Boston Red Sox®
DJRC-RH
Rhys Hoskins
Philadelphia Phillies®
DJRC-RZ
Ryan Zimmerman
Washington Nationals®
DJRC-SG
Scooter Gennett
Cincinnati Reds®
DJRC-TM
Trey Mancini
Baltimore Orioles®
DJRC-TS
Trevor Story
Colorado Rockies™
DJRC-TT
Trea Turner
Washington Nationals®
DJRC-WC
Willson Contreras
Chicago Cubs®
DJRC-WM
Whit Merrifield
Kansas City Royals®
DJRC-XB
Xander Bogaerts
Boston Red Sox®
DJRC-YM
Yoan Moncada
Chicago White Sox®
DJRC-YMO
Yadier Molina
St. Louis Cardinals®
DJRC-ZG
Zack Greinke
Arizona Diamondbacks®
DEFINITIVE CUT SIGNATURES
DCS-BD
Bill Dickey
New York Yankees®
DCS-BF
Bob Feller
Cleveland Indians®
DCS-BH
Billy Herman
Chicago Cubs®
DCS-BL
Buck Leonard
DCS-BLE
Bob Lemon
Cleveland Indians®
DCS-CG
Charlie Gehringer
Detroit Tigers®
DCS-CS
Casey Stengel
New York Yankees®
DCS-DD
Don Drysdale
Los Angeles Dodgers®
DCS-DDE
Dizzy Dean
St. Louis Cardinals®
DCS-DS
Duke Snider
Brooklyn Dodgers™
DCS-EA
Earl Averill
Cleveland Indians®
DCS-EB
Ernie Banks
Chicago Cubs®
DCS-EL
Ernie Lombardi
Cincinnati Reds®
DCS-EM
Eddie Mathews
Milwaukee Braves™
DCS-ES
Enos Slaughter
St. Louis Cardinals®
DCS-FF
Frankie Frisch
St. Louis Cardinals®
DCS-GK
George "High Pockets" Kelly
New York Giants™
DCS-GKE
George Kell
Detroit Tigers®
DCS-HG
Hank Greenberg
Detroit Tigers®
DCS-HK
Harmon Killebrew
Minnesota Twins®
DCS-HW
Honus Wagner
Pittsburgh Pirates®
DCS-HWI
Hoyt Wilhelm
Chicago White Sox®
DCS-JF
Jimmie Foxx
Philadelphia Athletics™
DCS-JH
Jim "Catfish" Hunter
Oakland Athletics™
DCS-JM
Johnny Mize
St. Louis Cardinals®
DCS-JR
Jackie Robinson
Brooklyn Dodgers™
DCS-LA
Luke Appling
Chicago White Sox®
DCS-LB
Lou Boudreau
Cleveland Indians®
DCS-LD
Larry Doby
Cleveland Indians®
DCS-LW
Lloyd Waner
Pittsburgh Pirates®
DCS-MI
Monte Irvin
New York Giants™
DCS-PR
Phil Rizzuto
New York Yankees®
DCS-PRE
Pee Wee Reese
Brooklyn Dodgers™
DCS-RC
Roy Campanella
Brooklyn Dodgers™
DCS-RF
Rick Ferrell
St. Louis Browns™
DCS-RK
Ralph Kiner
Pittsburgh Pirates®
DCS-RM
Roger Maris
New York Yankees®
DCS-RR
Red Ruffing
New York Yankees®
DCS-RSA
Ron Santo
Chicago Cubs®
DCS-RSC
Ray Schalk
Chicago White Sox®
DCS-SC
Stan Coveleski
Cleveland Indians®
DCS-SM
Stan Musial
St. Louis Cardinals®
DCS-SP
Satchel Paige
St. Louis Browns™
DCS-TC
Ty Cobb
Detroit Tigers®
DCS-TJ
Travis Jackson
New York Giants™
DCS-TL
Ted Lyons
Chicago White Sox®
DCS-TW
Ted Williams
Boston Red Sox®
DCS-WH
Waite Hoyt
New York Yankees®
DCS-WS
Warren Spahn
Milwaukee Braves™
DCS-WST
Willie Stargell
Pittsburgh Pirates®