2019 Panini Unparalleled Football is back after two very successful product seasons (2017 & 2018). 2017 and 2018 Unparalleled Football boxes both currently retail for $200 per box, while
2019 Unparalleled currently presells at just $110.
As the line has done for a couple of years, designs are filled with flash and offers something different for those who like it like that.
Unparalleled Football has borrowed from it's popular Panini Revolution Basketball, a winning formula of flashy parallels including the highly coveted "Galactic" parallel. While Revolution Basketball delivers just 8 autographs per 16 box case along with just 1 Galactic parallel, Unparalleled Football offers 32 autographs, 16 memorabilia, and 1 Galactic veteran parallel per 16 box case while also promising 1 Rookie Galactic every two cases.
2019 Panini Unparalleled Football Base
The main set arrives with a total of 300 cards. Rookies, which have a horizontal design, cover 100 of those, delivering a relatively deep take on the year's draft class. Vertical veterans make up the other two-thirds of the checklist.
2019 Unparalleled Football continues with one of the line's key identifiers by offering up Rookie Cards to overlooked veterans who haven't appeared in products before. Approximately 25 percent of the veteran cards fall into this category.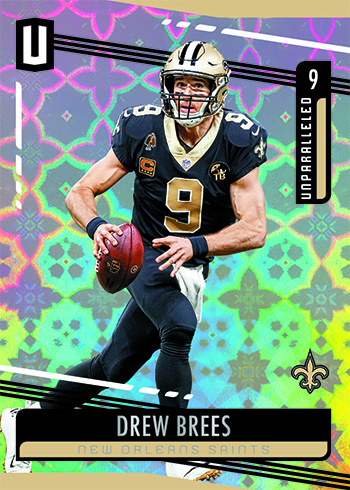 Despite the Unparalleled name, the product does have parallels. But rather than the usual mix of colors, these stick with background patterns that add a little something extra to the foil stock. Parallels include Flight, Groove, Astral (/200), Infinite (/150), Whirl (/100), Impact (/75), Hyper (/25), Fireworks (/5) and Burst (1/1). Hobby boxes have at least seven numbered parallels.
There are also tough Galactic parallels. These don't have serial numbers but they are scarce with just one veteran per case and one Galactic Rookie every two cases.
Autographs, Memorabilia Cards and Other Inserts
Rookie Signatures and Rookie Jersey Autographs are among the main places to find hits in 2019 Panini Unparalleled Football. Parallels for Rookie Signatures are limited to Hyper (/25 or less), Fireworks (/5) and Burst (1/1).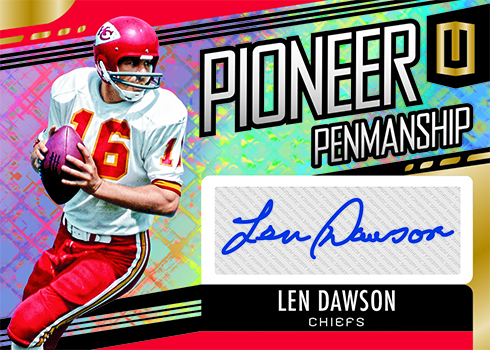 The Rookie Jersey Autographs lineup is longer with Astral (/150 or less), Impact (/75 or less), Hyper (/25 or less), Fireworks (/5) and Burst (1/1) parallels. There are also one-of-one Tag, NFL Shield and NFL Shield Logo versions.
Pioneer Penmanship (/99 or less) dives into the past for autographs from retired players from the 1950s all the way through to the '90s.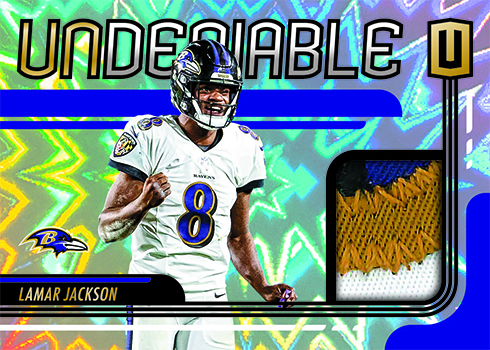 Undeniable is one of Unparalleled's memorabilia sets. Current players make up the 30-card checklist along with Astral (/150), Impact (/75), Hyper (/25), Fireworks (/5) and Burst (1/1).
2019 Unparalleled Football has some other inserts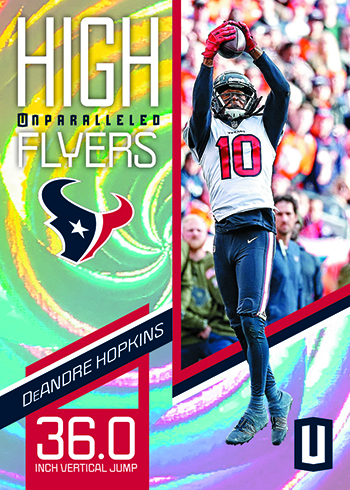 Rookie Focus take a deep look into the eyes of first-year standouts. High Flyers highlights ten players who show extreme athleticism. Both of these have Groove, Whirl (/100), Impact (/75), Hyper (/25) and Burst (1/1) parallels.
Star Factor Die-Cuts are a short print insert set with just one landing in every case. The ten-card checklist centers on the NFL's biggest names. In addition to their regular versions, Star Factor Die-Cuts also have scarce Galactic parallels.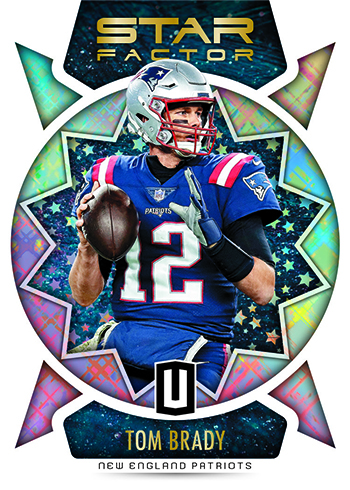 2019 Panini Unparalleled Football:
Cards per pack: 8
Packs per box: 8
Boxes per case: 16 (two 8-box inner cases)
Set size: 300 cards
Release date: August 14, 2019
What to expect in a hobby box:
Autographs – 2
Memorabilia Cards – 1
Parallels – 7