2018-19 Leaf Pearl Multi-Sport is Leaf Trading Cards representative in high-end luxury-level card collecting market. The checklist is a mix of current superstars and past greats from several sports and all corners of the world.
Each box
comes with 11 super premium cards, with about 7 to 8 Autograph Cards or Premium Memorabilia Cards. On average,

each box delivers ONE Autograph Cut

from the biggest names in sports, political world and pop culture (

see checklist below

).
2018-19 Leaf Pearl Multi-Sport Base Set Basics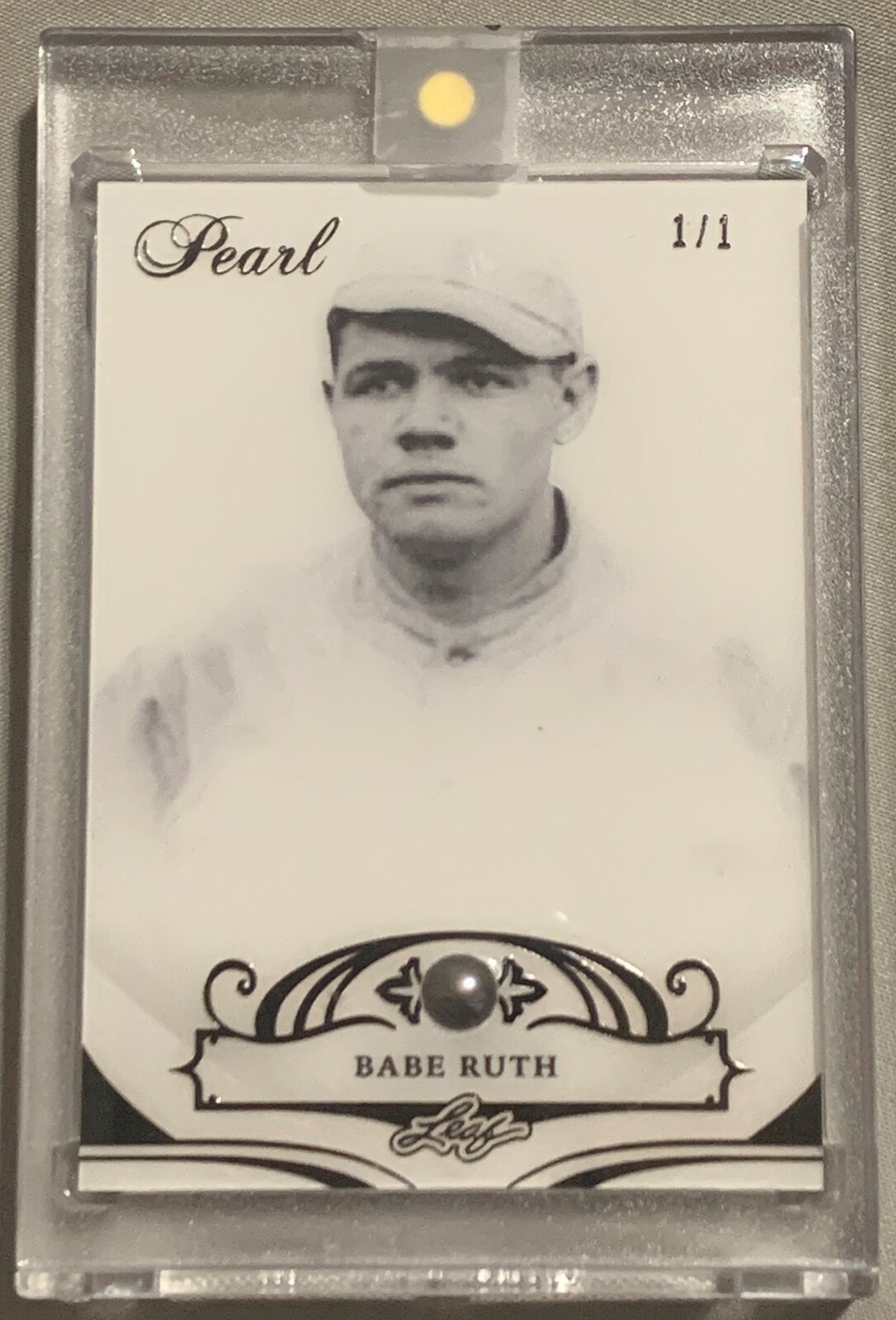 While autographs and memorabilia cards make up the majority of the checklist, there is a base set. Consisting of 58 cards, all are numbered to 10 or less. Similar to how Panini Flawless embeds diamonds into its base cards, 2018-19 Leaf Pearl Multi-Sport base cards have pearls.
Additional 2018-19 Leaf Pearl Multi-Sport parallels come in six levels: Red Spectrum Holofoil (/8), Platinum Spectrum Holofoil (/6), Purple Spectrum Holofoil (/4), Green Spectrum Holofoil (/2), Gold Spectrum Holofoil (1/1) and Black Foil (1/1).

2018-19 Leaf Pearl Multi-Sport Autographs
Variety is one of the key parts of 2018-19 Leaf Pearl Multi-Sport. While that can be seen in the types of autographs and memorabilia cards on the checklist, it's more apparent with the players and subjects that are in the set.
The checklist features superstars and champions from across several sports including baseball, basketball, football, hockey, soccer, boxing, wrestling and more.
The signatures start with Base Autographs. Numbered to 10 or less, signers include Ichiro, Ken Griffey Jr., Giannis Antetokounmpo, Lionel Messi, Floyd Mayweather Jr. and Conor McGregor. More than 50 athletes are on this part of the checklist.

2018-19 Leaf Multi-Sport's Paragon Signatures combine autographs and patches from one, two and three players.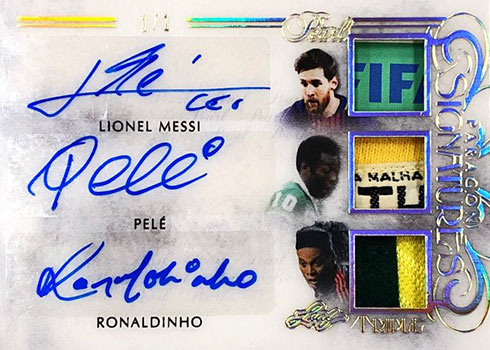 Pearl Signatures is another place to find multiple autographs. These feature as many as eight athletes that share some sort of common thread.
Like , Cut Signatures play a big role once again. 2018-19 Leaf Pearl has approximately 177 different autograph cuts available, spanning sports, political and pop culture. Some of the names here include Babe Ruth (2), Jackie Robinson (2), Mel Ott (6), Connie Mack (2), Honus Wagner (2), Jimmie Foxx (2), Ty Cobb (4), Satchel Paige (13), Roger Maris (9), Elvis Presley, Marilyn Monroe, John Wayne (3), Queen Elizabeth II, The Dalai Lama, and Nelson Mandela (2).
The 77 Presidential Autograph Cuts are from 24 different POTUS (marked in

red

in checklist below). Of note is John Quincy Adams (3), James Monroe, James Polk (2), Benjamin Harrison (5), James Garfield, Rutherford B. Hayes, William Taft (3), Herbert Hoover (9), Franklin D. Roosevelt, Warren G. Harding, Woodrow Wilson (2) and Dwight D. Eisenhower (2).
There are also a handful of cuts with more than one signer like The Three Stooges, George H.W. Bush and Barbara Bush and a Yankees-themed autograph cut card with Mickey Mantle, Whitey Ford and Casey Stengel.
On average, there is ONE AUTOGRAPH CUT per box.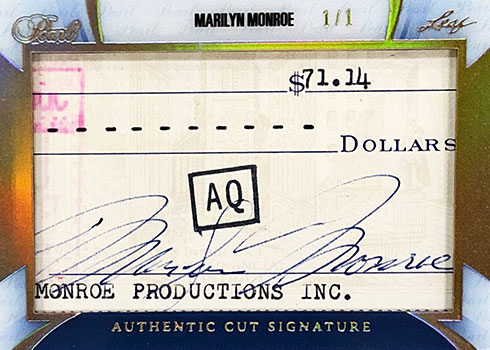 2018-19 Leaf Pearl Multi-Sport Memorabilia Cards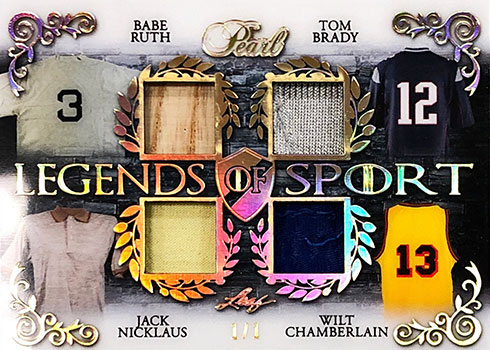 Memorabilia cards take on a variety of themes in 2018-19 Leaf Pearl Multi-Sport. In even broader terms, most have multiple pieces of gear. And those that don't have large patches or are otherwise unique in some way.
Legends of Sport kicks the 2018-19 Leaf Pearl Multi-Sport memorabilia off with either four or six stars. Magnificent Materials might be single-player cards but they come with eight swatches. Immortal Eight and Perfect 10 bring together lots of athletes. Perfect 10 also happen to be double-sided cards with memorabilia showing on both the front and back.
Pearls of History have buttons taken fro a pair of players' jerseys. Sticking with two-players is Pearlescent Patch Dual.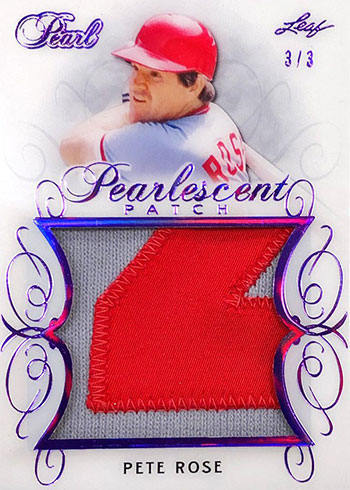 Pearlescent Patch is one of the sets to have just one player. However, the swatch takes up a large portion of the card front, making for some recognizable pieces.
Letterman cards all use letters taken from nameplates of game-used jerseys.
Perhaps the biggest memorabilia cards in 2018-19 Leaf Pearl Multi-Sport are Magnum Opus. Things like logo patches and names taken from seams are reserved for this dual-player set.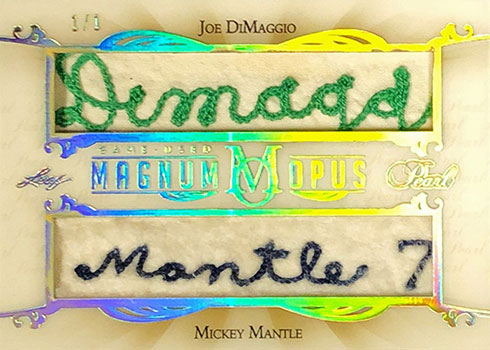 Pearl Cuts Checklist
CS-AA1 Arthur Ashe /2
CS-AC1 Alexander Cartwright 1/1
CS-AG1 Alec Guinness /3
CS-AJ1 Al Jolson 1/1
CS-AJ2 Angelina Jolie 1/1
CS-ANS Anna Nicole Smith 1/1
CS-AP1 Arnold Palmer /2
CS-AS1 Arnold Schwarzenegger /12


CS-BA1 Barack Obama 1/1


CS-BB1 Bill Belichick /12


CS-BC1 Bill Clinton /3


CS-BG1 Bart Giamatti 22
CS-BG2 Bill Gates 1/1


CS-BH1 Benjamin Harrison /5


CS-BJ1 Billy Joel /3
CS-BJ2 Bobby Jones /3
CS-BL1 Bert Lahr 1/1
CS-BM1 Billy Martin 1/1
CS-BO1 Bobby Orr 1/1
CS-BP1 Bettie Page /5
CS-BP2 Brad Pitt /2
CS-BR1 Babe Ruth /2
CS-BS1 Barbra Streisand 1/1
CS-BS2 Billy Southworth 1/1
CS-CB1 Chief Bender /4
CS-CB2 Clark Gable 1/1
CS-CD1 Charles Dickens 1/1
CS-CG1 Clark Griffith /2
CS-CL1 Cleavon Little 1/1
CS-CM1 Connie Mack /2
CS-CS1 Charles Schulz 1/1
CS-DB1 Dave Bancroft 1/1
CS-DD1 Dizzy Dean /6


CS-DE1 Dwight Eisenhower /2


CS-DJ1 Derek Jeter /4
CS-DL1 Dalai Lama 1/1
CS-DO1 Davey O'Brien 1/1


CS-DT1 Donald J. Trump /2


CS-DW1 Arthur Wellesley – 1st Duke of Wellington 1/1
CS-EC1 Eric Clapton /3
CS-EN1 Eminem 1/1
CS-EP1 Elvis Presley /2
CS-EP2 Eva Peron /2
CS-ES1 Ed Sullivan /3
CS-ET1 Elizabeth Taylor 1/1
CS-FB1 Frank Baker /2
CS-FC1 Fidel Castro 1/1


CS-FDR Franklin D. Roosevelt 1/1


CS-GBB George & Barbara Bush 1/1
CS-GF1 Gerald Ford /4
CS-GG1 George Gershwin 1/1
CS-GH1 Gabby Hartnett /4
CS-GH2 George Halas /3
CS-GH3 Gil Hodges /4


CS-GHB George H.W. Bush /7


CS-GN1 Greasy Neale 1/1
CS-GP1 George Patton 1/1
CS-GP2 Giacomo Puccini 1/1
CS-GR1 Gilda Radner 1/1
CS-GS1 George Steinbrenner 1/1
CS-GW1 George Weiss /3


CS-GWB George W. Bush /2


CS-HC1 Howard Cosell 1/1
CS-HD1 Hap Day /5
CS-HF1 Harrison Ford /2
CS-HG1 H.G. Wells 1/1
CS-HG2 Hank Greenberg /9


CS-HH1 Herbert Hoover /9


CS-HH2 Hugh Hefner 1/1


CS-HT1 Harry Truman /9


CS-HW1 Honus Wagner /2
CS-I1 Ichiro /5
CS-JA1 Jennifer Aniston 1/1


CS-JA2 John Quincy Adams /3


CS-JB1 James J. Braddock /2
CS-JB2 Jon Bon Jovi 1/1
CS-JB3 James Brown 1/1
CS-JC1 Jacques Cousteau 1/1
CS-JC2 James J. Corbett 1/1


CS-JC3 Jimmy Carter 1/1


CS-JC4 James Cagney 1/1
CS-JD1 Jefferson Davis /2
CS-JD2 Joe DiMaggio /17
CS-JD3 Johnny Depp /2
CS-JEH J. Edgar Hoover 1/1
CS-JF1 Jim Finks 1/1
CS-JF2 Jimmie Foxx /2


CS-JG1 James A. Garfield 1/1


CS-JG2 Jerry Garcia 1/1
CS-JG3 Joe Gordon /7
CS-JG4 Judy Garland 1/1
CS-JL1 Joe Louis /4


CS-JM1 James Monroe 1/1


CS-JN1 Jack Nicklaus /2
CS-JO1 Jesse Owens 1/1


CS-JP1 James Polk /2


CS-JPS Jean-Paul Sartre 1/1
CS-JR1 Jackie Robinson /2
CS-JR2 John Ritter /2
CS-JR3 Jacob Ruppert 1/1
CS-JS1 John Philip Sousa 1/1
CS-JT1 Jim Thorpe 1/1
CS-JV2 Jim Valvano 1/1
CS-JW1 John Wayne /3
CS-KB1 Kobe Bryant 1/1
CS-KR1 Keith Richards /2
CS-KV1 Kurt Vonnegut 1/1


CS-LBJ Lyndon B. Johnson 1/1


CS-LG1 Lady Gaga /5
CS-LO1 Vivien Leigh & Laurence Olivier 1/1
CS-MA1 Muhammad Ali /20
CS-MB1 Max Baer Sr. 1/1
CS-MC1 Mickey Cochrane /10
CS-MD1 Madonna /2
CS-MG1 Matt Groening 1/1
CS-MH1 Margaret Hamilton 1/1
CS-MH2 Mark Hamill 1/1
CS-MJ1 Michael Jordan 1/1
CS-MM1 Marilyn Monroe 1/1
CS-MM2 Mickey Mantle /9
CS-MO1 Mel Ott /6
CS-MSF Mickey Mantle, Casey Stengel, Whitey Ford 1/1
CS-NA1 Neil Armstrong /2
CS-NF1 Nat Fleischer 1/1
CS-NF2 Nellie Fox /2
CS-NL1 Nap Lajoie /2
CS-NM1 Nelson Mandela /2
CS-NP1 Natalie Portman 1/1
CS-NR1 Norman Rockwell /6
CS-OH1 Oliver Hardy 1/1
CS-OT1 Mel Ott Bill Terry 1/1
CS-OW1 Orson Welles /2
CS-PR1 Prince 1/1
CS-PT1 Pie Traynor /9
CS-QE1 Queen Elizabeth II 1/1
CS-RB1 Ray Bolger 1/1


CS-RBH Rutherford B. Hayes 1/1


CS-RC1 Roy Campanella /2
CS-RD1 Robert De Niro 1/1
CS-RG1 Red Grange /4
CS-RK1 Robert Kennedy /3
CS-RM1 Rabbit Maranville 1/1
CS-RM2 Roger Maris /9


CS-RN1 Richard Nixon /15




CS-RNR Ronald & Nancy Reagan 1/1


CS-RP1 Robert Plant 1/1
CS-RR1 Robert Redford /2
CS-RR2 Robert Ripley /2


CS-RR3 Ronald Reagan /2


CS-RW1 Reggie White 1/1
CS-SC1 Sean Connery /7
CS-SJ1 Scarlett Johansson /10
CS-SK1 Sandy Koufax /11
CS-SL1 Stan Laurel 1/1
CS-SM1 Steve McQueen 1/1
CS-SP1 Satchel Paige /13
CS-TB1 Tom Brady /2
CS-TC1 Truman Capote 1/1
CS-TC2 Ty Cobb /4
CS-TE1 T.S. Eliot 1/1
CS-TL1 Tuffy Leemans 1/1
CS-TM1 Thurman Munson 1/1
CS-TS1 Taylor Swift /12
CS-TTS The Three Stooges 1/1
CS-TW1 Tennessee Williams /2
CS-VL1 Vince Lombardi /4
CS-VS1 Vin Scully /13
CS-WC1 Wilt Chamberlain /2
CS-WF1 W.C. Fields 1/1
CS-WH1 W.C. Handy 1/1
CS-WH2 Walter Hagen 1/1


CS-WH3 Warren G. Harding 1/1


CS-WH4 Woody Harrelson 1/1


CS-WT1 William H. Taft /3


CS-WW1 Willie Wells 1/1


CS-WW2 Woodrow Wilson /2


CS-YG1 Yuri Gagarin 1/1